Sri Lanka is a tiny teardrop shaped island in the Indian Ocean, off the southeastern coast of India.
It is slightly smaller than the US state of Maine but somehow filled with tons of attractions and activities to suit a variety of travelers.
Yet travel to Sri Lanka from the US is still relatively low compared to other regions.
Here are 11 reasons why you should visit Sri Lanka.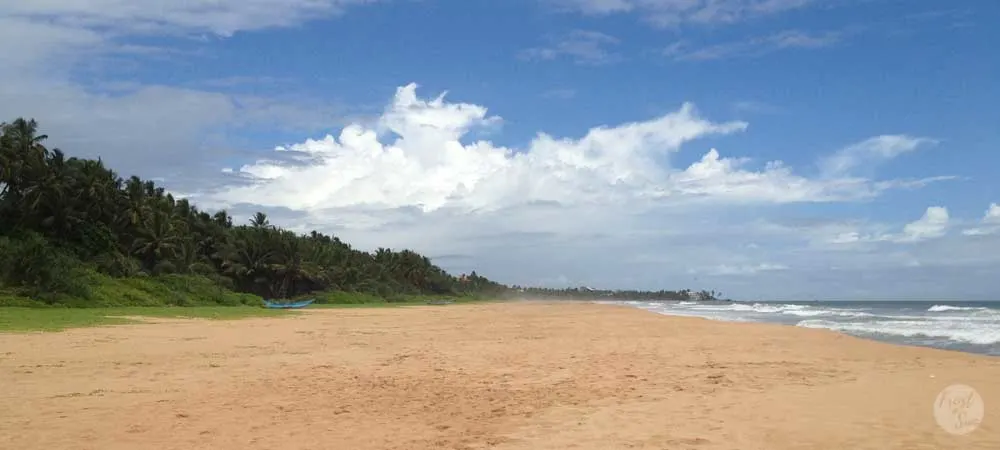 Sri Lanka is a relatively unknown vacation destination for American travelers, probably due to the long plane ride no matter where you depart from in the US.
While travelers from Europe and Asia have been vacationing in Sri Lanka for decades, it still remains an uncrowded tropical destination. Who doesn't love low crowds when it comes to travel?
The hospitality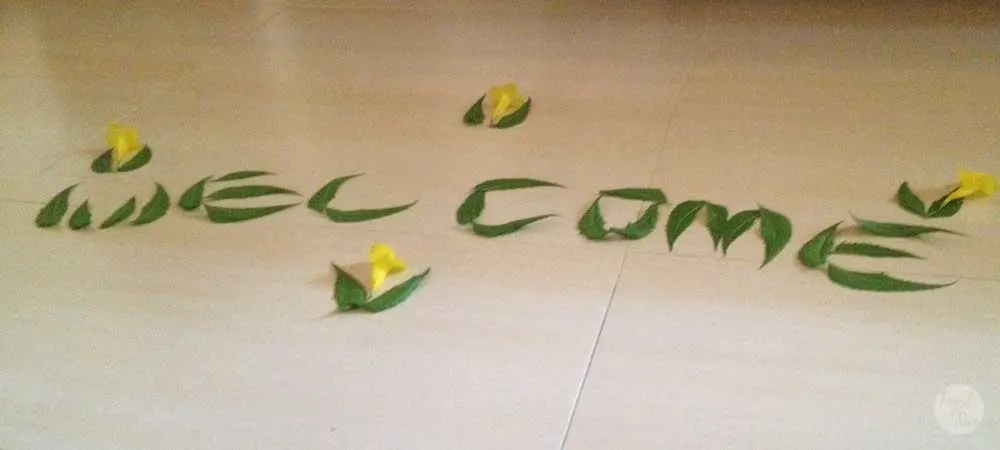 The hospitality I experienced while visiting Sri Lanka is unlike any other place I've been.
The Sri Lankan people are incredibly friendly and helpful to travelers. They are so full of happiness and pride for their country, and they love to "show it off," so to speak.
Delicious food & drink
If you love spicy food, you will be in heaven in Sri Lanka, where meals are often hot, hot, HOT!
For my fellow sweet tooth fans, there are plenty of unique sweets to try in Sri Lanka, too.
As for booze, Sri Lanka isn't a huge party spot, but you can easily find a good drink. Lion stout is a pretty decent brew and you can usually find the right ingredients for your favorite cocktail.
Keep in mind that on most holidays, such as full moon or poya holidays, it will be hard to find booze.
Gold mine for tea
Tea is one of the main sources of the economy in Sri Lanka, with nearly 1,000 tea plantations across the island.
Afternoon tea is a staple for Sri Lankans, so it is quite easy to find a fantastic cup of tea and a snack when the afternoon munchies hit.
Many of the tea plantations also offer tours, for those interested in the agricultural aspect of tea production.
Affordable luxury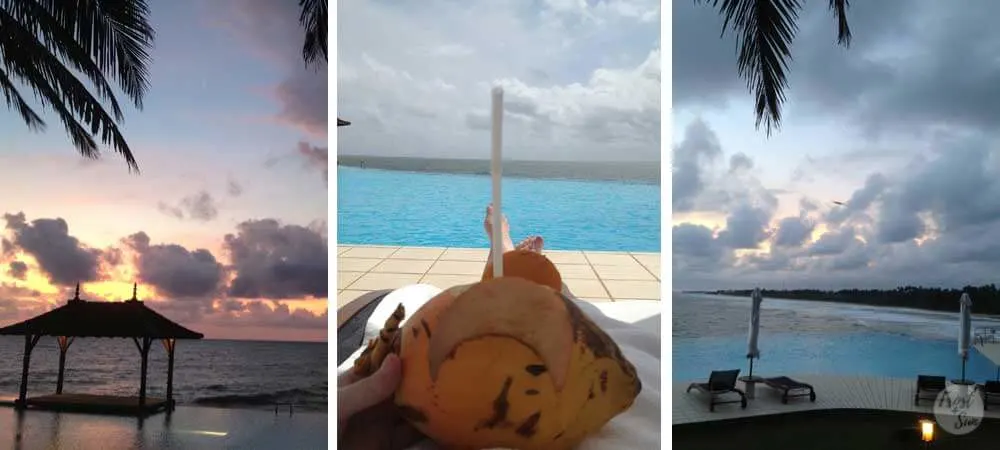 Outstanding luxury can be found in Sri Lanka for a relatively affordable price compared to similar experiences across the world.
This makes Sri Lanka a perfect destination for those on honeymoon, celebratory trips or just looking to be pampered. All within a mid-range budget!
Super inclusive culture
An interesting thing I noticed in Sri Lanka was that tolerance of other religions was a common concept in most areas of the island.
While the citizens of Sri Lanka are mainly Buddhists, there are also a good number of Christian, Hindu, and Muslim people, too.
Tolerance between fanatics has sometimes been difficult (where isn't it, really?), for the most part, it's all celebrated. It's common to find religious statues or altars for all 4 religions in a single area, for example.
Lots of unique wildlife
If wildlife experiences are your thing, you'll LOVE Sri Lanka.
Sri Lanka has several national wildlife parks filled with interesting wildlife (elephants, leopards, and monkeys!).
Even if not visiting an animal sanctuary or wildlife park, you'll likely encounter some interesting animal species during your travels in Sri Lanka.
8 UNESCO World Heritage sites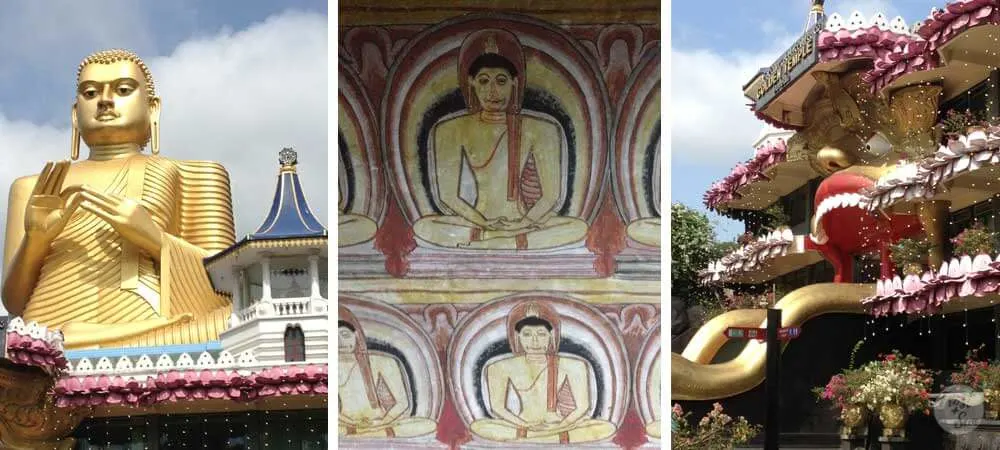 Sri Lanka has a rich and interesting history. Although a small nation, it is filled with many historical places, including 8 UNESCO World Heritage sites, like the Golden Temple of Dambulla (see above).
Colorful celebrations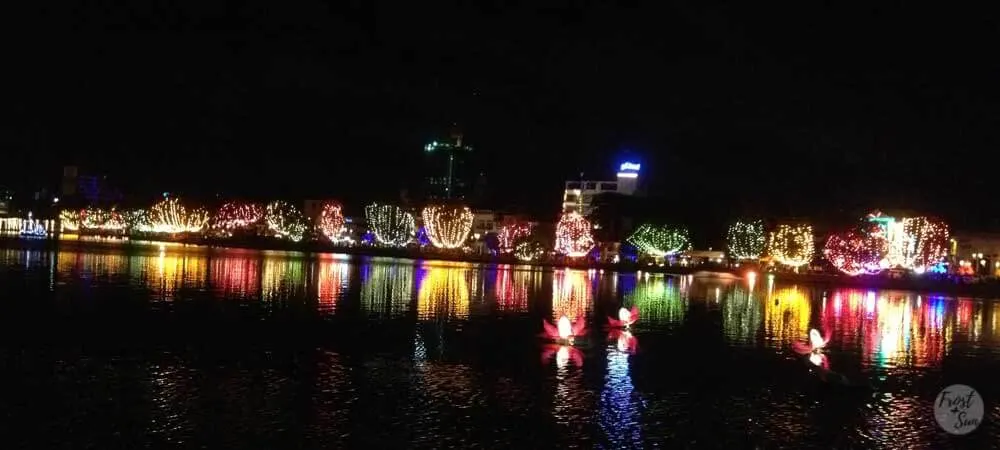 If you visit Sri Lanka during a full moon, chances are high that you'll witness some kind of celebration.
Why? Sri Lanka's largest practiced religion is Buddhism, which celebrates many of its holidays, such as the birth of Buddha, on days when there is a full moon.
I happened to visit during Vesak Poya, the celebration of the birth, death, and enlightenment of Buddha.
It was one of the most interesting events I've ever witnessed in my travels, from the towering pandals to the elaborate handmade lanterns.
Ayurvedic spas & healing centers
Sri Lanka has plenty of resorts and centers with relaxation and healing in mind.
Yoga, meditation, massage therapy, spa treatments and ayurvedic treatments are a few ways in which you can treat your mind, body, and spirit while in Sri Lanka.
Boost the economy
As parts of Sri Lanka are still recovering from a civil war and several natural disasters, such as the 2004 tsunami and the recent mudslides, a healthy economy is crucial.
Tourism alone pulls in several billion US dollars per year, which has certainly contributed to helping this beautiful nation bounce back and continue growing. If you visit Sri Lanka, your dollars will help boost their economy.
Are you planning to visit Sri Lanka?
Next up, check out more of my favorite travel posts for Sri Lanka:
---
About the author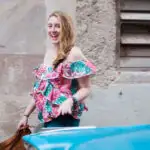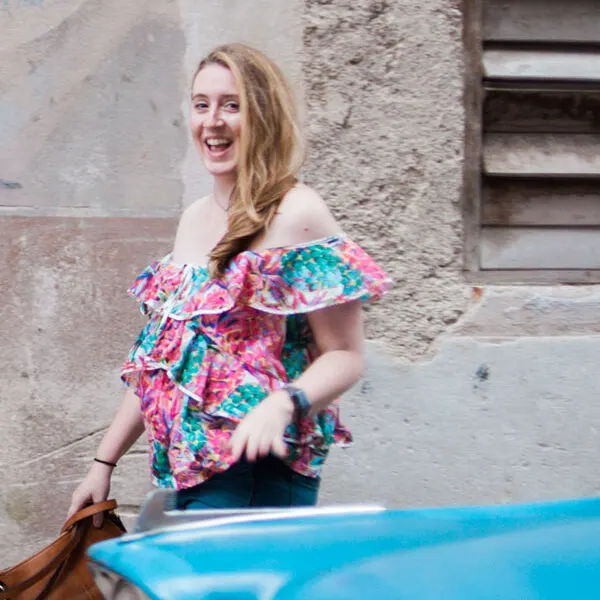 Meg Frost is a Boston-based travel blogger that helps people embrace technology to make vacation planning and traveling wicked easy, affordable, and fun.
She holds an M.A. in Journalism from Northeastern University and B.S. in Communication & American Studies from University of Miami.
---
This post was originally published June 10, 2016. It was last updated October 16, 2022.