Are you ready to explore one of the most diverse and vibrant countries in the world? Then come join me on a journey through Sri Lanka!
From tea plantations to impressive fortresses, this joyful island nation is filled with captivating attractions just begging to be found.
Whether it's your first visit or you've been here before, choosing where to stay can be a daunting task.
That's why I've prepared this comprehensive guide outlining the most essential destinations, full of hotel recommendations and activities in each area, so that you can make your Sri Lankan adventure truly unforgettable!
Where to Stay in Sri Lanka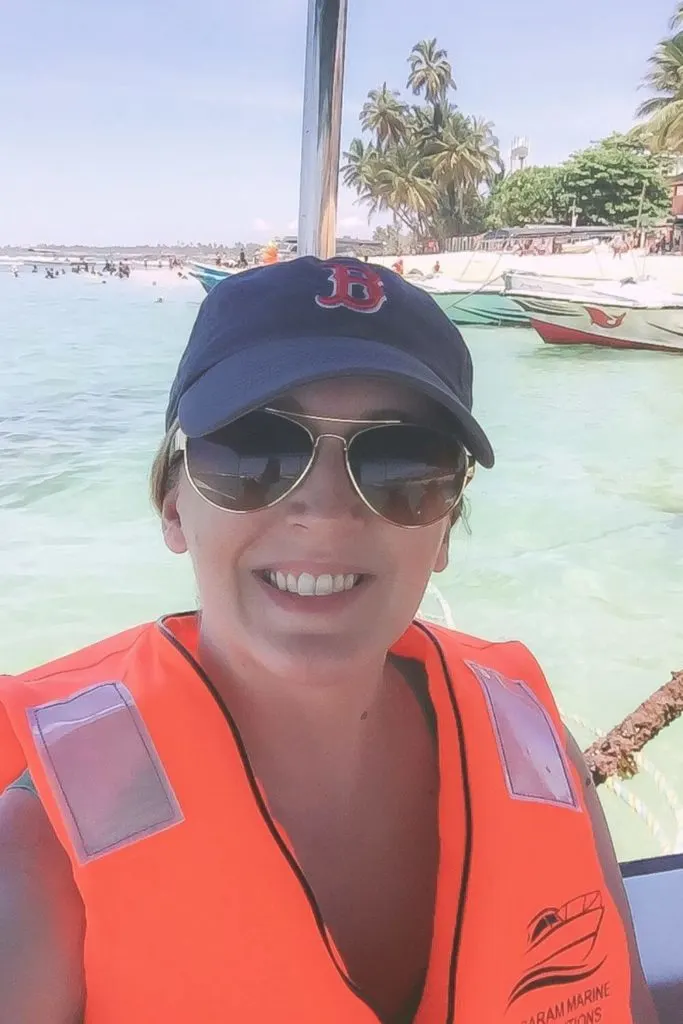 Welcome, fellow traveler, to the island nation of Sri Lanka! That's me above, enjoying a glass bottom boat ride in Sri Lanka.
I'm so happy you're planning a trip here. With 8 stunning UNESCO World Heritage Sites, vast tea plantations spread across rolling hills, and turquoise beaches dotted along the coast, you are sure to have the experience of a lifetime.
Even if you're not the type to go sightseeing all day every day, it's hard to deny that Sri Lanka has plenty of stunning spots for you to explore.
From ancient temples and palaces and national parks filled with wildlife to magical train rides, Sri Lanka will truly leave your soul renewed.
Let's jump into the best places to stay in Sri Lanka, including what to do in each area and best accommodations.
Arugam Bay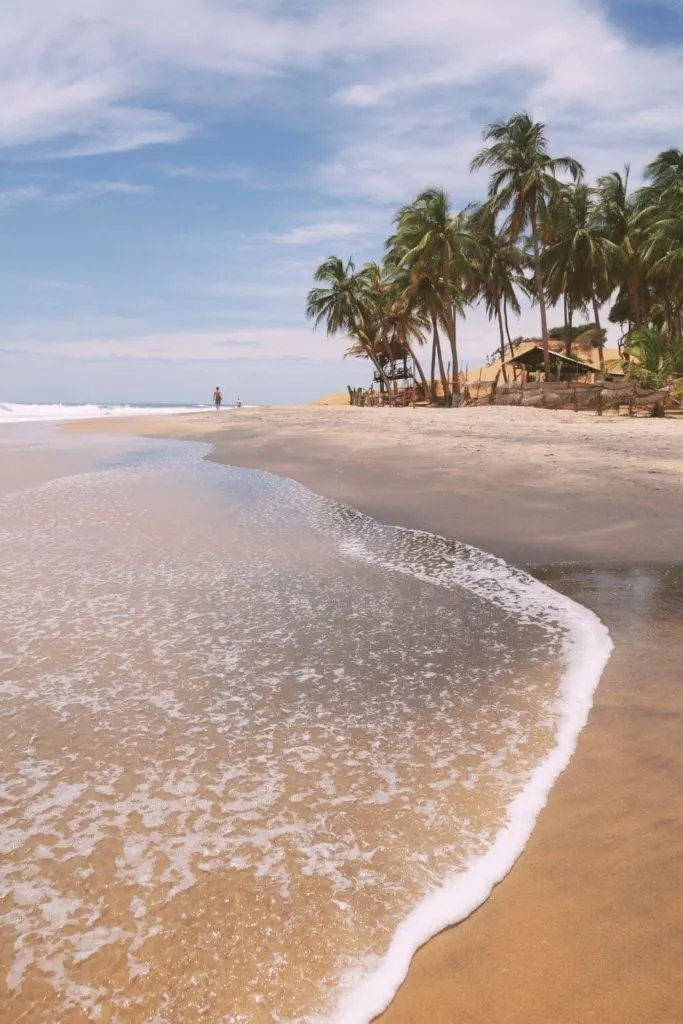 First up on the best places to stay is Arugam Bay, a true gem on the southeast coast of Sri Lanka renowned around the world for its excellent surfing spots and beautiful golden sand beaches.
Arugam Bay is also an ideal location to get away from it all while enjoying outdoor activities like windsurfing, boating, or simply long walks on the beach.
There are plenty of accommodation options as well. You can go with a luxury beach resort with every amenity under the sun or enjoy a more down-to-earth experience at a local guesthouse.
Whether your goal is to hang ten or just relax surrounded by gorgeous blue waters, you won't be disappointed in your stay at Arugam Bay.
Top things to do in Arugam Bay
Go surfing or take surf lessons
Take a day trip to the Kudumbigala Monastery
Visit Muhudu Maha Viharaya temple
Best Hotels in Arugam Bay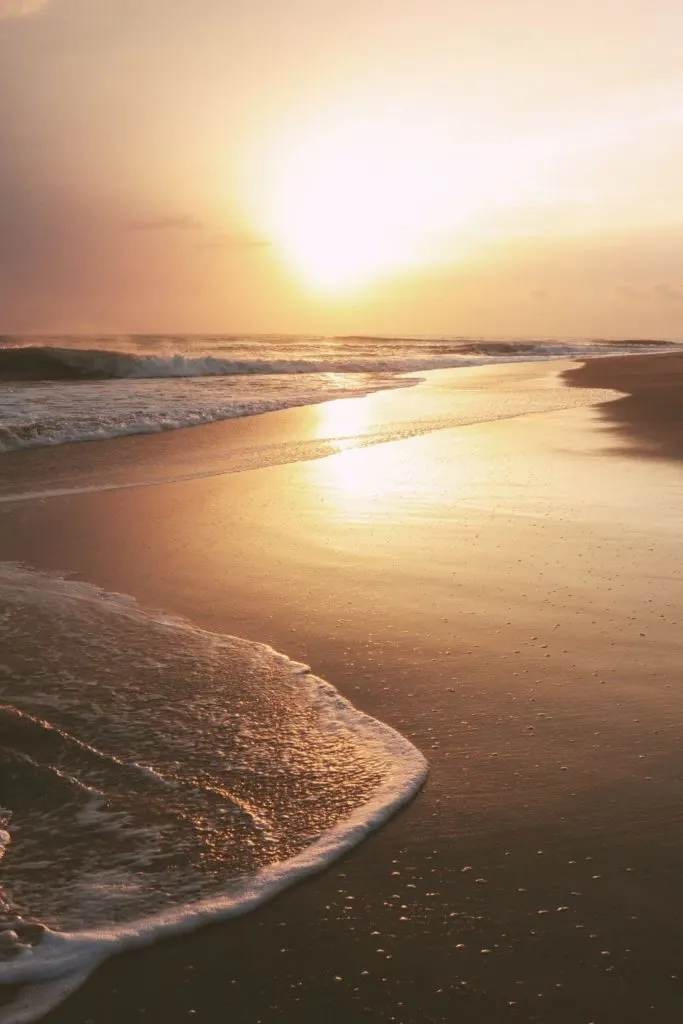 Here are a few options to consider in this lovely beachside town.
Dreamsea Surf Camp: This fun surf camp offers weekly packages in private and shared rooms paired with surf and yoga lessons. If you don't have a full week, you can also book just a few days. Breakfast included!
With 10 other surf resorts around the world, you can rest assured they have the best lessons and services geared toward surfers.
Jetwing Surf: 5-star eco luxury hotel on a beach just outside Arugam Bay in Pottuvil. Perfect for honeymooners, celebration vacations, and other luxurious getaways.
Little Lagoon Hostel: Eco-friendly hostel with free bike rentals. Perfect for backpackers and budget travelers.
Surf n Sun: Lovely Sri Lankan-owned with villas and bungalows, an area for yoga, and lots of local charm. Perfect for surfers.
Bentota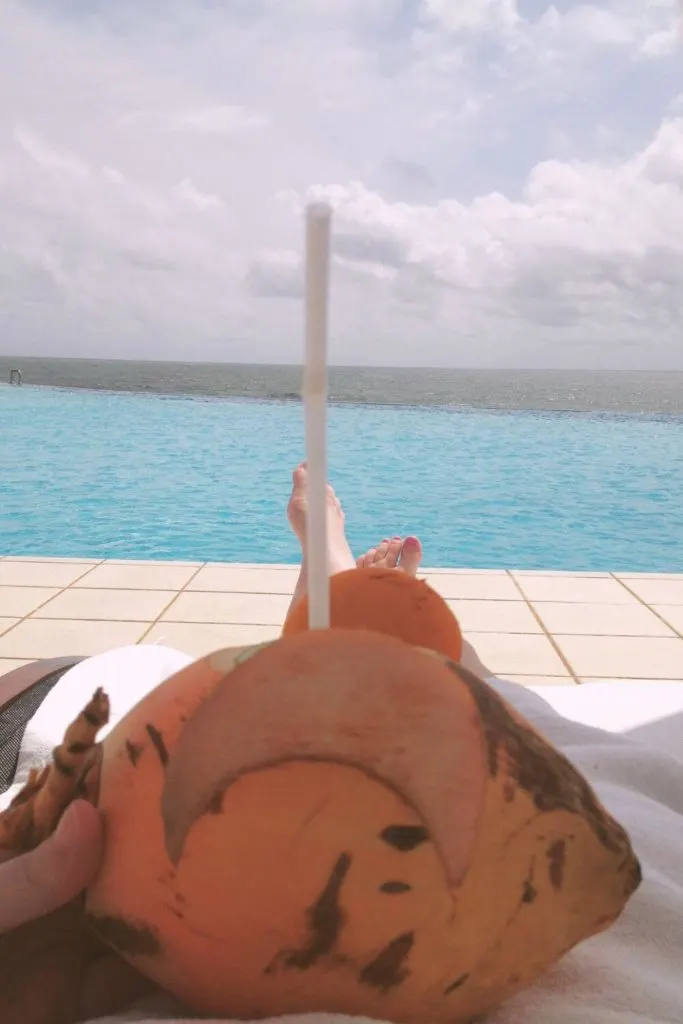 Bentota, located on Sri Lanka's picturesque southwest coast, is luxury living at its finest.
Known for its long stretches of sandy beaches, luxury hotels and resorts resort here to enjoy stunning sunsets over the Indian Ocean.
Those seeking a luxury holiday or romantic, hidden getaway can find all they need in this one destination.
Whether it's adventure-seeking or looking to learn a new skill like surfing that you're after, Bentota offers plenty of activities ranging from turtle hatcheries and golf courses to water sports.
It's practically paradise – and why so many luxury seekers make the pilgrimage to this vibrant city for the chance of experiencing something unforgettable.
I had the pleasure of staying in Bentota on my first trip to Sri Lanka and in the many years since still have not experienced such luxury and pampering since (as hard as I've tried)!
So if you're on a budget but really want to experience luxury, this is definitely a spot to consider. There were lots of couples on their honeymoon while I was there, hint hint!
Top things to do in Bentota
Make time for meditation at the Pachakapaduwa Meditation Centre
Learn about sea turtles at Induruwa Sea Turtle Conservancy Centre
Visit the Kande Vihara Temple and archaeological site
Best hotels in Bentota
Jetwing Saman Villas: This is the resort that made me realize that absolute luxury could be found at an affordable price in Sri Lanka.
My stay here was unforgettable! The staff was kind, the food was delicious, and the views were amazing. Perfect for honeymooners and romantic trips.
Heritance Ayurveda: Stunning resort with an Ayurvedic spa. Perfect for travelers seeking a wellness getaway.
Cinnamon Bentota Beach: Gorgeous 5-star luxury resort that is actually the nation's first resort (built in 1967).
Colombo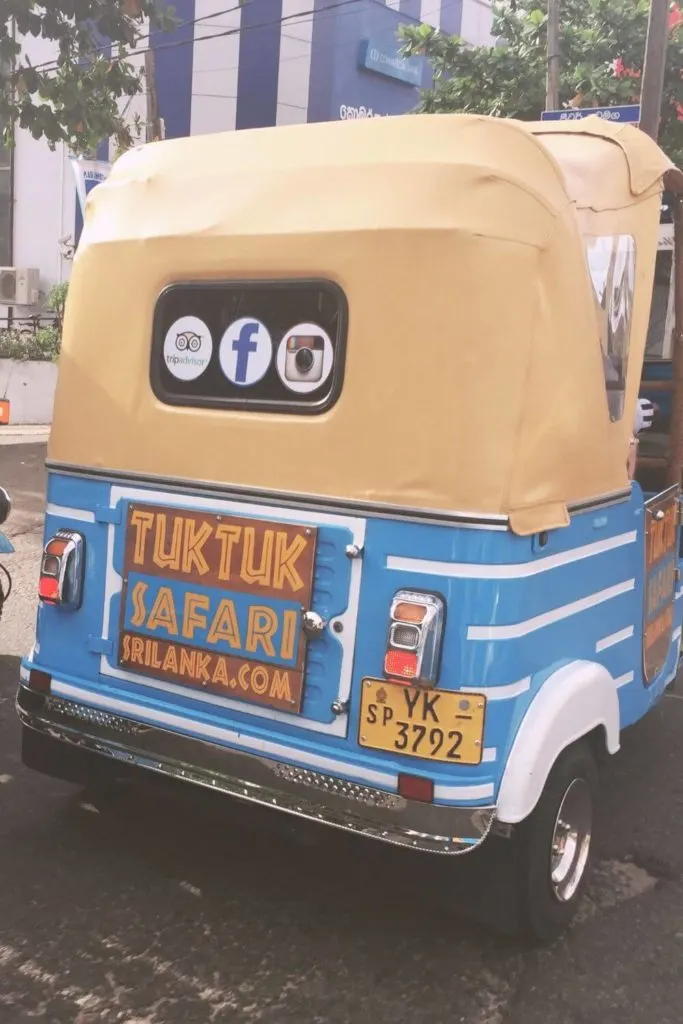 When it comes to shopping, culture and city life in Sri Lanka, it doesn't get any better than Colombo!
As the modern capital of Sri Lanka, there's no shortage of things to do or places to stay here.
Whether you're after some shopping therapy or a local market experience, there are many opportunities to splurge or scrimp your way through this capital city.
If you want to treat yourself, pamper yourself with a luxurious stay at one of the many resort and hotels available, and afterward enjoy some delicious cuisine while taking in the views.
But if you're looking for something more economical, try your hand at budget shopping nearby or browsing the renowned Pettah Market.
In any case, Colombo is sure to provide a wonderful adventure for any adventurous traveler.
Top things to do in Colombo
Do a tuk tuk tour of Colombo
Visit Independence Square and Museum
Take a stroll around Beira Lake and visit Gangaramaya Temple
Best hotels in Colombo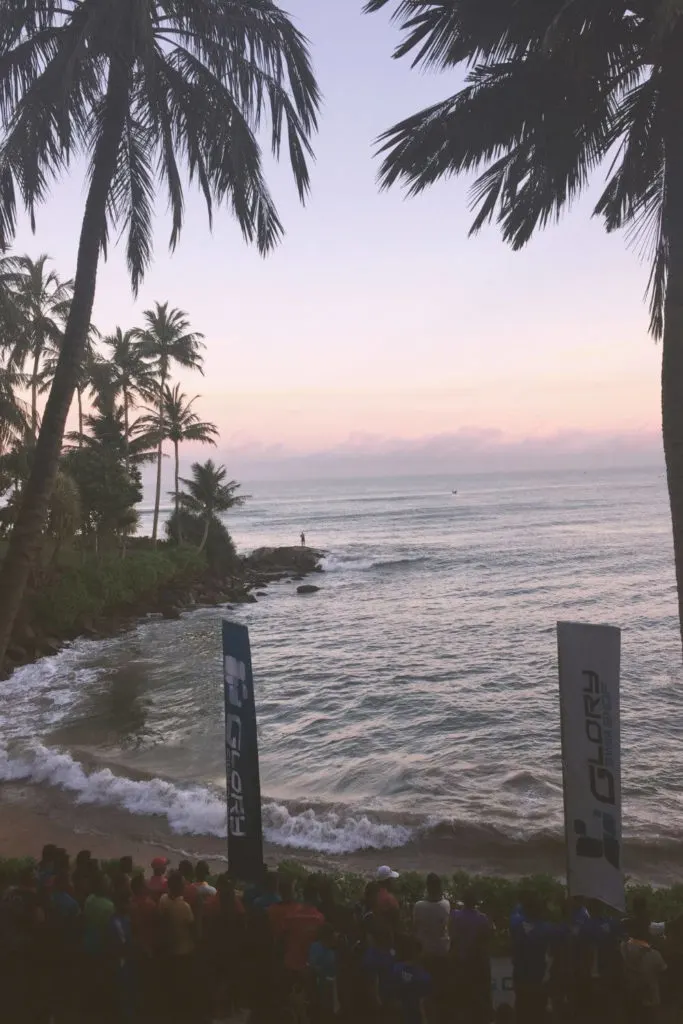 Here are a few options to consider in Sri Lanka's capital city:
Cinnamon Grand Colombo: I've stayed here twice while visiting Colombo and enjoyed the fantastic location with Beira Lake on one side and the Indian Ocean on the other. Situated close to the American Embassy.
Galle Face Hotel: Iconic and historic beachfront hotel built in 1864. Perfect for luxury city stays.
Lost & Found Colombo Hostel: Well-situated hostel that offers both dorm and private rooms. Perfect for backpackers and budget travelers.
Mount Lavinia Hotel: I stayed here for a few nights on my second trip to Sri Lanka. Located just outside city limits, this beautiful historic resort has beachside dining, stunning rooms, and a refreshing pool.
When I was visiting, they were also hosting an ocean swim competition for local kids, which was fun to watch!
Dambulla & Sigiriya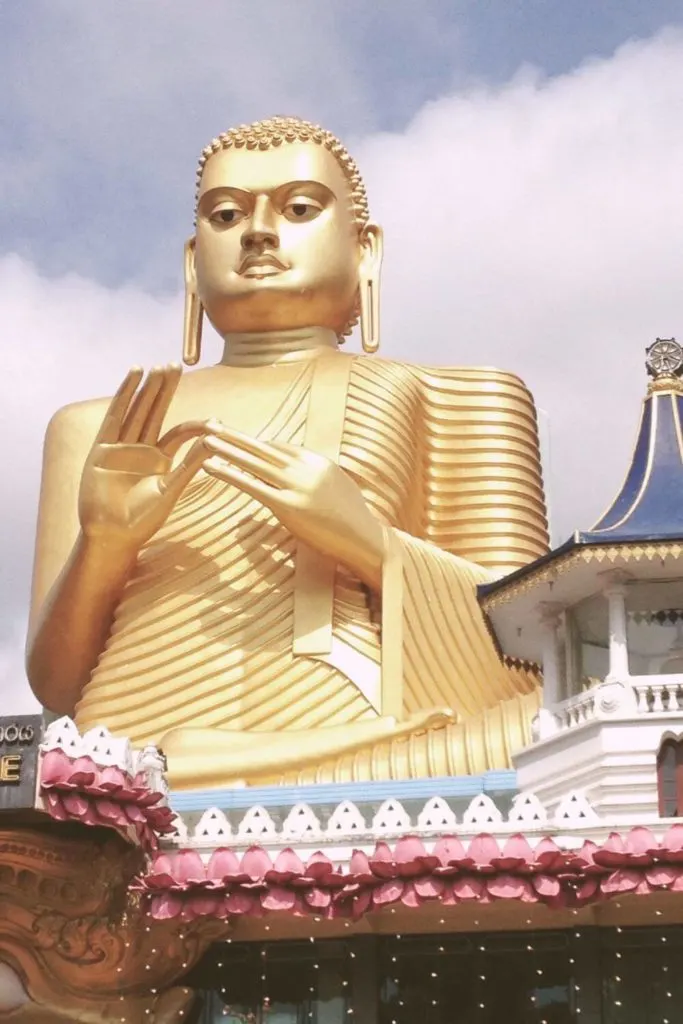 Dambulla, located in central Sri Lanka, is a great place to stay during your visit to the country.
From here you can take day trips to discover the renowned Dambulla rock cave temple, home to over 150 statues of Buddha and Lord Vishnu.
While looking for a place to stay in Dambulla, you'll find a huge number of stellar hotel and resort options, all ideal places to unwind after a full day of sightseeing.
Sigiriya is a preeminent Sri Lankan UNESCO World Heritage site, known to ancient locals and tourists alike by its ancient rock fortress.
After making your way up the stairs of the famous lion rock, you'll be duly rewarded with sweeping 360-degree views of the surrounding countryside.
A visit to Sigiriya can drop you back in time, literally hundreds of years, as you explore the ancient ruins and admire ancient works of art painted right onto the rock walls.
Adjacent to the Sigiriya rock fortress is Pidurangula Rock. This short hike features beautiful Buddhist carvings on the way to the top. Once at the summit, you'll be able to see Sigiriya from afar.
Top things to do
Hike to the top of Sigiriya and Pidurangala
Visit the Dambulla cave temple
Go on safari in Minneriya National Park
Best hotels in Dambulla and Sigiriya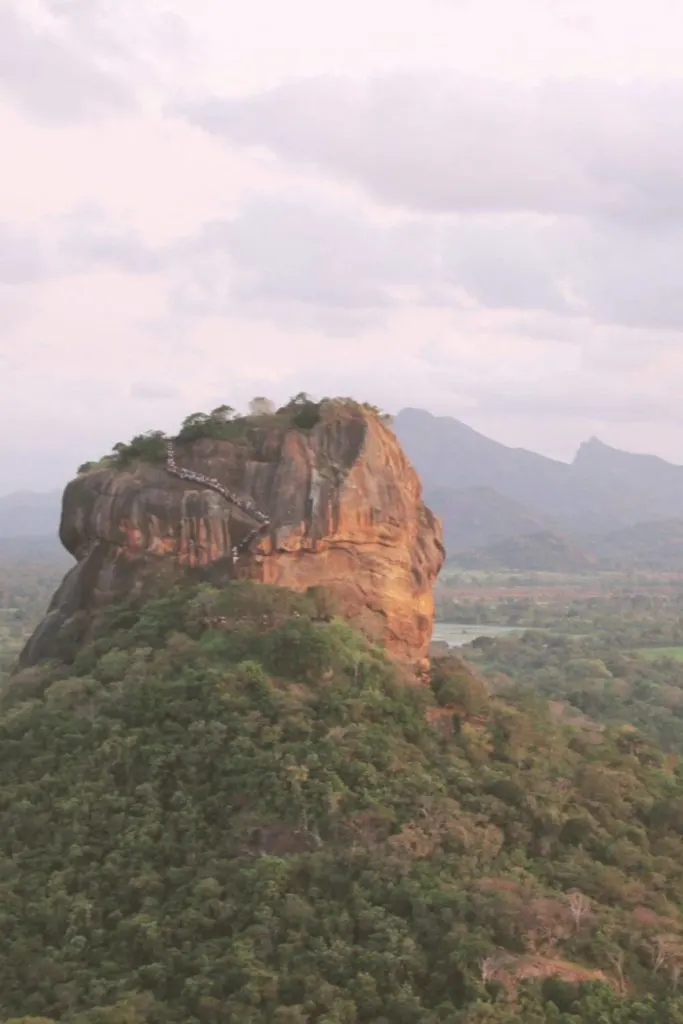 Amaya Lake Dambulla: Lovely lake resort that I stayed at when I visited the area during my first time in Sri Lanka.
Heritance Kandalama: An eco-friendly luxury resort that looks like its built into a rock. Perfect for those looking for luxury on a budget.
Tree House Hostel Sigiriya: Located close to Pidurangula Rock. Not many places where you can stay in a treehouse on a budget! Perfect for adventurous backpackers.
Galle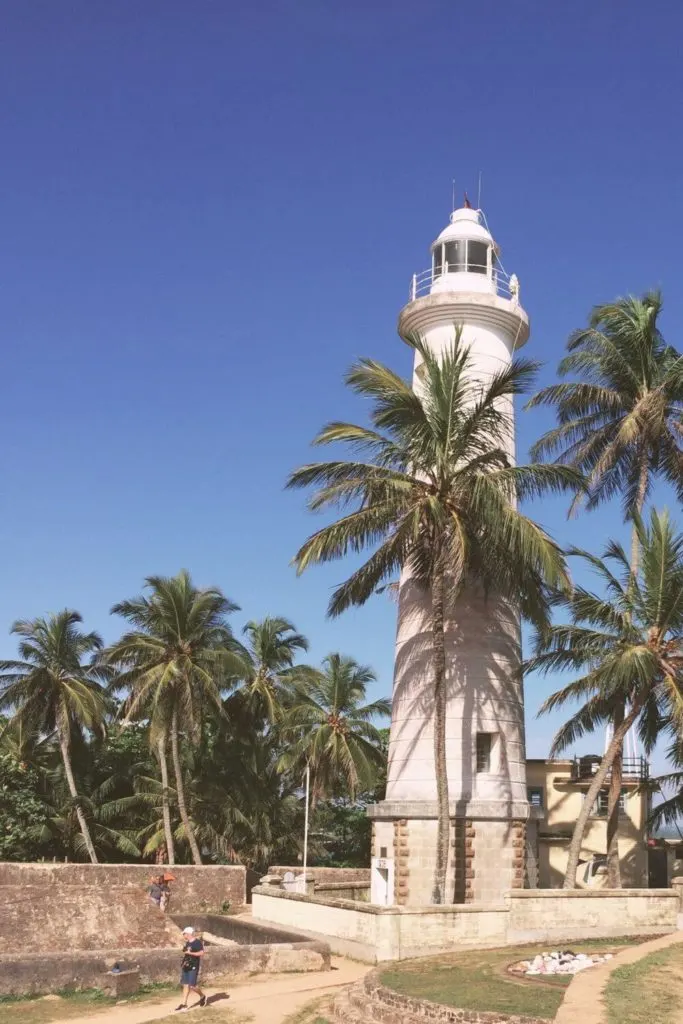 Galle is an alluring coastal city that has plenty to offer its visitors.
Home to Galle Fort, an impressive and well-preserved fortress that was built by the Dutch during colonial rule in the 16th century.
Notable attractions include a lighthouse installed in the fort, as well as beautiful beaches, excellent boutique and luxury hotels, and plenty of opportunities for shopping and dining.
Galle's unique fusion of modern and colonial architecture gives it a unique atmosphere that you won't find anywhere else, making it an ideal location for your Sri Lankan holiday.
Top things to do
Tour Galle Fort and Lighthouse
Watch a cricket match at the Galle International Cricket Stadium
Spend the day at Unawatuna Beach
Best hotels in Galle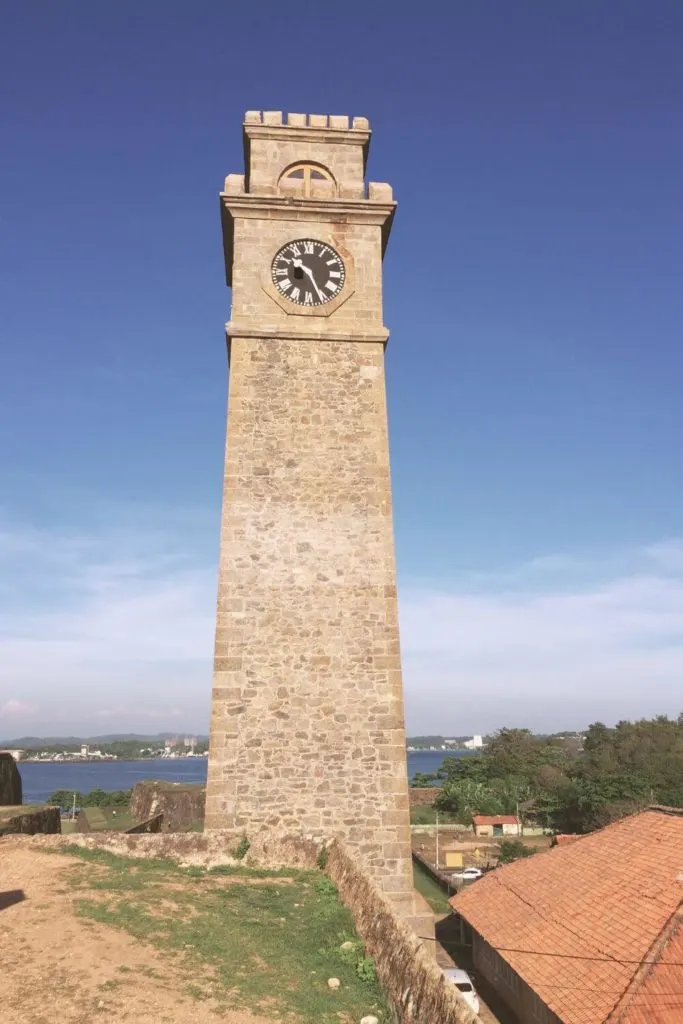 Bunky Dew: Ideally located hostel within walking distance from the fort. Perfect for backpackers and budget travelers.
Galle Fort Hotel: Award-winning, historic boutique hotel located within Galle Fort grounds. Perfect for luxury travelers.
Jetwing Lighthouse Club: Large beachfront luxury resort and spa that offers rooms with private plunge pools. Perfect for honeymooners and couples.
Thambapanni Retreat: Small beach resort with an Ayurvedic spa that offers massages, yoga classes, and guided meditation. Located just outside Galle in Unawatuna.
Kandy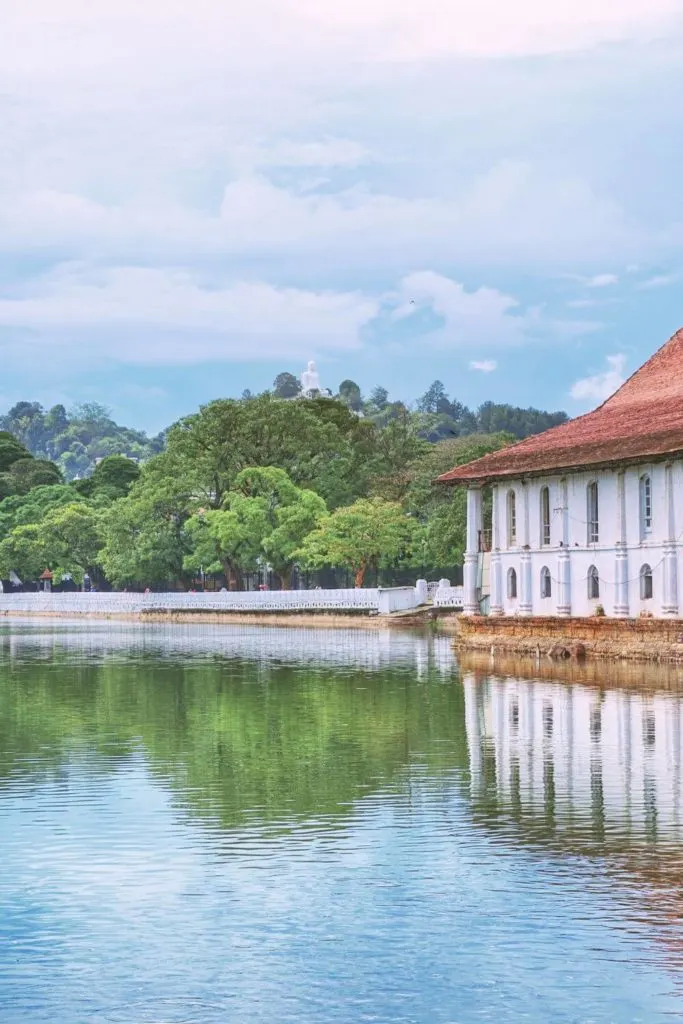 Kandy is widely known across the globe as one of the most beloved places to visit in Sri Lanka.
This amazing city is home to Temple of the Tooth, a magnificent Buddhist temple dedicated to preserving a relic believed to be a tooth of Buddha himself.
Not only does it have historical importance, but Temple of the Tooth is also known for its cultural event, Esala Perahera.
Esala Perahera is the biggest festival in Sri Lanka with a wild display of costumes, elaborate ceremonies, and parading elephants.
For those looking for modern hospitality that this ancient city has to offer, Kandy provides several hotels and resorts which are top-notch.
With refreshing nature escapes nearby, Temple of the Tooth always around, and plenty of activities for travelers, Kandy is definitely not one to miss.
Top things to do
See a Buddhist relic at the Temple of the Tooth
Take a day trip to the Royal Botanical Gardens
Admire Kandy Lake on a stroll
Best hotels in Kandy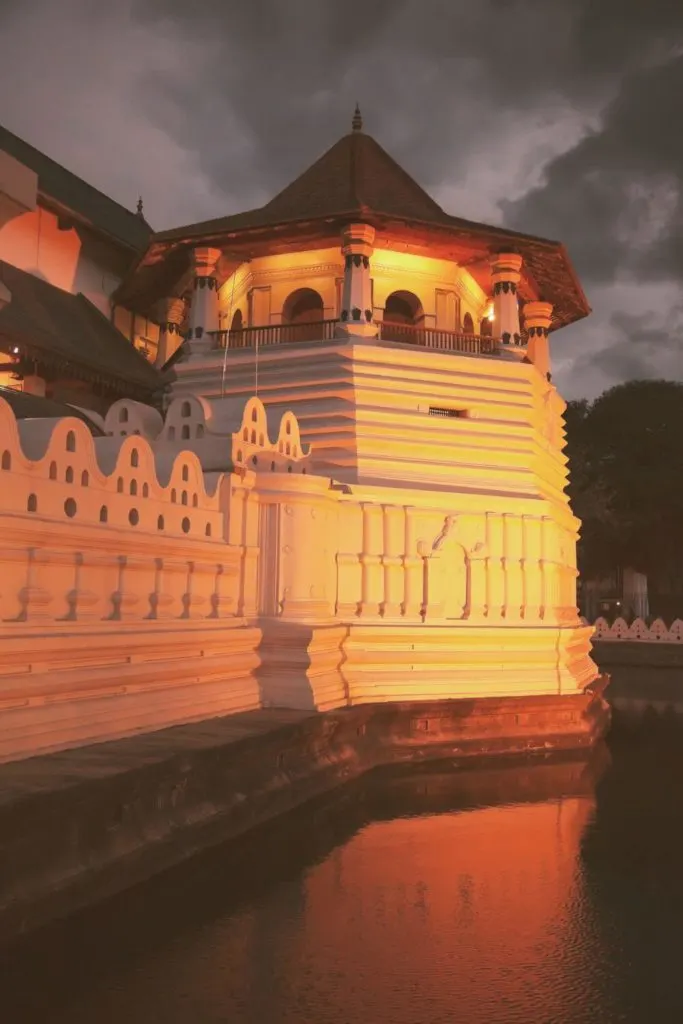 Earl's Regent Hotel: 4-star hotel at jaw-dropping prices. I've seen rooms for less than $50 here!
Amaya Hills Kandy: Built high in the hills of Kandy, offering stunning views of the Heerassagala Forest and Knuckles Mountain range.
The Elephant Stables: Gorgeous luxury hotel overlooking the Knuckles Mountains. Also offers luxury tents. Glamping here I come!
Banana Bunks: Hostel with both private and dorm rooms, making it perfect for both backpackers and budget travelers. Only about 1 mile from the Kandy train station.
Mirissa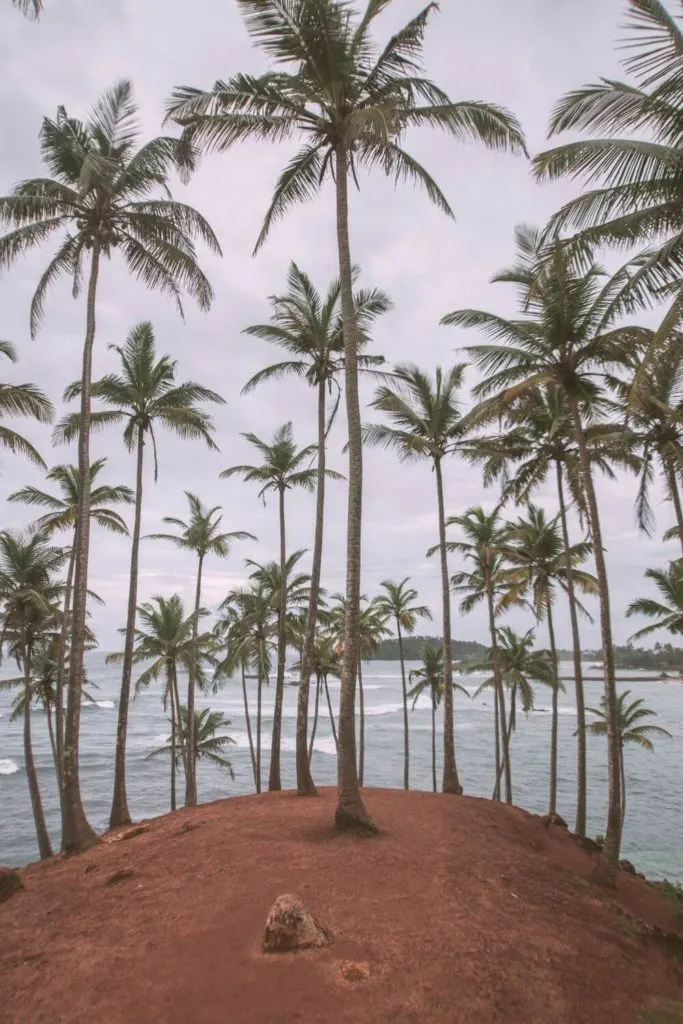 Mirissa is an excellent location to stay in Sri Lanka.
It is well known for being a budget beach destination with good nightlife, as well as Coconut Tree Hill and Secret Beach.
And even if you don't want to take advantage of nightlife in the area, you can enjoy peaceful moments watching the sunset against the backdrop of nearby hills on any night, all while saving some money.
Mirissa is also well-known as a hotspot for whale watching. Whale watching season in this area runs from November through April.
Top things to do
Go on a whale watching tour
Snag a photo on Coconut Tree Hill
Watch the sunset from Parrot Rock
Find the perfect surf spot at one of the many beaches in the area
Best hotels in Mirissa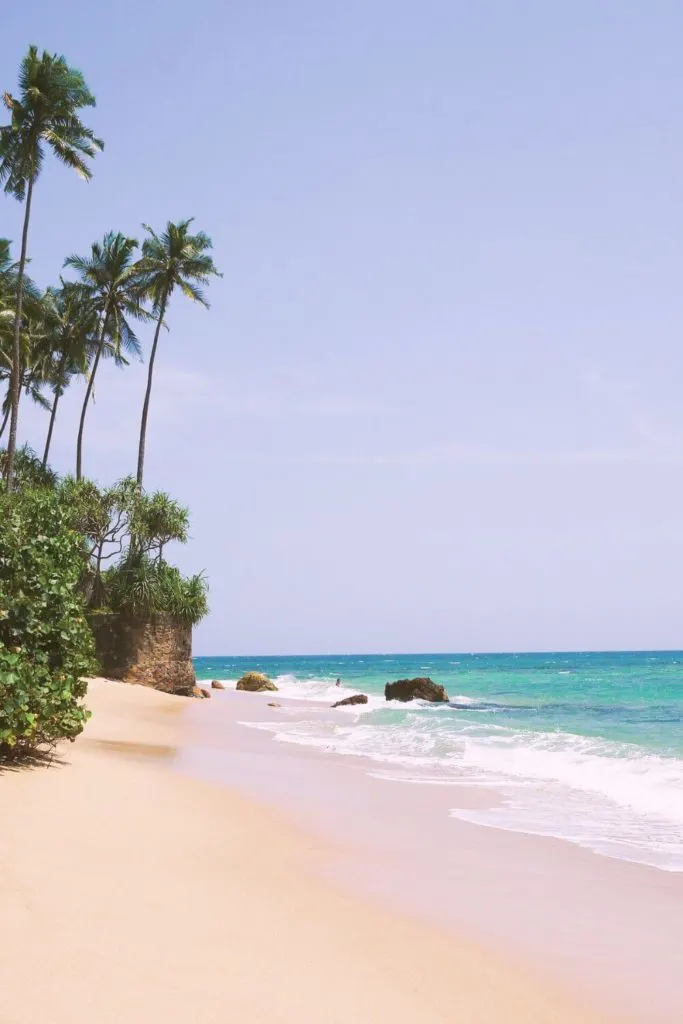 Here are a few options to consider in this budget beach town:
JJ's Hostel Mirissa: Part of a growing trend of boutique hostels on the island that offers private and dorm rooms. Also has a pool on-site.
Mirissa Seastar: Mid-range hotel close to the Instagram famous Coconut Tree Hill and Thalaramba Beach.
Salt Marissa: Luxury resort located at Mirissa Beach with a popular restaurant and bar, plus a surf school. Formerly called Citrine.
Why Not Backpackers: Party hostel that runs a booze cruise and has a swim-up tiki bar.
Nuwara Eliya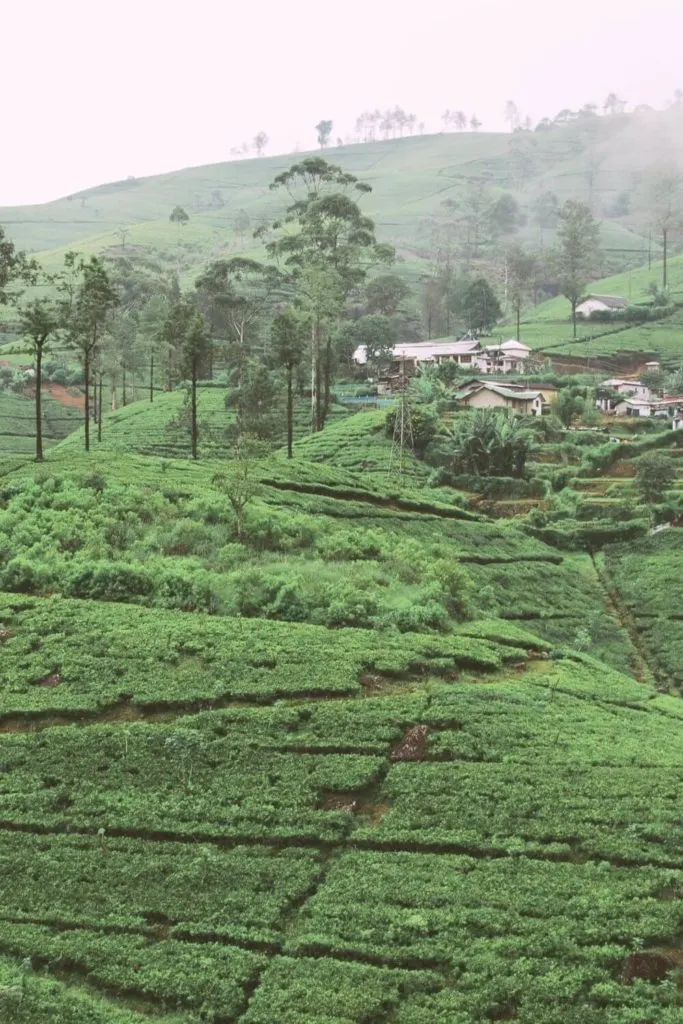 Situated in Central Sri Lanka, Nuwara Eliya is a delightful tea-growing region that's absolutely blossoming with lush vegetation, charming tea plantations, and breathtaking views all around.
When you're not taking leisurely strolls through tea fields, make sure you head on over to Horton Plains National Park or Hakgala Botanical Gardens.
All in all, if you're looking for a relaxed place to stay then Nuwara Eliya should definitely be at the top of your list.
Top things to do
Tour a tea plantation
Visit Seetha Amman Kovil Hindu temple
Take in views from World's End at Horton Plains National Park
Witness the majestic Lover's Leap Waterfall
Best hotels in Nuwara Eliya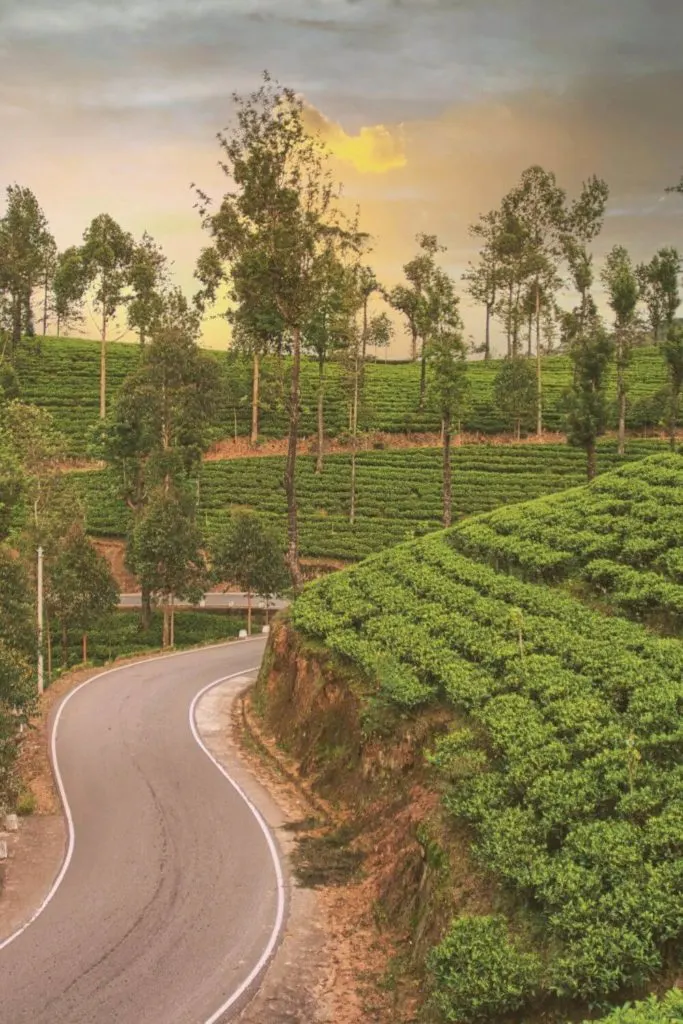 Here are a few options to consider:
Heritance Tea Factory: 5-star luxury hotel surrounded by tea fields. Offers tea plucking, tea tasting, and high tea experiences on-site.
Gregory House: Homestay hostel with dorms and private rooms, plus on-site karaoke. Perfect for backpackers or budget travelers.
Jetwing St. Andrew's: Georgian mansion turned hotel that offers a unique nighttime frog watching tour.
Katagarama & Yala National Park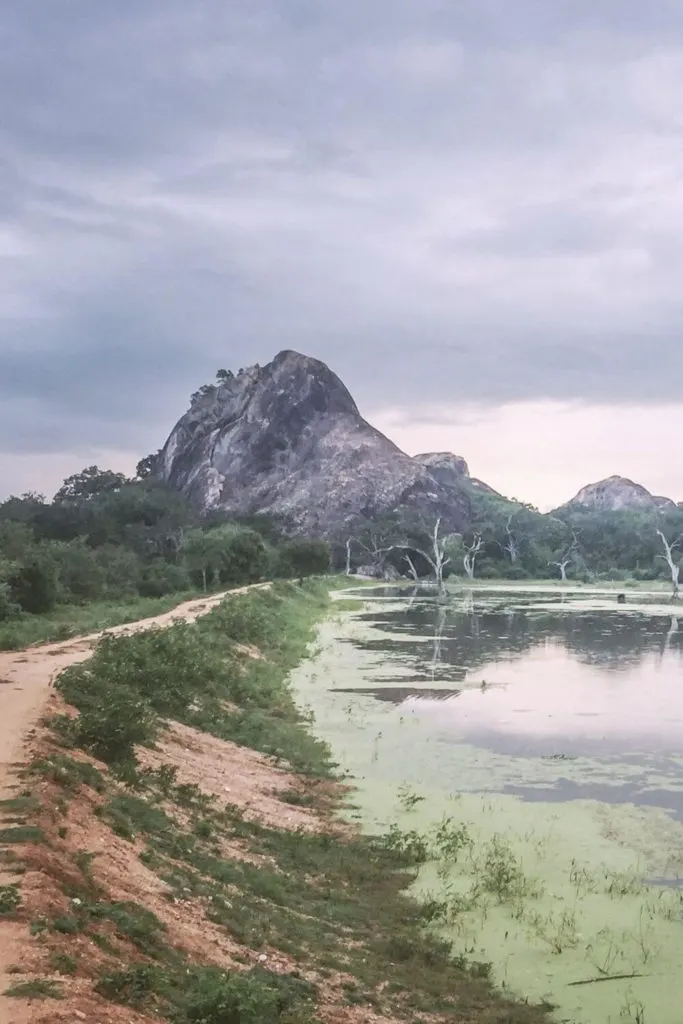 Home to the pilgrimage site of Katagarama, Sri Lanka offers a unique and beautiful experience for travelers.
Visit the temple complex which features some of the most iconic ancient artwork in Sri Lanka.
After, it's time to take in nature at any of the nearby national parks, including the most popular, Yala National Park, where you can spot wild elephants, leopards, peacocks, and over 200 species of other birds.
Many resorts and hotels in the area offer unparalleled views and all sorts of interesting activities from jeep safaris to delicious Sri Lankan cuisine.
Top things to do
Do a safari at Yala National Park
Go bird watching in Kumana National Park
Visit Lunugamvehera National Park
Visit the Katagarama temple
Best hotels near Yala National Park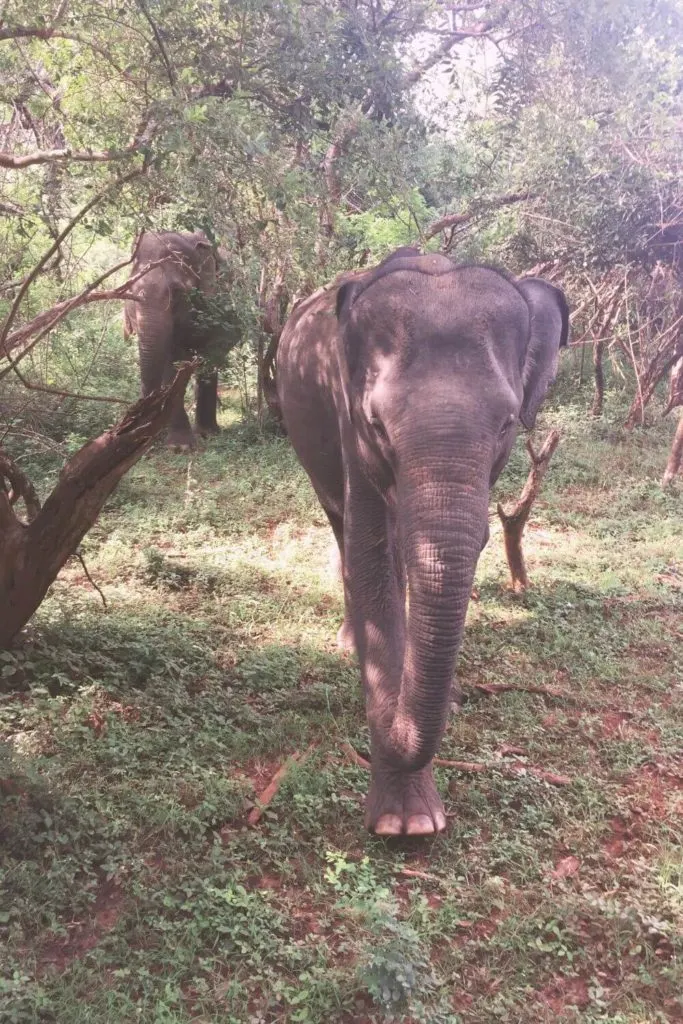 Here are a few options to consider in this Southern part of Sri Lanka:
Camp Leopard: For a true safari experience, book a stay at this luxury glamping resort. Aside from the fun accommodations, they offer their own park tours.
Plus, they often foster stray dogs, some of whom are permanent residents that help with scouting and also having fun with guests.
Cinnamon Wild Yala: I stayed here on my second visit to Sri Lanka and wish I could have had more than a 2 nights stay! It's made up of individual chalets and has a quaint rooftop bar with lovely views of the surrounding area.
It's so close to Yala that there are signs to watch out for elephants on property. Plus you'll likely see toque macaques and peacocks as they are pretty much everywhere, even during the day.
Yala Yin Yang Hostel: Experience a safari getaway on a budget at the lovely Yala Yin Yang Hostel. Some rooms are open air, but no worries – mosquito nets are readily situated above every bed!
Where is your favorite place to stay in Sri Lanka?
Sri Lanka has everything the adventurous traveler could dream of. Any part of Sri Lanka you choose to visit is sure to be an experience like no other.
From rolling hills, wild safaris, and vibrant beach towns, there's something for everyone in this small but mighty country.
Whether your trip takes you close to the jungle or right by the sea, you'll find incredible hotels, resorts and fun activities waiting for you in each spot.
Where are your favorite places to stay in Sri Lanka? Let us know in the comments below.
TLDR? Here are my top picks:
🐆 Best Eco Stay: Camp Leopard
💎 Best Luxury Hotel: Galle Face Hotel
💗 Best Hotel for Couples: Jetwing Saman Villas
🏄🏼 Best Hotel for Surfers: Dreamsea Surf Camp
☕️ Best Cultural Experience: Heritance Tea Factory
🎒 Best Hostel: JJ's Hostel Mirissa
Next up, check out these posts for more tips to plan your Sri Lankan vacation:
This post was originally published June 12, 2016. It was last updated March 14, 2023.