If you're planning a trip to Sri Lanka, this post is a must read.
I've visited Sri Lanka several times and am in absolute awe every time I go. It's filled with beautiful temples, stunning landscapes, relaxing beaches, and interesting ruins.
If that sounds right up your alley, keep reading to learn about the most famous places in Sri Lanka to add to your itinerary.
Anuradhapura, Sri Lanka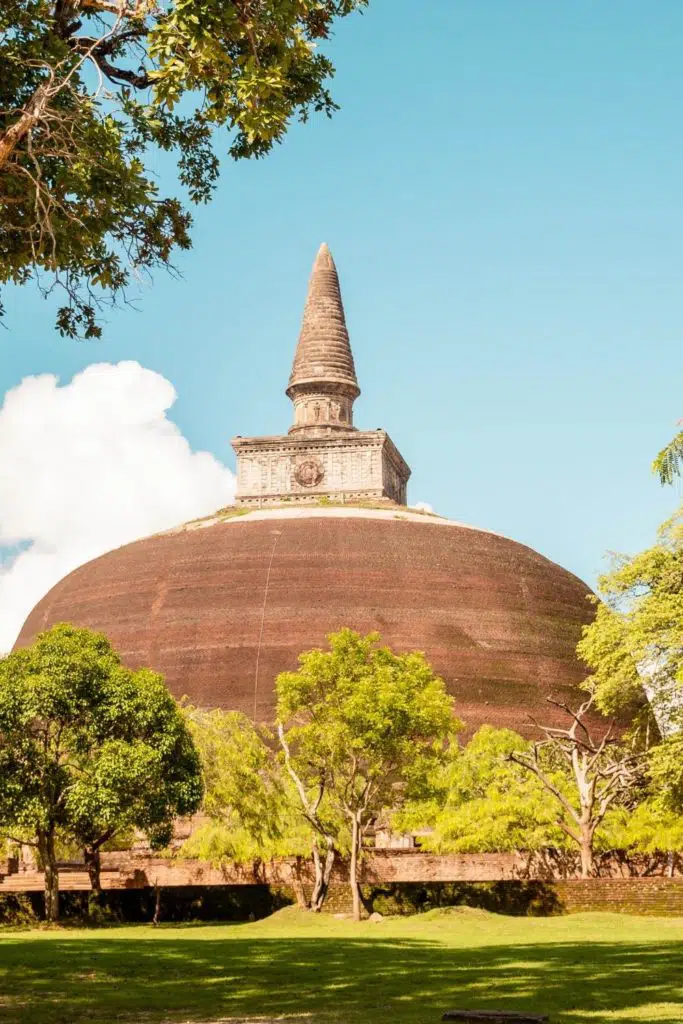 Anuradhapura is an ancient city in northern Sri Lanka founded in the 4th century BC.
It is considered the first capital of Sri Lanka and was also once the center of Theravada Buddhism.
Anuradhapura was made a UNESCO World Heritage site in 1982.
The excavated ruins are surrounded by multiple Buddhist monasteries and are considered sacred to this day.
Polonnaruwa, Sri Lanka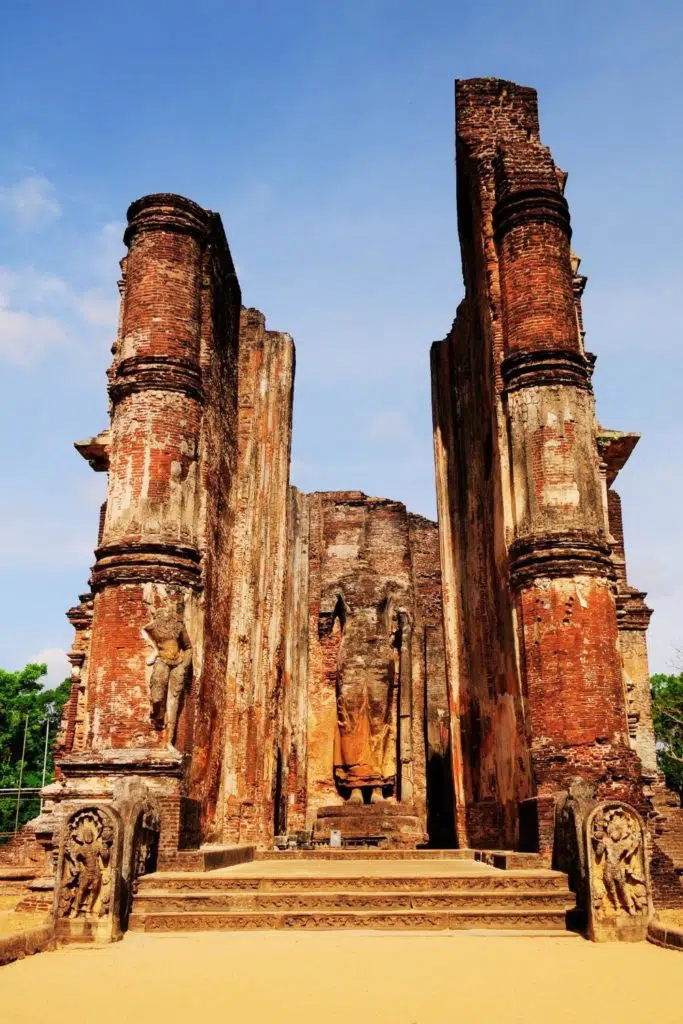 Polonnaruwa is one of the most well preserved archaeological ruins in Sri Lanka.
It replaced Anuradhapura as the capital of Sri Lanka after the former capital was destroyed by invaders from Southern India in 993.
In recent years, it was the site of a Duran Duran music video, as well as a Disney Nature documentary on toque macaque monkeys called Monkey Kingdom.
Polonnaruwa was named a UNESCO World Heritage site in 1982.
Galle Fort & Lighthouse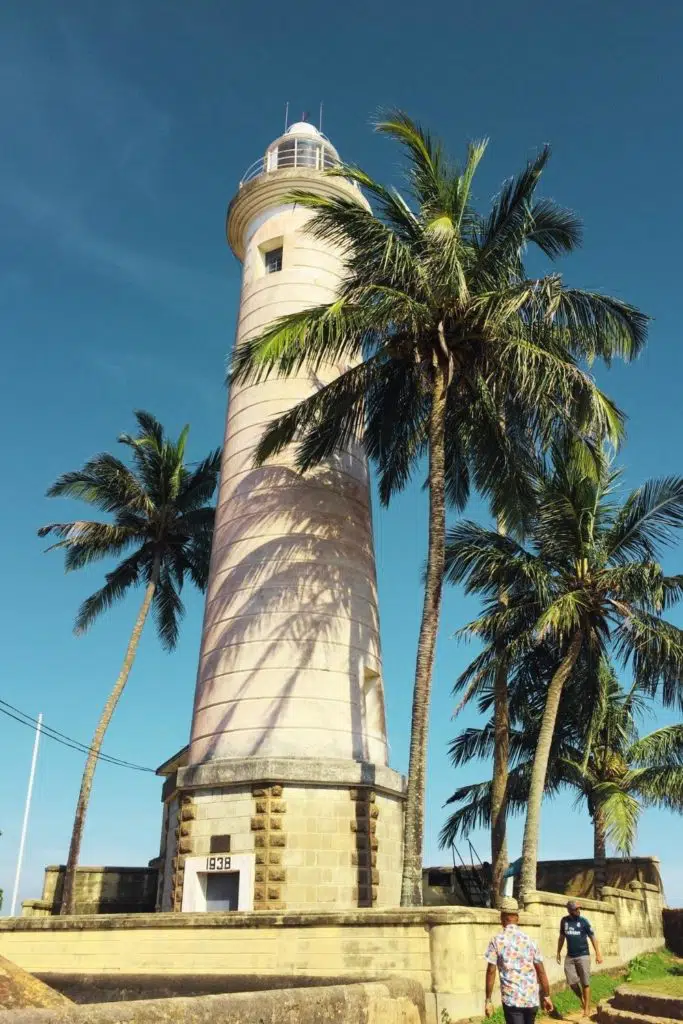 Galle is a former trading port developed in the 16th century by Portuguese settlers. Its location on the coast makes it a lovely spot to watch the sun set.
The architecture in Galle is a blend between traditional Sri Lankan, Portuguese, and Dutch styles.
It was one of the areas of Sri Lanka hit by a tsunami in 2004, but much has been rebuilt since then.
Central Highlands of Sri Lanka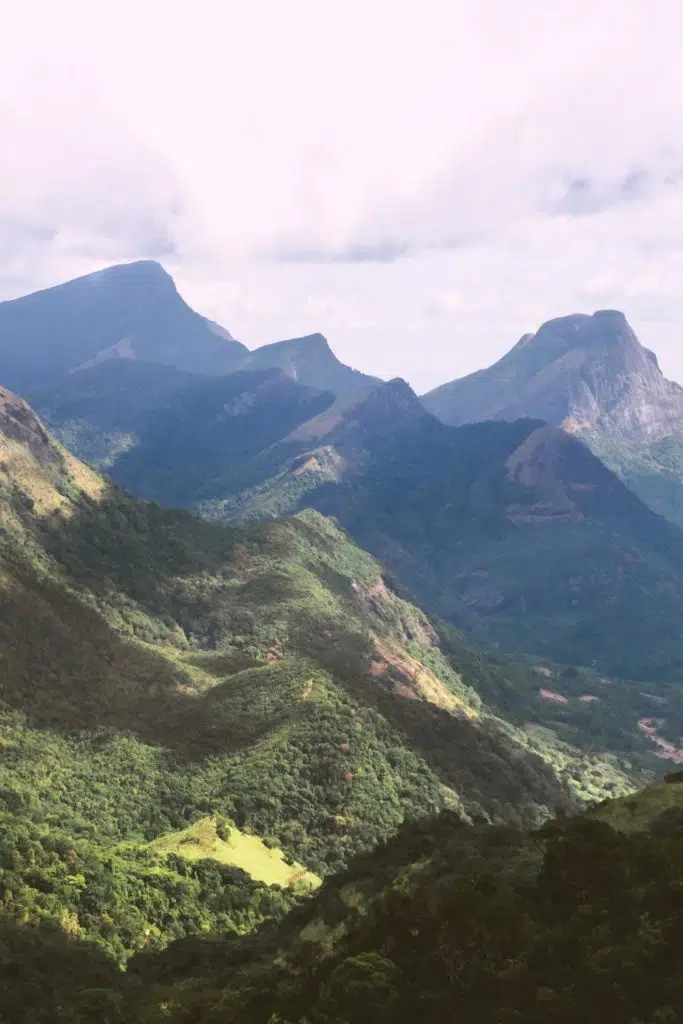 The Central Highlands include Horton Plains National Park, Knuckles Conservation Forest, and the Peak Wilderness Sanctuary.
It is home to several endangered species, such as the Sri Lankan leopard.
The area is well known for bird watching, where you can find over 20 species of birds that can only be found in Sri Lanka. Hiking is also a popular activity.
The Central Highlands are so important that it was named a UNESCO World Heritage site just over 10 years ago in an effort to protect and preserve its plant, wildlife, and other natural features.
Bambarakanda Falls
You can find even more famous places in Sri Lanka inside of the Central Highlands area, such as Bambarakanda Falls.
At almost 863 feet tall, Bambarakanda Falls is the tallest waterfall in Sri Lanka.
Located in the Peak Wilderness Sanctuary of Sri Lanka's central highlands, Bambarakanda Falls can be viewed from several viewpoints along Ohiya Road in Kalupahana.
The area where Bambarakanda Falls is located is surrounded by many, many other waterfalls. So you can easily make a day of hiking and chasing waterfalls (cue that TLC song).
Sounds like a plan to me!
Adam's Peak aka Sri Pada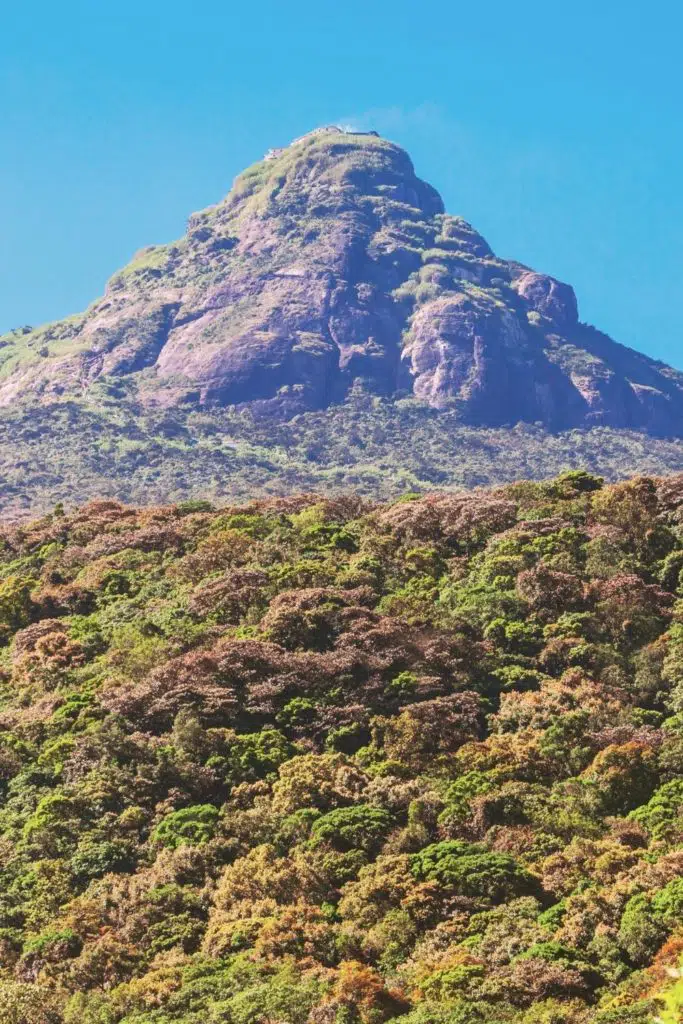 Adam's Peak is another famous place in Sri Lanka located in the central highlands.
What is unique about this mountain is that it is considered a sacred site by Buddhists, Christians, Hindus, and Muslims.
At the top of Adam's Peak is a rock with a footprint-shaped imprint. Depending on the religion, legend has it that it's the footprint of Buddha, Adam, or Shiva.
The peak can be reached via 6 different trails, with December to May being the best time to attempt the hike due to inclement weather outside of those months.
Sinharaja Forest Reserve in Sri Lanka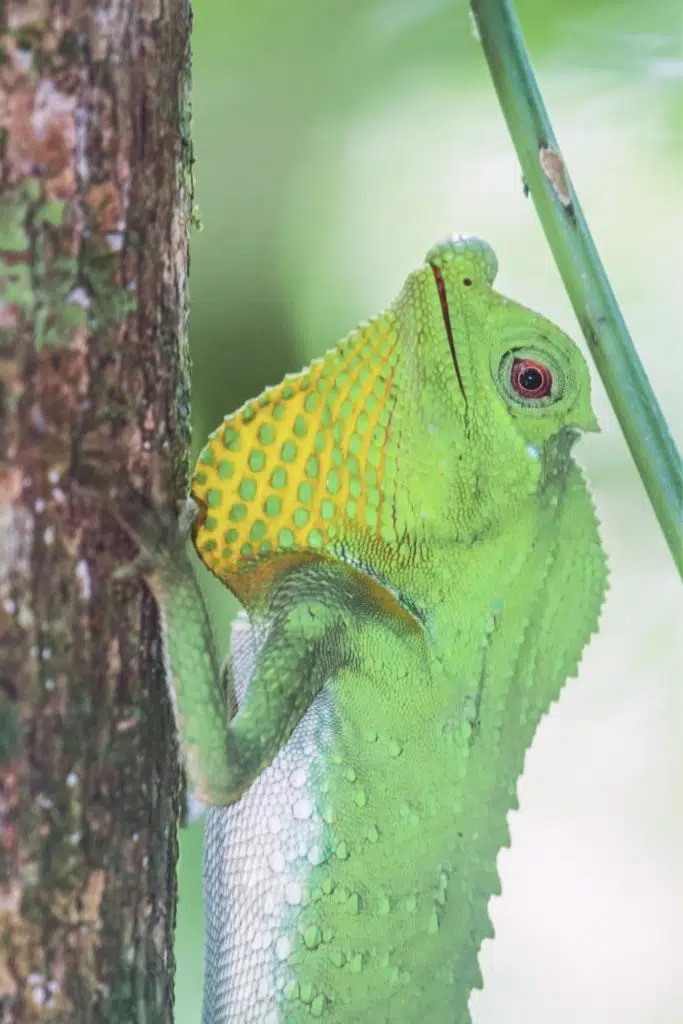 The Sinharaja Forest Reserve, the last remaining rainforest in Sri Lanka, was once endangered due to logging.
It is home to many unique animals and plants.Due to this, it was saved from being further damaged when it was named a World Biosphere Reserve by UNESCO in 1978.
The Sinharaja Forest Reserve later became a UNESCO World Heritage site in 1988.
Today, the reserve is nearly 22,000 acres, but is in the process of being expanded to nearly 89,000 acres.
Visitation is permitted, with multiple entrances surrounding the park. It is best known for nature walks, hiking, and bird watching.
Coconut Tree Hill at Mirissa Beach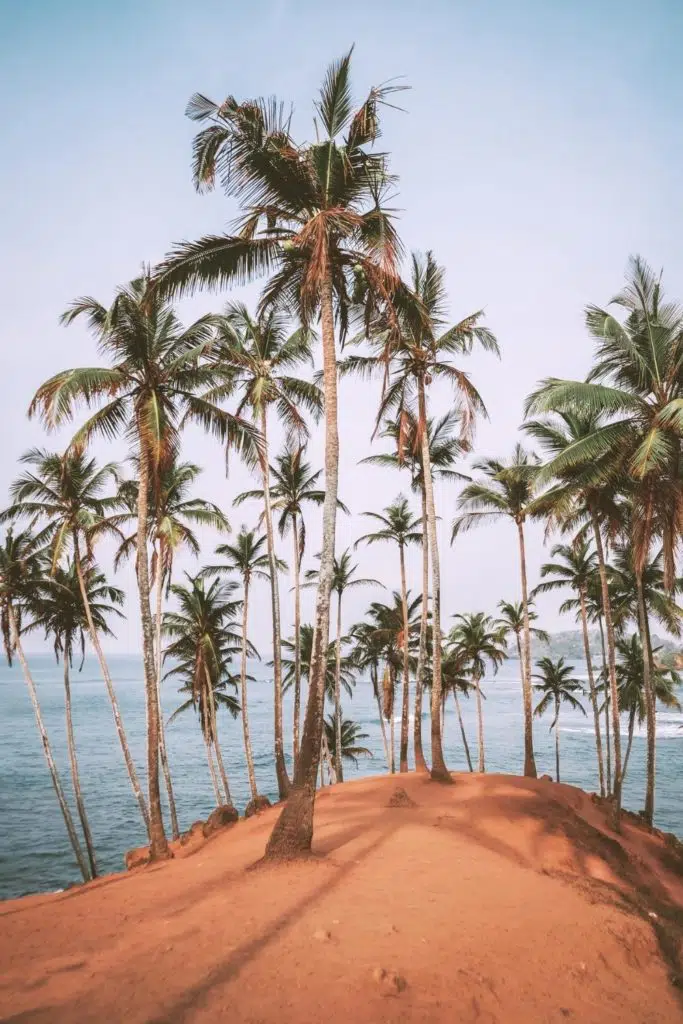 In what used to be an unassuming hill in Mirissa is now one of the most famous places in Sri Lanka thanks to its heavy use as a backdrop on Instagram.
It is located down the street from Mirissa Beach, next to the oceanside Sunset Bar at the end of Coconut Tree Hill Road.
Golden Temple of Dambulla in Sri Lanka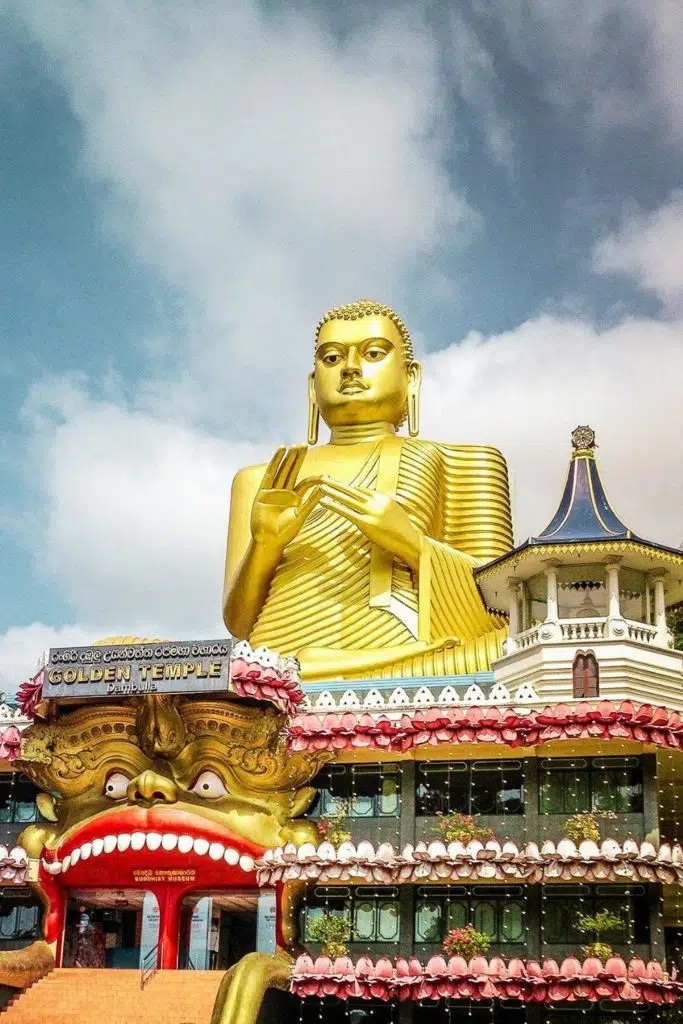 The Golden Temple of Dambulla is an ancient Buddhist monastery that includes a temple built into a cave atop a hill.
It is my favorite spot mentioned in this post due to the interesting colors and patterns featured throughout the temple.
The Golden Temple of Dambulla is located almost perfectly in the center of the island and was named a UNESCO World Heritage Site in 1991.
I visited Dambulla in 2013 during Vesak, an important Buddhist holiday, with friends from Sri Lanka.
You can only enter the cave temples barefoot, so we hiked up the hill without our shoes. This was no easy feat as there isn't much shade, so the rock was very hot.
If you can swing it, I highly recommend visiting this famous place in Sri Lanka.
Temple of the Sacred Tooth Relic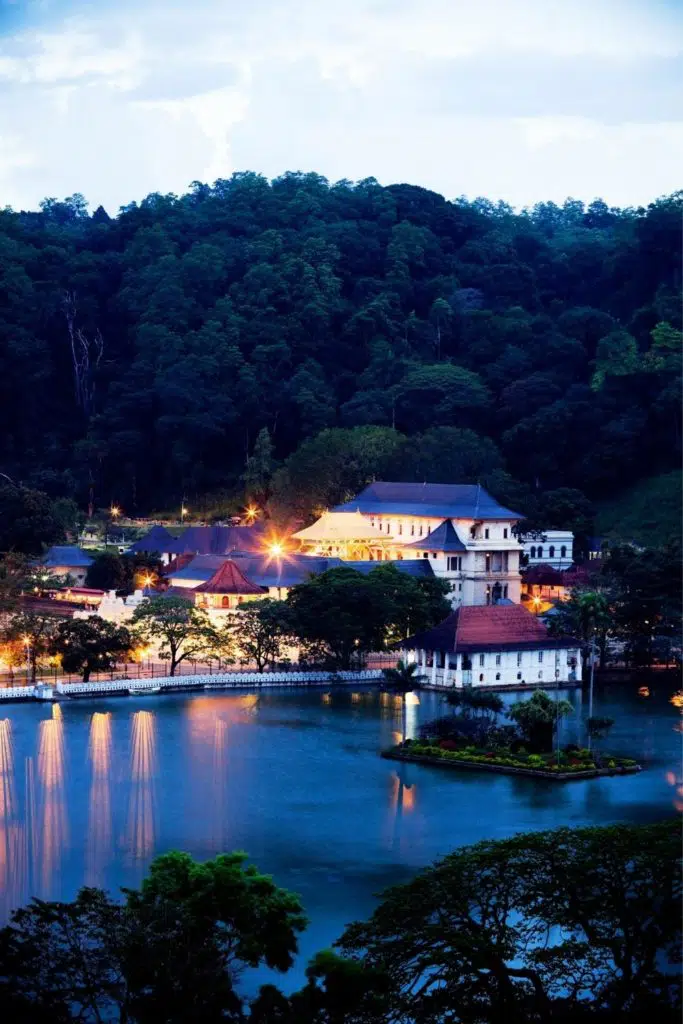 The Temple of the Tooth Relic is a Buddhist temple in Kandy that allegedly hold's one of Buddha's teeth.
I say allegedly because you can't actually see the tooth as it's not on display like a museum. But nonetheless, the temple is beautiful and worth seeing itself.
Around July and August, Kandy is host to a Buddhist celebration called Esala Perahera, or Festival of the Tooth.
The festival includes a parade of elaborately jeweled elephants, dancers, and musicians through the town with the tooth in a gold case.
If you happen to visit during this festival, note that the gates are closed once the procession starts, so be prepared to spend several hours as they won't allow you to open them to leave.
Sigiriya aka Lion's Rock of Sri Lanka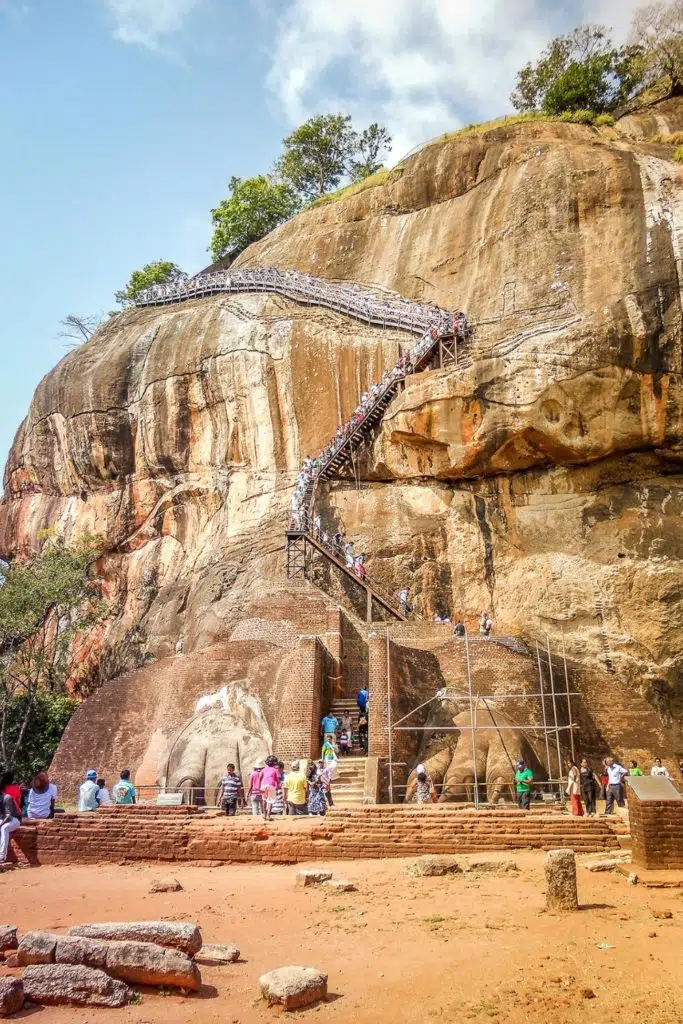 Sigiriya was originally a rock fortress for King Kasyapa. Upon his death, it was abandoned and became a Buddhist monastery until the 14th century.
It is sometimes called the Lion's Rock, as the top of the fortress' gate was carved to look like a lion's body.
The climb up to the top can be a bit nerve racking when it's crowded, but the views from the top are worth it!
Pidurangala Rock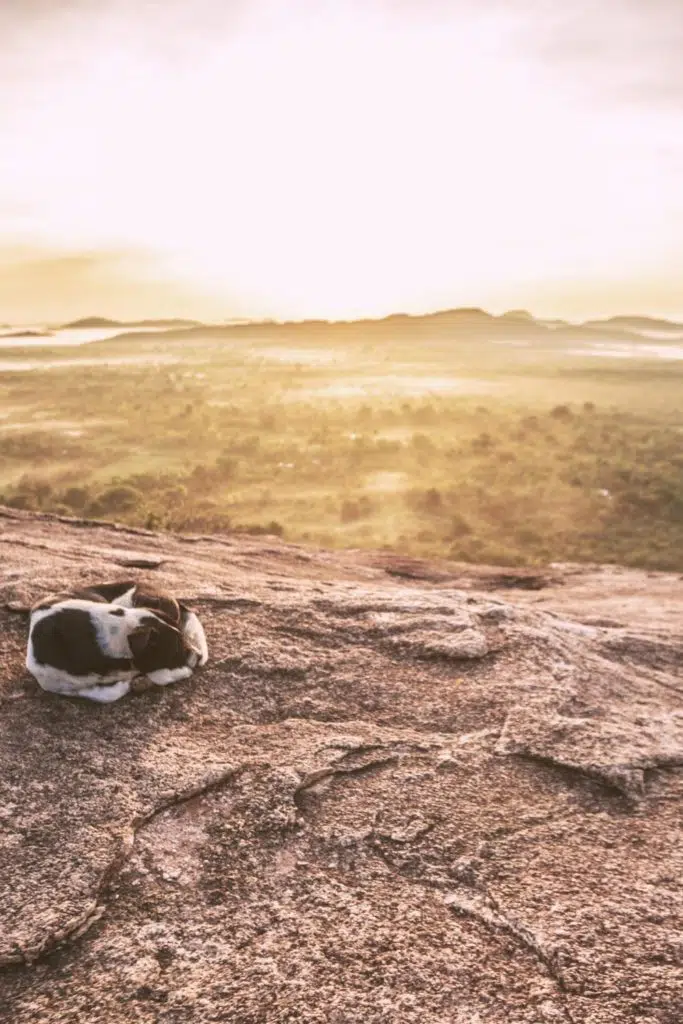 About a mile away from Sigiriya is another fun hike with epic views called Pidurangala.
Pidurangala has a small temple at the base, where you'll pay about 500 LKR entrance fee.
I liked Pidurangala better than Sigiriya mainly because it was far less crowded.
In fact, when my friends and I visited, we were the only ones hiking, though we ran into a local family on our way down.
The only downside is that it was extremely windy at the top, whereas it wasn't when we were atop Sigiriya earlier in the afternoon.
Tea plantations of Sri Lanka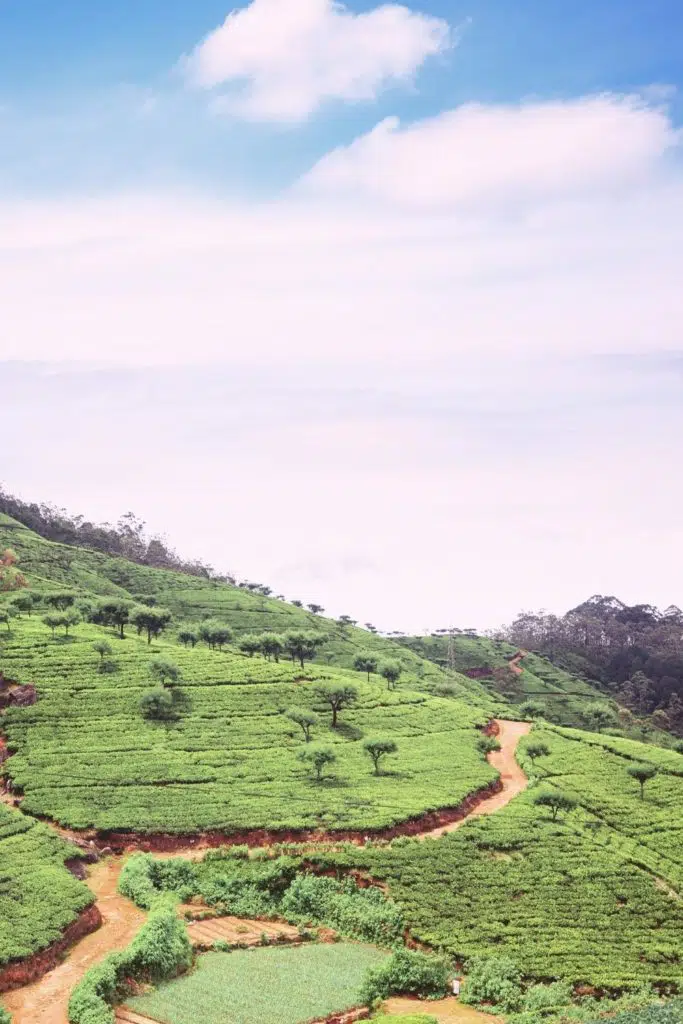 If you're a tea fan, be sure to save time to visit one of Sri Lanka's many tea plantations.
Take a train ride through to see the plantations and fields from afar or plan a stay in one of the nearby towns.
Nuwara Eliya is one of the most popular towns to stay in, as you can reach several tea plantations and factories from there.
Depending on the tea plantation that you visit, you can tour the fields, taste multiple varieties of tea, and possibly pick some tea yourself.
Nuwara Eliya is also a great base for visiting the national parks and reserves within the central highlands, such as Horton Plains or the Peak Wilderness Sanctuary.
Nine Arches Bridge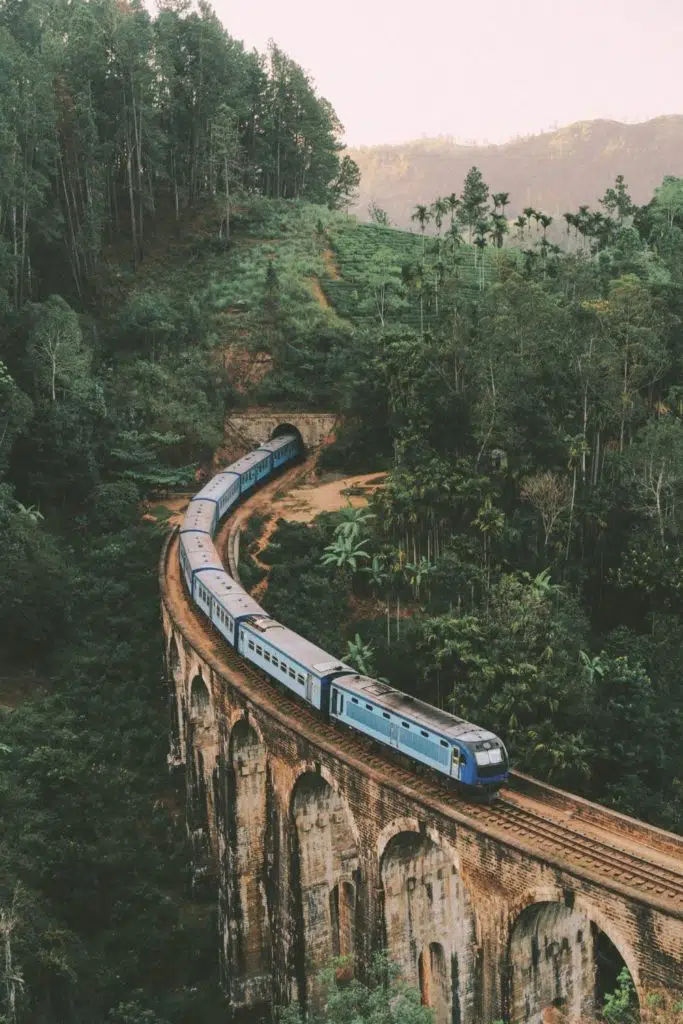 One of the most famous photo locations in Sri Lanka according to Instagram posts is the Nine Arches Bridge.
Most people don't visit the bridge directly, but book a train ride that crosses the bridge, so you'll often see people leaning out of the train with the bridge in the background.
Check out my post about transportation in Sri Lanka to learn more about taking the train to get around in Sri Lanka to learn more about how to see this bridge.
Yala National Park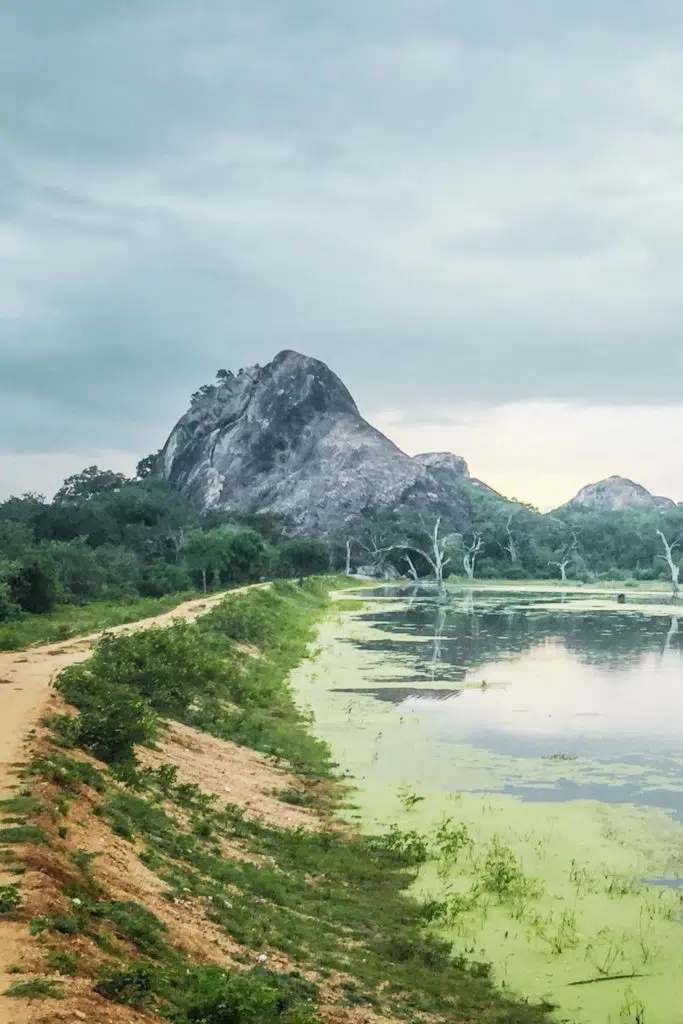 Sri Lanka has several excellent national parks. However, Yala National Park is the most popular.
Yala National Park is a sought-after spot for safari tours to see the beautiful landscape and animals.
It is best known for having the largest number of leopards in the world. You can also see animals such as elephants, peacocks, and water buffalo.
Elephant Orphanage in Sri Lanka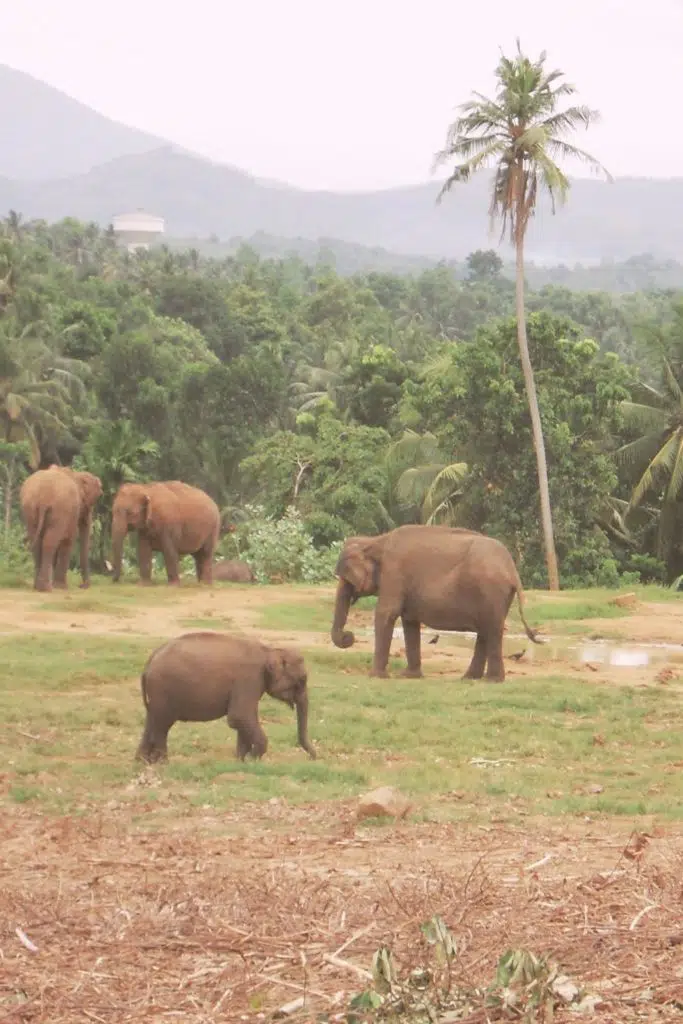 This is one of the famous places in Sri Lanka that I wish wasn't – or at least would make the steps to improve itself and get back to its promise.
I'm adding it to the list to spread the word in case you are as naive as I once was in regard to places like this.
I visited the Elephant Orphanage during my first visit to Sri Lanka in 2013. I was so excited to visit this place because I truly believed the hype that it was a safe place for injured and orphaned elephants.
But after my visit, I realized it falls short of its promise due to its exploitation of elephants, including elephant riding and treating feeding time as entertainment, as well as its use of chains and bull hooks.
After visiting the Elephant Orphanage, I realized how wrong these types of establishments are and I wish it hadn't taken a personal experience to understand that.
Learn from my mistake and skip the Elephant Orphanage. It's not worth the mistreatment of another living being.
Which of these famous places in Sri Lanka do you want to visit?
Up next, check out more of my Sri Lanka travel planning guides:
---
About the author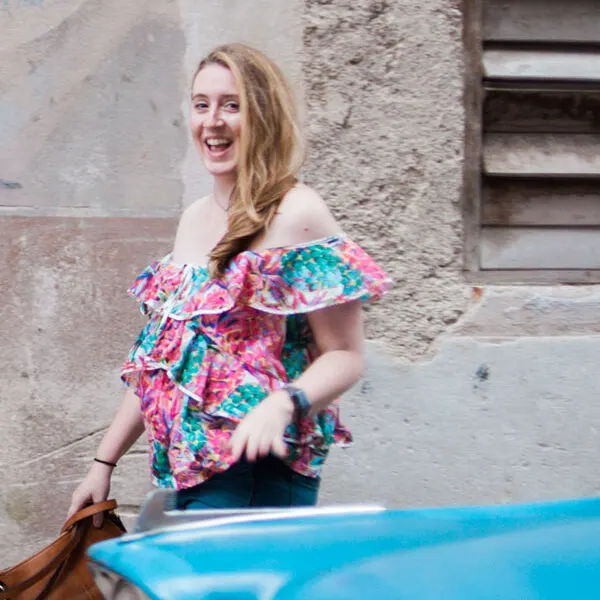 Meg Frost is a Boston-based travel blogger that helps people embrace technology to make vacation planning and traveling wicked easy, affordable, and fun.
She holds an M.A. in Journalism from Northeastern University and B.S. in Communication & American Studies from University of Miami.
---
This post was originally published June 15, 2016. It was last updated November 2, 2022.