Sri Lanka is home to 8 fascinating UNESCO World Heritage sites.
Through my 2 trips to Sri Lanka, I have visited 3 so far: Dambulla Golden Temple, Galle, and Sigriya. I hope to visit again so that I can see the rest.
Ready to explore these UNESCO World Heritage sites in Sri Lanka?
Anuradhapura, Sri Lanka
Anuradhapura is an ancient city in Sri Lanka founded in the 4th century BC.
It is considered the first capital of Sri Lanka and was also once the center of Theravada Buddhism.
The excavated ruins are surrounded by multiple Buddhist monasteries and is considered a sacred site to this day.
Central Highlands of Sri Lanka
The Central Highlands include Horton Plains National Park, Knuckles Conservation Forest, and the Peak Wilderness Protected Area.
This area is home to several endangered species, such as the Sri Lankan leopard.
Galle Fort in Sri Lanka
Galle is a former trading port developed in the 16th century by Portuguese settlers.
It was one of the areas of Sri Lanka hit by a tsunami in 2004, but much has rebuilt since then.
The architecture in Galle is an interesting blend between traditional Sri Lankan, Portuguese, and Dutch styles.
Its location on the coastline makes it a lovely spot to watch the sun set.
Golden Temple of Dambulla in Sri Lanka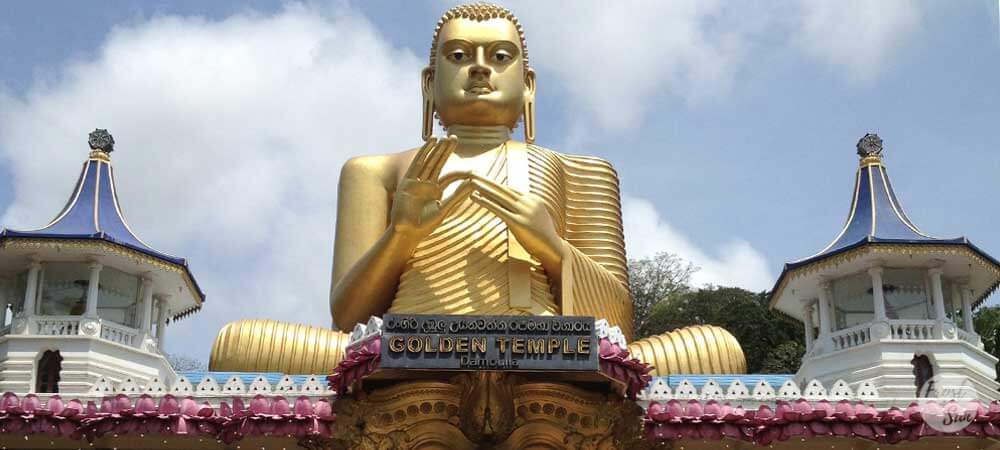 The Golden Temple of Dambulla is an ancient Buddhist monastery built in a cave atop a hill.
It is my favorite of the UNESCO World Heritage Sites in Sri Lanka due to the interesting colors and patterns all around.
Kandy, Sri Lanka
Kandy is another sacred Buddhist city, as it is where the Temple of the Tooth Relic is located.
The Temple of the Tooth Relic allegedly holds Buddha's tooth.
I highly recommend traveling here during July/August for the Esala Perahera celebration.
Tip: If you plan to see the Esala Perahera celebration, be prepared to spend several hours. The gates are closed once it starts, so you won't be able to leave until it is over.
Polonnaruwa, Sri Lanka
Polonnaruwa replaced Anuradhapura as the capital of Sri Lanka after the former capital was destroyed by invaders from Southern India.
It is one of the most well preserved ancient ruins in Sri Lanka.
It has been the site of a Duran Duran music video, as well as a Disney-backed documentary on toque macaque monkeys, Monkey Kingdom.
Sigiriya aka Lion's Rock of Sri Lanka
Sigiriya was originally a rock fortress for King Kasyapa.
Upon his death, it was abandoned and became a Buddhist monastery until the 14th century.
It is sometimes called the Lion's Rock, as the top of the fortress' gate was carved to look like a lion's body.
The climb up to the top can be a bit nerve racking when it's crowded, but the views from the top are worth it!
Tip: If you have time, visit Pidurangala Rock about a mile away. It's a short hike that offers unique views of Sigiriya and the surrounding landscape.
Sinharaja Forest Reserve in Sri Lanka
The Sinharaja Forest Reserve was once endangered due to logging.
It was saved from being further damaged when it was named a World Biosphere Reserve by UNESCO in 1978.
It later became a UNESCO World Heritage sites in 1988.
Which of the UNESCO World Heritage sites in Sri Lanka do you want to visit?