Are you planning a trip to the bustling and exciting city of Washington, DC?
Don't let the myriad of hotels and vacation rentals overwhelm you! With so much going on in the capital of the US, it can be hard to know where to stay.
I'm here with all the information you need to ensure your vacation is a success.
Whether you opt for luxury or look out for deals at budget locations, this guide will help point out some of the best places to rest your head in DC.
Let's dive right into my guide on where to stay in Washington, DC, including the best neighborhoods, what to do nearby, and my top hotel picks.
Where to Stay in Washington, DC
You can't go wrong when it comes to finding the perfect place to stay in Washington, DC.
With so many unique neighborhoods and accommodations that fit most budgets, you're sure to find what you're looking for.
From bustling downtown destinations to more tranquil points of interest, there's something for every traveler.
Plus, with all of the top-notch hotels in the city, no matter your budget you'll be able to find a great spot!
All you need is this guide to ensure that your stay in DC is truly perfect.
Adams Morgan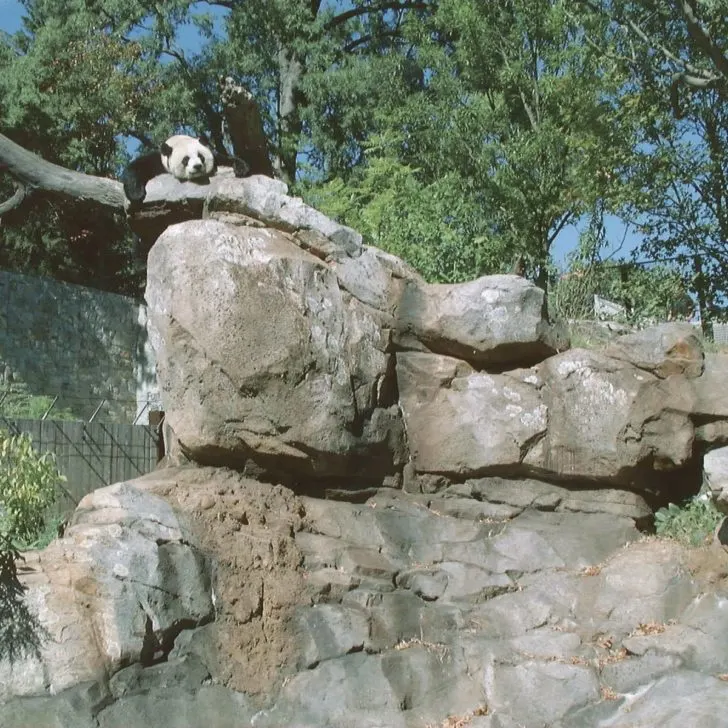 Adams Morgan in Washington, DC is the place to go for a fab night out.
18th Street is the main street with rowdy bars, bustling nightclubs, and delicious restaurants.
Live music can be found from every corner, making it an ideal location for exploring the various cultures of the city.
As one of the more diverse areas in DC, you're guaranteed to find an atmosphere unlike any other – just make sure to have your dancing shoes handy!
Things to do near Adams Morgan
See giant pandas at eh Smithsonian National Zoological Park and learn about conservation efforts.
Go for a stroll through Meridian Hill Park, also known as Malcolm X Park.
Bar hop down 18th Street (responsibly, please).
Best hotels in Adams Morgan
The LINE DC: 5-star boutique hotel housed in a former church within walking distance of AdMo's best restaurants and bars.
HighRoad Washington DC: One of few hostels in the DC area in a Victorian row home with both shared dorms and private rooms.
Washington Hilton: Located on the cusp of Downtown DC and Adams Morgan, by Dupont Circle.
Capitol Hill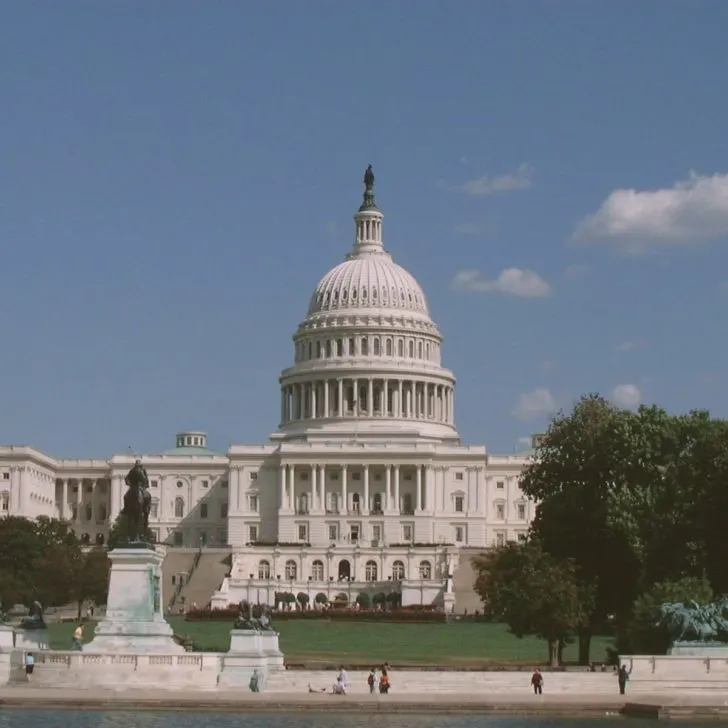 When visiting Washington, DC, why go anywhere else but the vibrant and exciting Capitol Hill neighborhood?
Eastern Market provides a unique experience that all tourists should try, from picking up fresh produce from the bustling farmers' market to sampling fare from one of the diverse restaurants.
The historic district and residential streets are home to lush greenery and plenty of quirky pubs and art galleries for everyone to explore.
Plus, with easy access to major landmarks like the US Capitol and Supreme Court, staying on Capitol Hill makes it easy to get around the city.
So if you're looking for a convenient and immersive DC experience during your stay, book your hotel on Capitol Hill!
Lastly, if you'll be arriving in DC by way of Union Station, Capitol Hill is an easy walk from there.
Things to do near Capitol Hill
Tour the US Capitol.
Eat your way through Eastern Market.
Marvel (or protest!) at the Supreme Court.
Browse the collections at the Library of Congress.
Meander through the United States Botanic Garden.
Best hotels in Capitol Hill
Capitol Hill Hotel: Pet-friendly hotel located next to the Capitol building.
AC Hotel Capitol Hill & Navy Yard: Located between Capitol Hill and Navy Yard with a lovely rooftop lounge with gorgeous views of the city.
Penn Quarter & Chinatown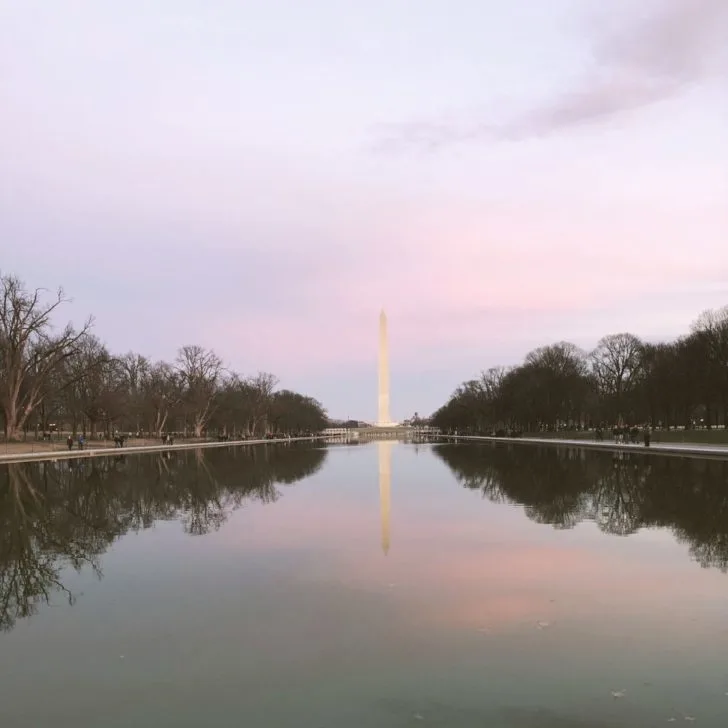 If you're looking for the ultimate DC experience when visiting, look no further than Penn Quarter.
From restaurants galore to unbeatable shopping scenes, this neighborhood is a haven for tourists who are just dying to dive in and explore.
Plus, it's conveniently located near downtown DC and the hustle-bustle of Chinatown too.
Lastly, if you're arriving via Union Station, you'll be right next door to this neighborhood.
Things to do in Penn Quarter
Hit up the Smithsonian museums.
Catch a concert at Capital One Arena.
Tour the historic Chinatown neighborhood.
Admire the portraits at the National Portrait Gallery.
Check out the Reflecting Pool and Washington Monument.
See a show at historic Ford's Theatre, where President Abraham Lincoln was assassinated.
Best hotels in Penn Quarter
Riggs Washington DC: Located in the former Riggs National Bank, Riggs is the most beautiful hotel in the city, in my opinion!
Grand Hyatt Washington: Located across from CityCenter shopping and restaurants, next to Chinatown, with a gorgeous atrium lobby.
Motto by Hilton: Micro-hotel close to the Chinatown Metro stop. Perfect for those that just need a place to rest their head at night.
Downtown DC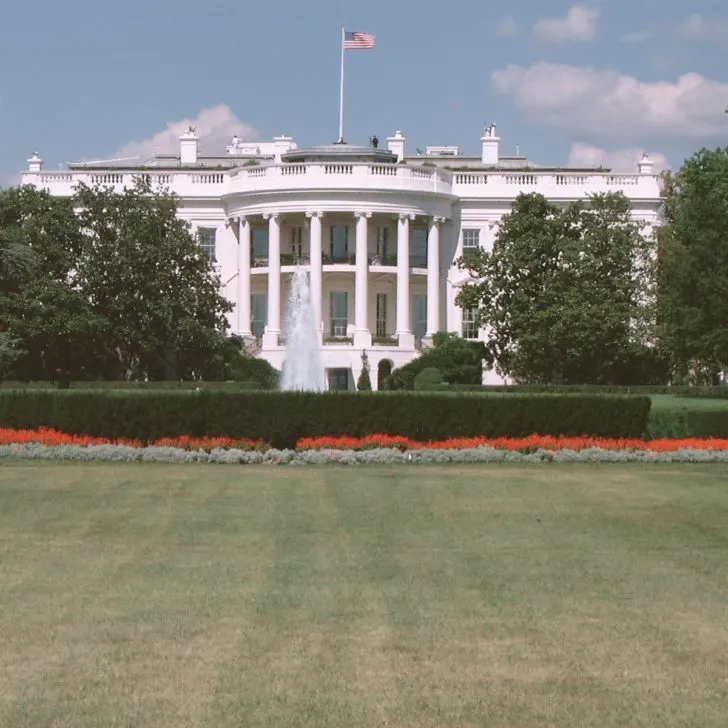 If luxury is what you crave, Washington DC's Downtown neighborhood is the place for you!
This vibrant neighborhood has some of the city's best luxury hotels and a thriving restaurant scene. It's also located directly behind the White House.
Plus, with plenty of Metro stations within downtown, as well as along the bordering neighborhoods, it'll be quick, cheap, and easy to get to everything you want to do while in town.
Things to do in downtown DC
Catch a Drunk Shakespeare show.
Find your next read at Kramer's Bookstore & Cafe.
Browse the galleries at the National Geographic Museum.
Have fun with words at the immersive language museum, Planet Word.
Marvel at the beautiful buildings in the Fourteenth Street Historic District.
Best hotels in downtown DC
Foggy Bottom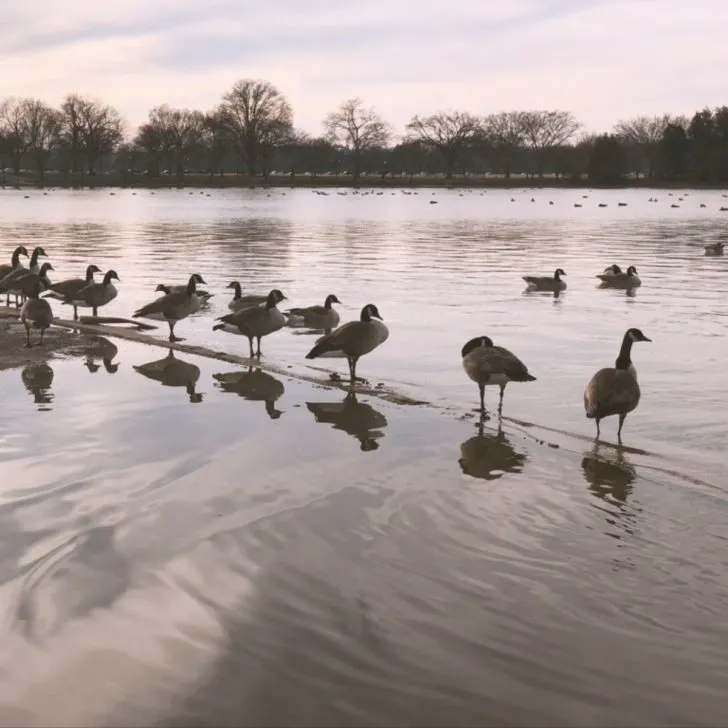 Foggy Bottom in Washington, DC is a great place for visitors to stay.
The nearby George Washington University campus makes for some beautiful green open spaces, blissful meandering and wonderful people-watching.
It's also historically fascinating, as it was home to the Watergate complex where the scandal that brought down former President Nixon unfolded.
If all of that isn't enough to convince you to make Foggy Bottom your home away from home while visiting, there are plenty of restaurants and convenient amenities nearby.
Things to do in Foggy Bottom
Take a ride around the Tidal Basin in a paddleboat.
Take in the Washington Monument, Reflecting Pool, World War II Memorial, and Lincoln Memorial.
See contemporary and modern art from Latin American and Caribbean artists at the Art Museum of the Americas.
See a show at the John F. Kennedy Center for the Performing Arts, home of the Washington National Opera.
Best hotels in Foggy Bottom
Arc Hotel: Boutique hotel that sits between GWU and the Kennedy Center. Previously called the GWU Inn.
Watergate Hotel: Yes, the infamous Watergate Hotel is still operating! You can even stay in the infamous room 214, where it all went down – for an extra cost, that is.
Hotel Hive: Micro hotel close to the GWU Metro station. Perfect for those that just need a place to rest at night.
Georgetown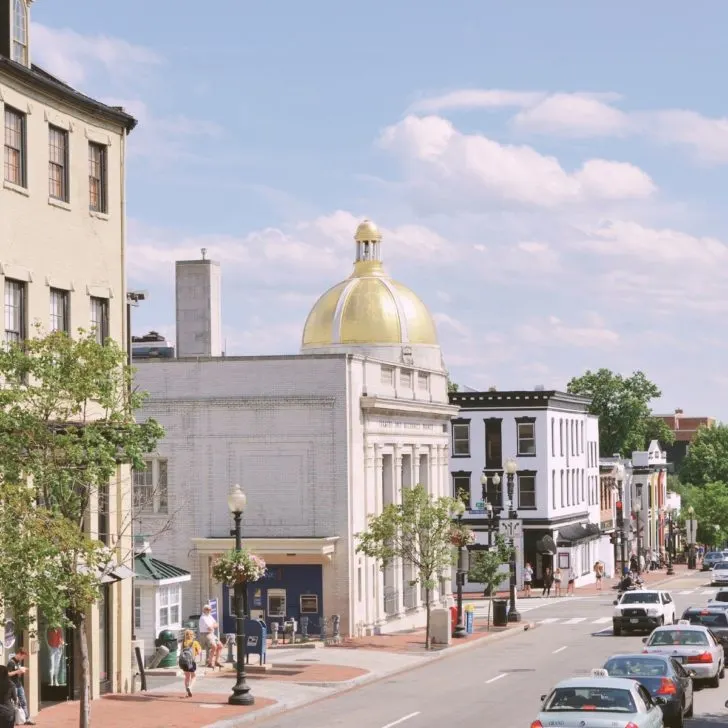 Georgetown is an iconic Washington, DC neighborhood that offers visitors an amazing range of activities.
Not only is it home to Georgetown University, one of the oldest universities in the United States, but Georgetown is also a hotspot for dining and entertainment.
Whether you're looking for a cozy cafe or the latest luxury chain store, Georgetown has it all.
Georgetown also boasts historic landmarks and unique parks, so you can enjoy all that our nation's capital has to offer in one great location.
The only con? It's not as friendly with public transportation as other neighborhoods in the area, so you may need a rental car. Unless you don't mind shelling out for a Lyft.
Things to do in Georgetown
Go for a stroll along the Potomac River at Georgetown Waterfront Park.
Stroll through the gardens at Dumbarton Oaks Park and see art at the Dumbarton Oaks Museum.
Visit Tudor Place, former home of the Peter family, who were descendants of Martha Washington.
Best hotels in Georgetown
The Graham Georgetown: 4-star boutique hotel located within walking distance to the Georgetown ferry terminal. Peloton bikes available in the fitness room!
The Avery Georgetown: Beautifully decorated 4-star boutique hotel guesthouse away from the hustle and bustle. Perfect for a quiet getaway.
Georgetown Inn: 3-star hotel on Wisconsin Ave. with tons of restaurants and shops nearby.
Southwest Waterfront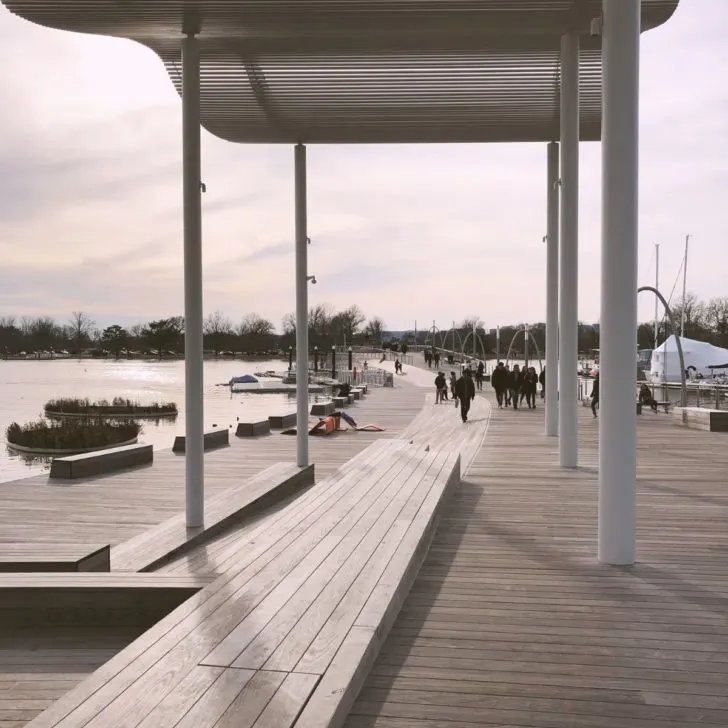 The Southwest Waterfront neighborhood in Washington, DC is the newest hip place to stay when visiting the city.
This neighborhood stretches along the Potomac River just past the Tidal Basin. It's lined with plenty of restaurants and shops, plus hotels and entertainment venues.
The lovely waterfront views make it a great spot for a city getaway that's within a close distance to plenty of entertainment.
Things to do near Southwest Waterfront
Catch a baseball game at Nationals Park.
Take fun photos for the 'gram at Recreation Pier.
Check out the latest immersive art experience at Artechouse.
See a show at Arena Stage, The Anthem, or Pearl Street Warehouse.
Learn about espionage around the world at the International Spy Museum.
Best hotels in Southwest Waterfront
Canopy Hilton The Wharf: Boutique concept hotel managed by Hilton that focuses on incorporating local touches.
Pendry at The Wharf: Small boutique chain with free bike rentals and an outdoor pool. Perfect for summertime visits.
Citizen M Capitol Hotel: Affordable luxury hotel where all rooms only have 1 King size bed. Great for couples or solo travelers with money to spend. Located between Capitol Hill and Waterfront.
Where are your favorites places to stay in Washington, DC?
Whether you're looking for the chicest hotels in Washington DC or just trying to find the perfect place close enough to explore the city but outside of the hustle and bustle, there is a perfect spot.
So when you plan your next trip to DC make sure you know what type of experience you're wanting and use this guide as a resource so you can stay in the exact spot that suits all of your needs!
---
About the author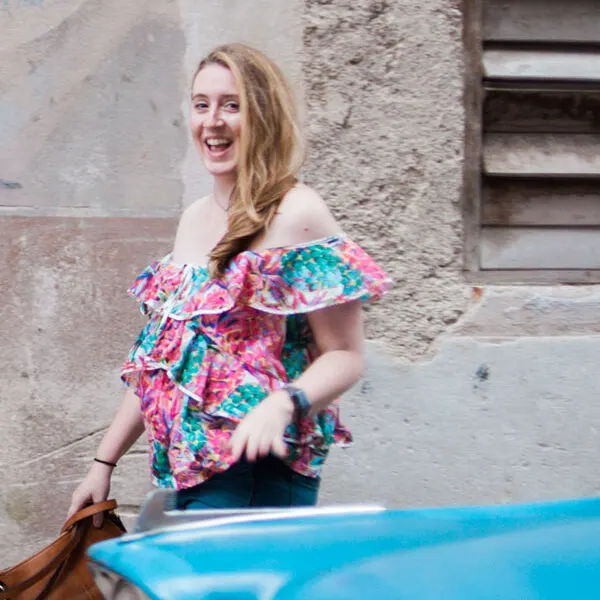 Meg Frost is a Boston-based travel blogger that helps people embrace technology to make vacation planning and traveling wicked easy, affordable, and fun.
She holds an M.A. in Journalism from Northeastern University and B.S. in Communication & American Studies from University of Miami.
---
This post was originally published March 29, 2016. It was last updated April 25, 2023.