Tired of nagging friends and family to share their photos from your group trip? Ugh. Me too. It's the worst.
Especially when you know your BFF has a killer photo of you that you want to post on Instagram or Facebook.
Get ahead of the problem on your next group trip using one of these photo websites for sharing photos with family and friends.
Photo websites for sharing
Keep it simple with Cluster
Cluster is super simple to set up and use for sharing photos with groups.
Just set up an account, choose the people you want to share photos with, and you're done! It even allows you to share videos and notes, too.
It has both a website and mobile app, so friends and family can choose the option that works best for them.
Best For: Groups with varying tech abilities
Price: FREE
Share photos from events or group trips with DropEvent
DropEvent is created with events in mind. This option would be great for those that organize large group trips, like yoga retreats or family reunions.
Password protection is available to keep photos private. Anyone can share photos as long as they have the link, so only the main organizer needs to pay for a subscription.
Best For: Large group trips or events, like family reunions, alumni trips, retreats, weddings, etc.
Price: $20-50 per month
Store and share photos via Flickr
There are 2 ways you can go about sharing photos with groups on Flickr: share with a predetermined set of people or create a private group.
Flickr's privacy settings allow you to assign friends and family to a list and then share photos or albums only with that list of people.
When I travel with family, this is how we share our photos with each other after a trip.
Flickr also has a group option. Share photos by creating a private group for your tripmates, then add your photos to the group.
Best For: Those with a lot of photos; Flickr allows storage of up to 1000 photos for free.
Price: FREE
Store and share photos via Google
Everyone has Gmail, right? If they don't, please help your friend or family member join the 21st century.
All kidding aside, Google Photos is a great option because it is super easy to use.
It's also a great option because so many people already use Gmail and therefore already have access. No need to sign up for yet another account and password to remember!
Best For: Gmail users. Groups with users of varying tech abilities.
Price: FREE
Best apps for sharing photos
Send photos via GroupMe messaging app
GroupMe is technically a group messaging app, not a photo website for sharing photos.
It's great for large groups where not everyone may have each others' phone numbers, such as school trips, conferences, and weddings.
You can download the GroupMe app, but it's not necessary for all participants to do so. You can invite others to the chat with their phone number.
Best For: Large groups. Last minute solution given it doesn't need an account, app or list of phone numbers upfront.
Price: FREE
Use a unique hashtag on Instagram
I'm sure you're familiar with Instagram. It's a fun way to share your photos with the world without having to slog through annoying clickbait articles (I'm looking at you, Facebook!).
A super simple way to share photos with a group is to create a unique hashtag and have everyone tag photos from the trip with that hashtag.
The downside to using Instagram is that if you aren't friends with someone on the trip that has a private account, you won't see their photos in the hashtag feed.
Also, if your hashtag isn't unique, wading through others' photos can be a pain, too.
Best For: Frequent Instagram users that don't want another app or site to use
Price: FREE
Private sharing with Sherish Connect
Sherish Connect is technically billed as a private album for families. Of course, that doesn't mean it can't be used for sharing photos with other types of groups.
Best For: Large families or groups of friends that travel often together (ie, sororities, travel clubs, etc).
Price: $10/month for up to 50 people.
Insanely Fun Photo Sharing for Groups
Vebbler is a ton of fun! It's like all of your favorite photo and video sharing apps rolled into one for a smashing way to share photos with groups. It has stickers, GIFs, funky photo filters, and more.
Best For: Travel groups that want to have fun with the photos they share from their trip.
Price: FREE
Let me know in the comments below how you share photos with your friends and family.
For more travel and tech tips, check out these posts:
---
About the author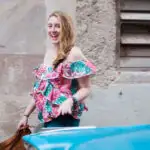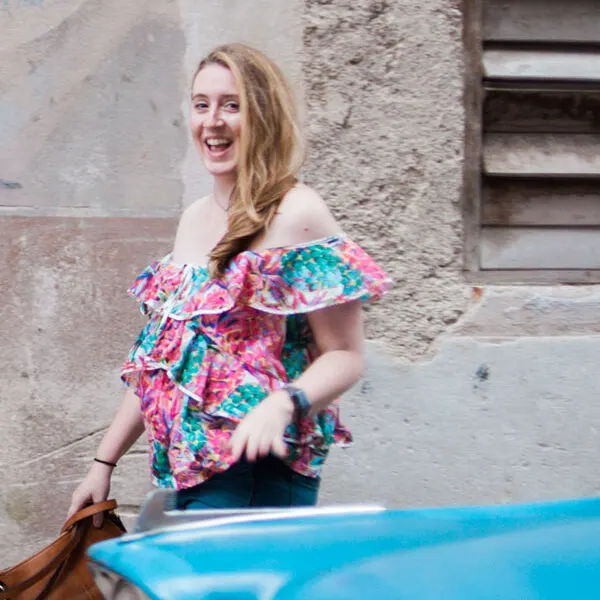 Meg Frost is a Boston-based travel blogger that helps people embrace technology to make vacation planning and traveling wicked easy, affordable, and fun.
She holds an M.A. in Journalism from Northeastern University and B.S. in Communication & American Studies from University of Miami.
---
This post was originally published on August 8, 2017. It was last updated on March 11, 2022.