While I might have mastered Pinterest, I'm still working on Instagram.
One strategy I'm testing at the moment is sharing my Instagram content on Pinterest to see if it helps with brand recognition and account growth.
While I was trying to figure out a system for connecting my Instagram to Pinterest, I found 3 methods that make sharing Instagram content on Pinterest ridiculously easy.
Keep reading to learn more about the top 3 ways you can connect your Instagram to Pinterest, including the pros and cons of each method.
How to claim your Instagram account on Pinterest
Before you start pinning your Instagram content, claim your IG account on Pinterest.
Claiming your Instagram account will make sure your Instagram content is always attributed to you on Pinterest.
Pinterest will also provide analytics information based on your pinned Instagram content, but only if your account is claimed.
Lastly, connecting your account will also make it easier for you to pin your Instagram content to Pinterest, either by auto-posting or pushing it to a publishing queue. More on that later.
To claim an Instagram account, you need to have a business account on Pinterest. So if you haven't switched to a Pinterest business account, get to it!
Your account type on Instagram doesn't matter.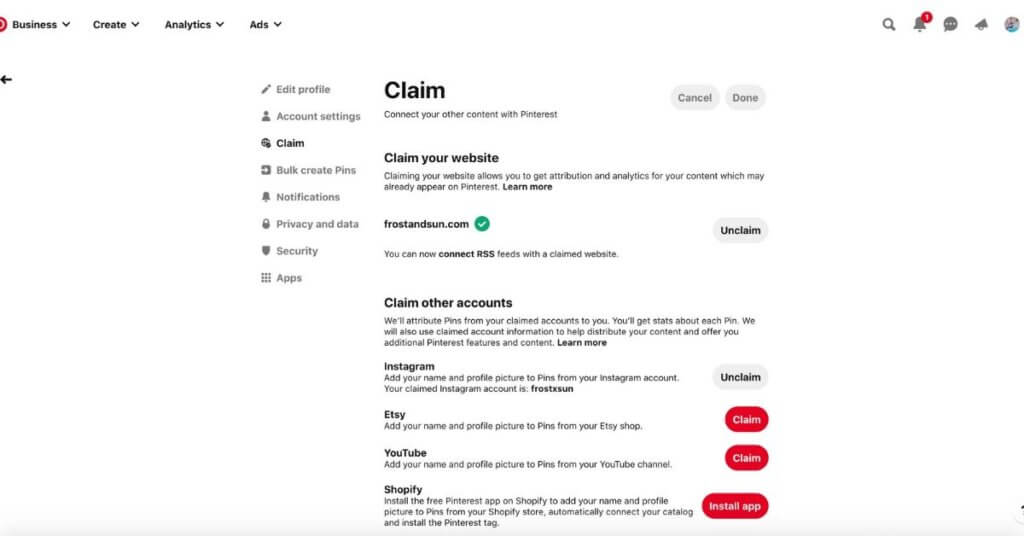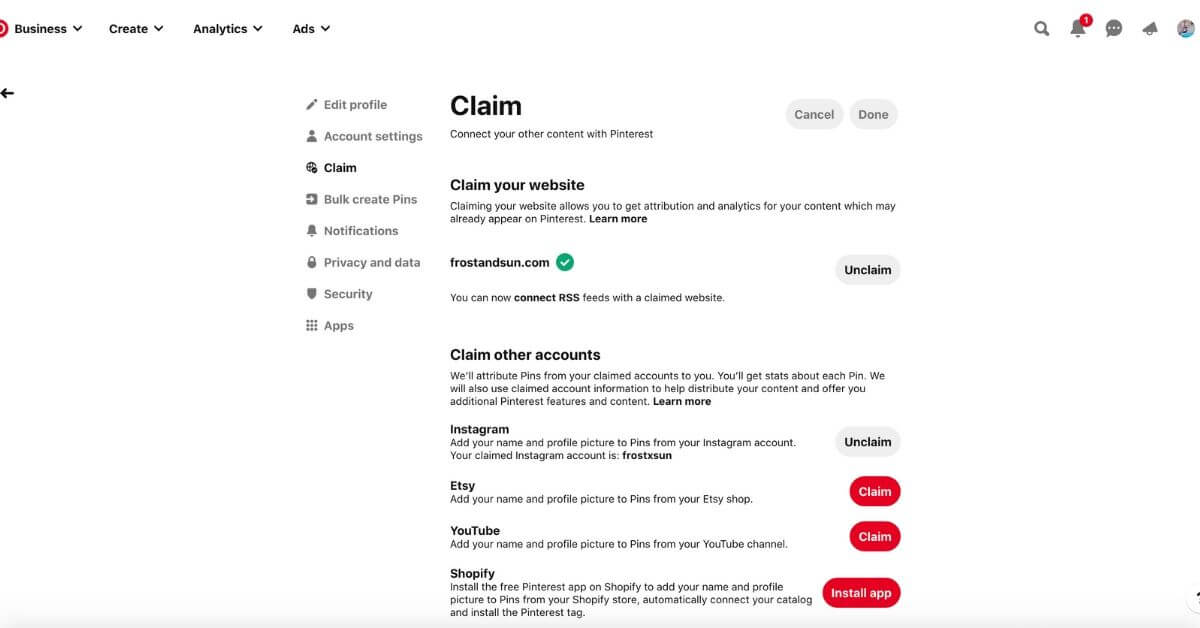 Sign in to your Pinterest business account. Under Settings, click Claim in the menu on the left side of the page.
Under Claim other accounts, click the red Claim button next to Instagram.
An Instagram sign in screen will appear so that you can authorize connecting your Instagram account to Pinterest.
That's it!
Now you're ready to connect your Instagram to Pinterest so you can share and track your content with ease.
How to connect Instagram to Pinterest for automatic publishing
There are 2 ways you can set up your Instagram feed to automatically publish to your Pinterest account: automatically post to a single board or post to specific boards based on hashtags. Both options are free.
Both methods utilize IFTTT.com connector applets.
IFTTT provides a way for you to set up connections or processes that occur If This happens, Then That happens.
Set up an IFTTT account using your Gmail, Facebook, or Apple login. Then, pick a connector below based on what you want to accomplish.
Automatically publish all Instagram photos to a single Pinterest board
The easiest way to automatically publish your Instagram photos to Pinterest is to push them all to a single board.
First, sign in to your IFTTT account.
Then, enable the Sync your new Instagrams to a Pinterest board IFTTT connector.
Instagram created this connector, which means it won't violate their terms of service or cause havoc with the algorithm gods.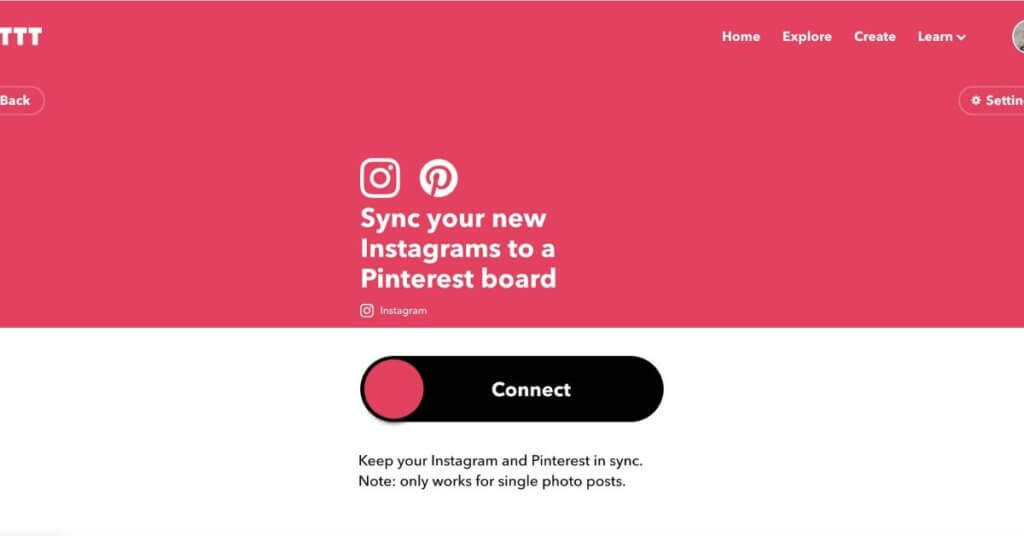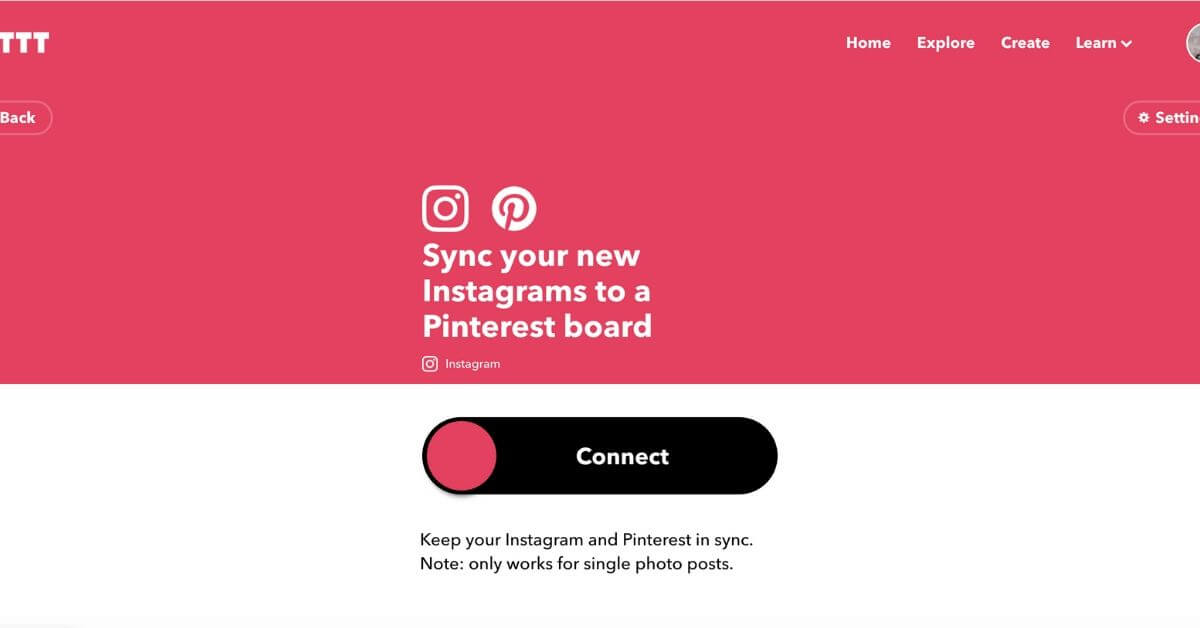 After you enable this connector, a pop up will appear so you can authorize your Instagram account.
Then, another pop up will appear so you can authorize your Pinterest account.
Once both accounts connect, type in the name of the board you want to publish your Instagram posts to.
Make sure you type in the name exactly how it appears on your Pinterest account, otherwise the connection will fail.
Once you save the Pinterest board name, you're good to go! All of your Instagram images will automatically post to Pinterest.
NOTE: Only single photos will publish with this IFTTT connector. Carousels and videos won't publish.
Automatically publish images with a certain hashtag to a Pinterest board
If you don't want all of your Pinterest images to post to Pinterest, you can control which ones get posted with a single hashtag. Follow the steps below to get started.
First, sign in to your IFTTT.com account.
Then enable the Automatically pin your Instagrams to a board when you use a specific hashtag connector.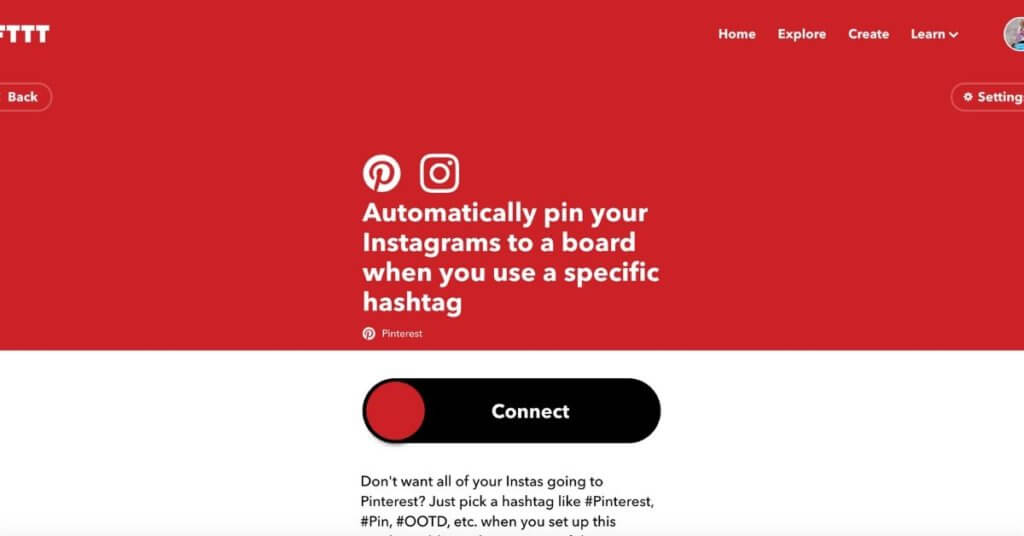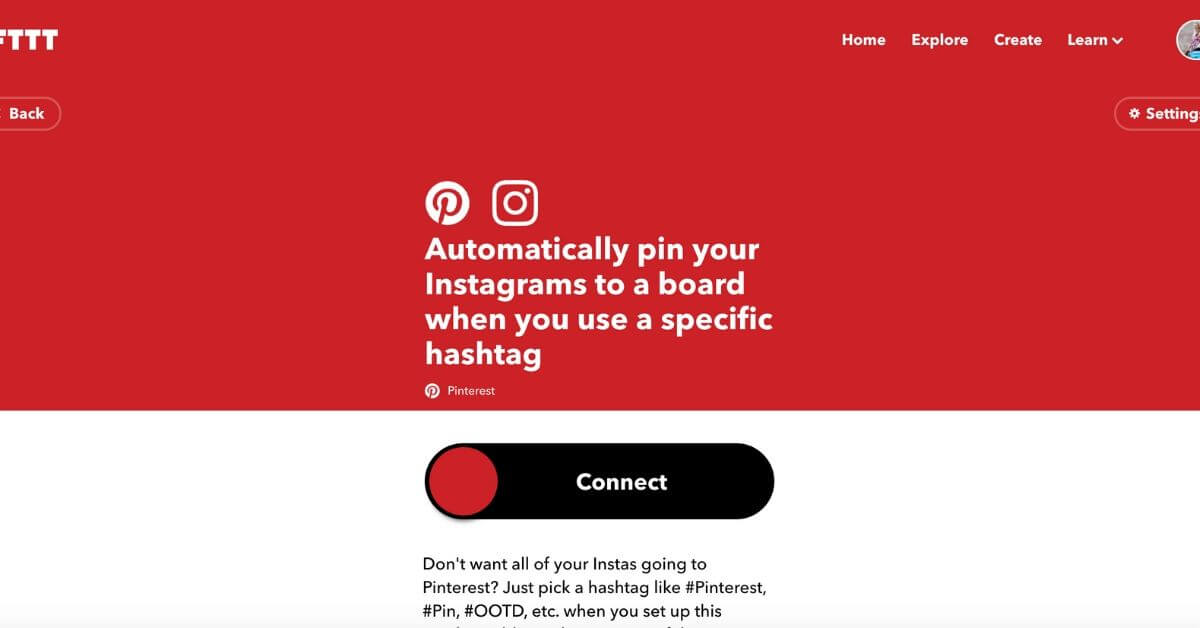 This connector was developed by Pinterest, so there's no need to worry about any bad coding or hacking going on.
What I like about this connector is that it sniffs the hashtags in your IG photo to determine if and where it should publish a photo to.
When you first set up this connector, you'll be asked to authorize your Instagram and Pinterest accounts, unless you've already done so on IFTTT.
Next, type in your preferred hashtag and a Pinterest board name. Once you save your choices, any Instagram photo from your account that uses the hashtag you chose will publish to the Pinterest board you selected.
At this time you can only choose 1 hashtag and 1 Pinterest board. But perhaps they'll allow you to input additional hashtags to board connectors in the future.
How to set up your Instagram feed to publish to a draft queue
If you don't want to automatically post all of your Instagram photos, but want an easy way to pick and choose which photos to pin, Tailwind is the way to go.
Personally, this is the option I use for publishing Instagram photos to Pinterest because not all of my Instagram photos make sense for Pinterest.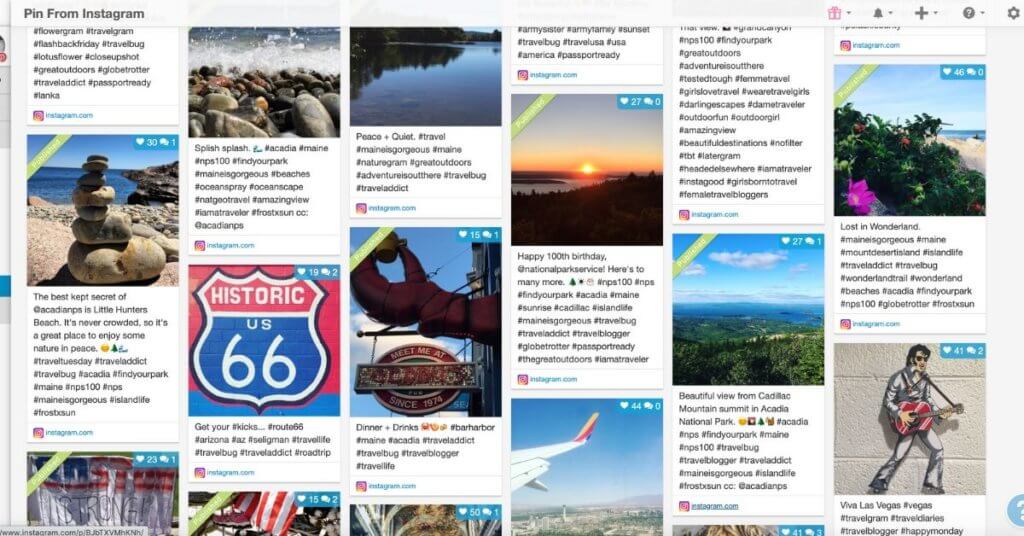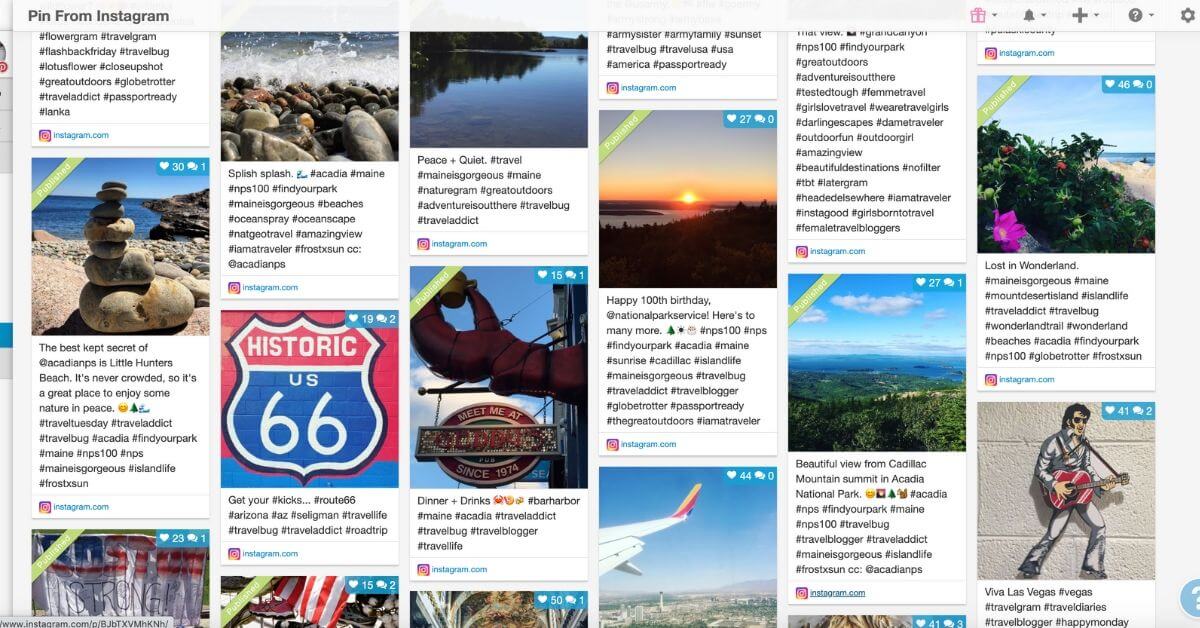 From the Tailwind dashboard, go to Publisher > Pin from Instagram.
If you didn't connect your Instagram account when you signed up for Tailwind, you'll be asked to do so first.
Once your Instagram account connects, all of your Instagram posts will sync to the Pin from Instagram page. You can sort the page based on Most Recent, Most Liked, and Most Commented.
From this page, you can schedule any of your Instagram images to publish to any board or group of boards on Instagram.
After an image is published to at least one board, a green banner appears over your image that says "Published." However, your Instagram posts will still be available for you to schedule again if you want.
The only downside to this option is that Tailwind is a premium tool, whereas the IFTTT connectors above are free.
Are you ready to connect your accounts?
No matter your reason for choosing to share your Instagram images on Pinterest, I'm certain you'll agree that it's super easy to do.
But, if you have any questions after following the steps above, leave a comment below and I'll get back to you.
This post was originally published on July 20, 2020. It was last updated on March 11, 2022.