Ah, Austin – home of live music, barbecue that's worth lining up for hours, and perhaps most importantly, hot summers where the best way to keep cool is in one of Austin's many swimming holes.
But once you've got the itinerary all set up, eating your fill and diving into Texas' natural wonders and historic landmarks, it's time to figure out where you'll stay while exploring everything this amazing city has to offer.
If you're looking for the best areas and accommodations for your visit to Austin, look no further!
In this blog post I'll show you where to stay in Austin, TX, including the best areas, cool hotels, and fun things to do nearby.
Tips for finding a place to stay in Austin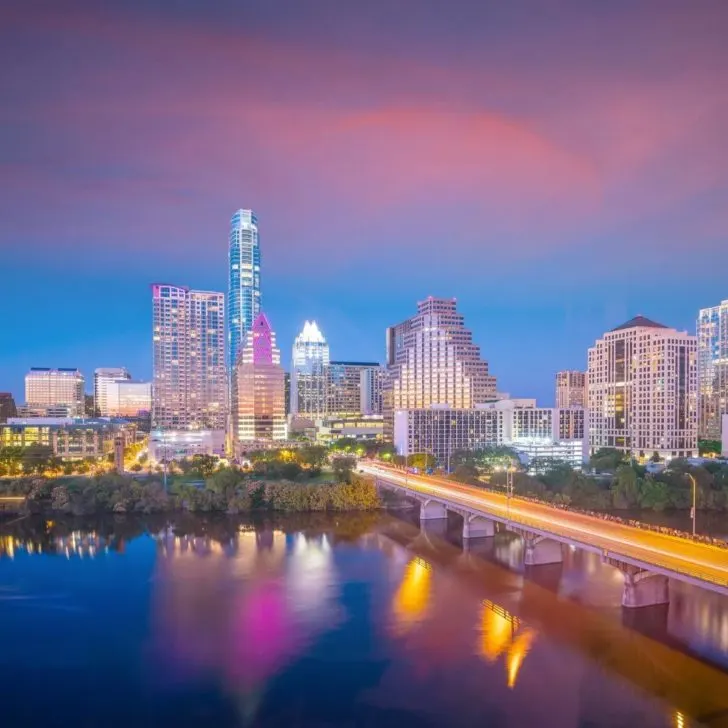 Picking the perfect spot for your Austin stay can seem like a daunting task, but don't stress – I'm here to help!
Whether you're seeking out the city's top music venues or planning an outdoor adventure in the Texas hills, it just so happens that The Live Music Capital of the World has something for everyone – and some seriously stylish accommodations to boot.
Before you book a place to stay in Austin, make sure to consider the diversity of districts around town, from family-friendly suburban neighborhoods and vibrant downtown areas to hip east side locales and nature reserves beyond city limits, there's no shortage of things to do and places to rest your head after an action-packed day.
Public transportation in Austin isn't as good in other big cities in the US, so you'll really want to consider your itinerary before you decide where to stay in Austin.
In other words, stay close to the things you want to do so you can spend less money on transportation.
Where to stay in Austin, Texas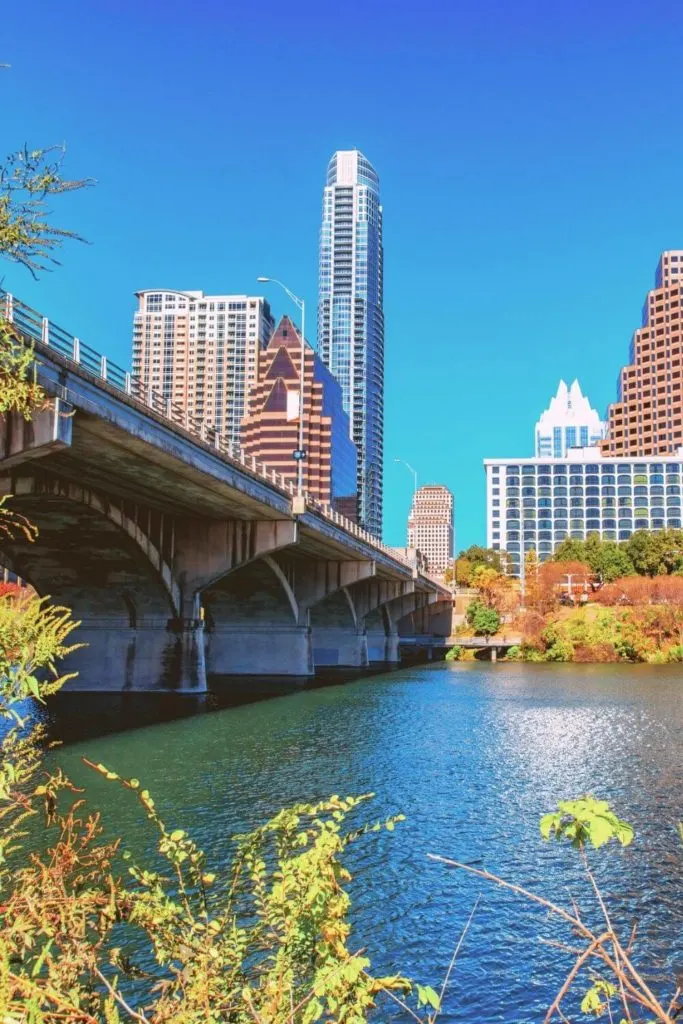 From the trendy 6th street to the iconic South Congress area, Austin has an array of options for travelers looking for a place to stay.
With its exciting and unique culture, incredible Tex-Mex cuisine, and never ending festivals, The Live Music Capital of The World is a must-see destination, but also one that requires some understanding of the areas within this vibrant city.
Whether you're looking to explore downtown and nightlife scene or a more serene setting outside of the hustle and bustle, there's something in Austin that will fit your style!
So whether you're in search of a five-star hotel downtown or seeking out the perfect Airbnb in SoCo, there's no doubt you'll find something perfectly suited to your travel needs in this awesome Texas city.
Downtown Austin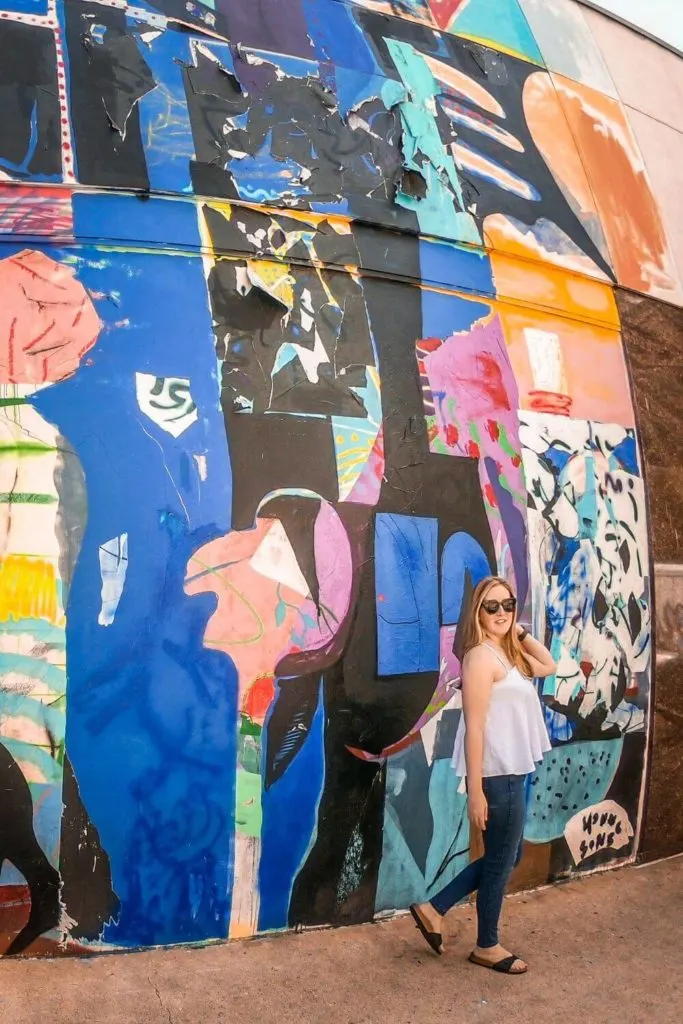 If you're looking for an exciting and action-packed destination, then look no further than downtown Austin!
Located in the heart of the city, this vibrant and diverse area features a selection of accommodations that range from luxury hotels to funky boutique hostels.
There are also plenty of attractions to explore in the area including the Texas State Capitol Building, Mexic-Arte Museum, the historic Paramount Theatre, and the Congress Avenue Bridge with its famous bat colony.
Whether you're looking for a restful retreat or an unforgettable experience, downtown Austin has it all!
Best hotels in Downtown Austin
East Austin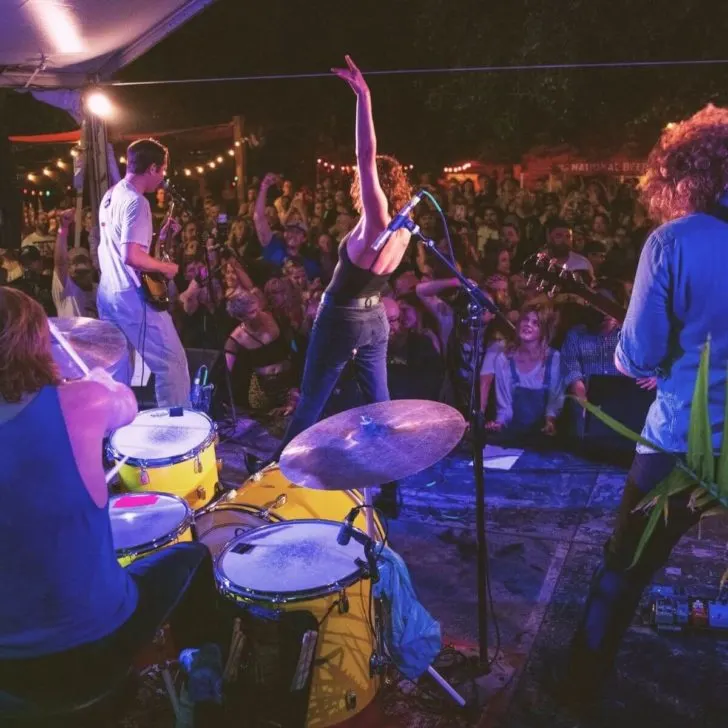 With its unique vibes and blend of both historical sites and modern attractions, East Austin may be the ideal place to stay during your next visit to Texas' capital.
This trendy area offers an array of fun activities for all ages, including the George Washington Carver Museum, for a glimpse into Black culture and history, and the iconic Lady Bird Lake Hike & Bike Trail, where you can take a leisurely bike ride along the Colorado River.
After you've explored some of the sights, you can take in live music at one of its charming venues or grab a bite to eat at one of the many mouthwatering restaurants nearby.
No matter how long your stay, East Austin will leave you with plenty of Instagram-worthy memories!
Best hotels in East Austin
Rainey Street District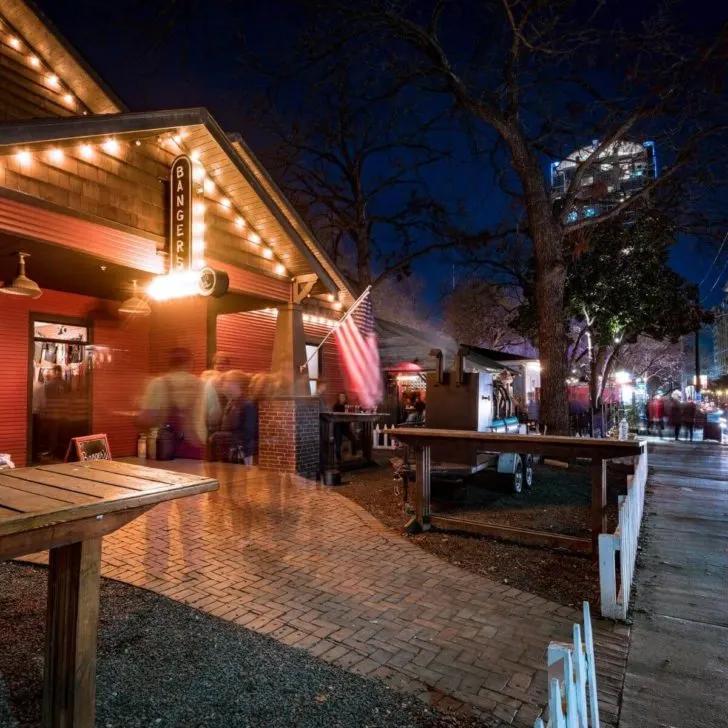 Rainey Street in Austin, TX has become a go-to destination for bar-hoppers and night owls alike. This is the place for an unforgettable night out on the town with friends.
But there's more to Rainey Street than just its lively atmosphere. Step back from the revelry and explore the unique houses and bungalows that line this street, many of which have been converted into bars and restaurants.
For those looking for a bit more tranquility, there's always the Trail of Tejano Legends just around the corner or an excursion along the Ann and Roy Butler Hike & Bike Trail winding along the Colorado River with stunning views.
Whether you're looking for a wild night out or peaceful escape, Rainey Street has it all!
Best hotels on Rainey Street
South Congress Ave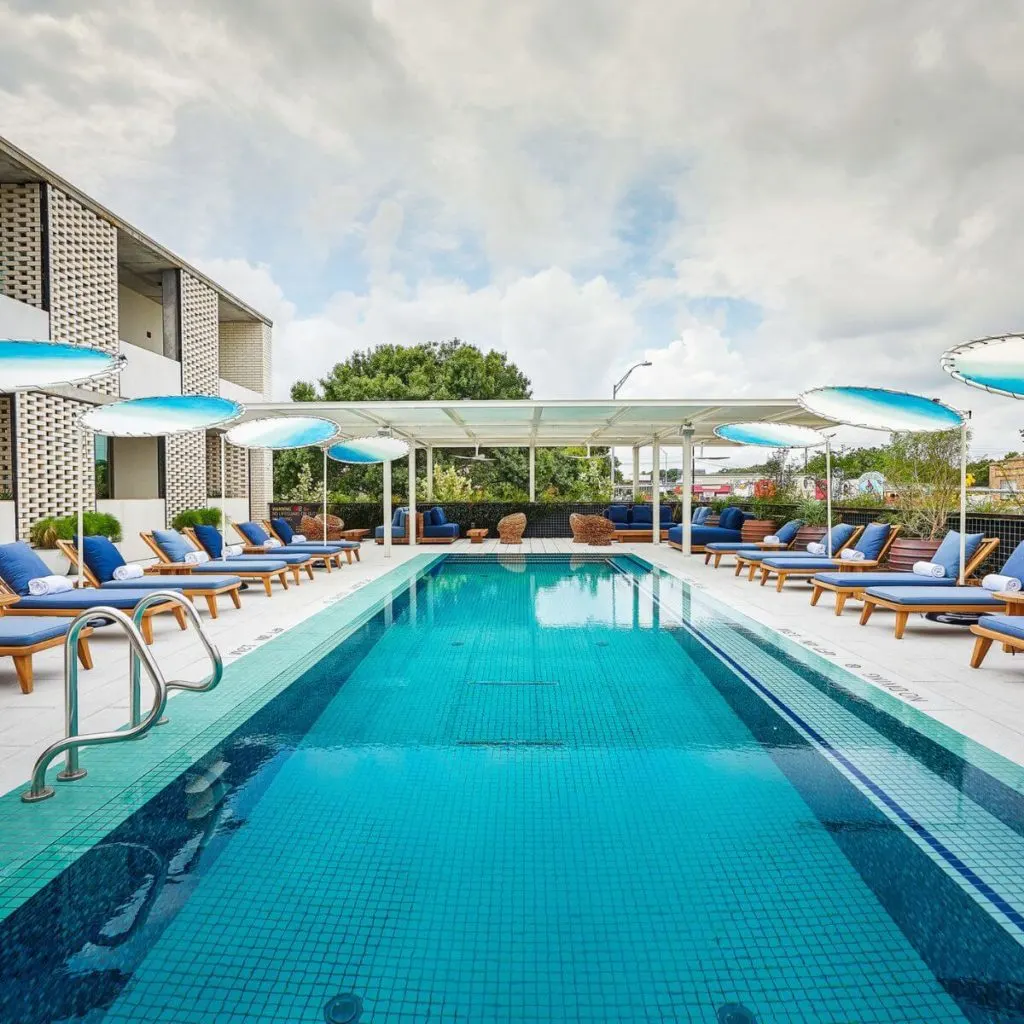 If you're looking for a vibrant and action-packed area of Austin to stay in, head to South Congress Avenue.
You'll discover unique boutiques and eateries, as well as some of the city's most eclectic attractions.
From the iconic Greetings from Austin mural to the Before I Die mural, every corner and wall is rammed with culture and art.
The Art for the People Gallery is a must-see – it even has its own eco-friendly gardens next door.
With plenty of places to eat, drink, and shop, South Congress Avenue is well worth a visit for anyone seeking a vibrant adventure in Texas!
Best hotels on South Congress Ave.
Zilker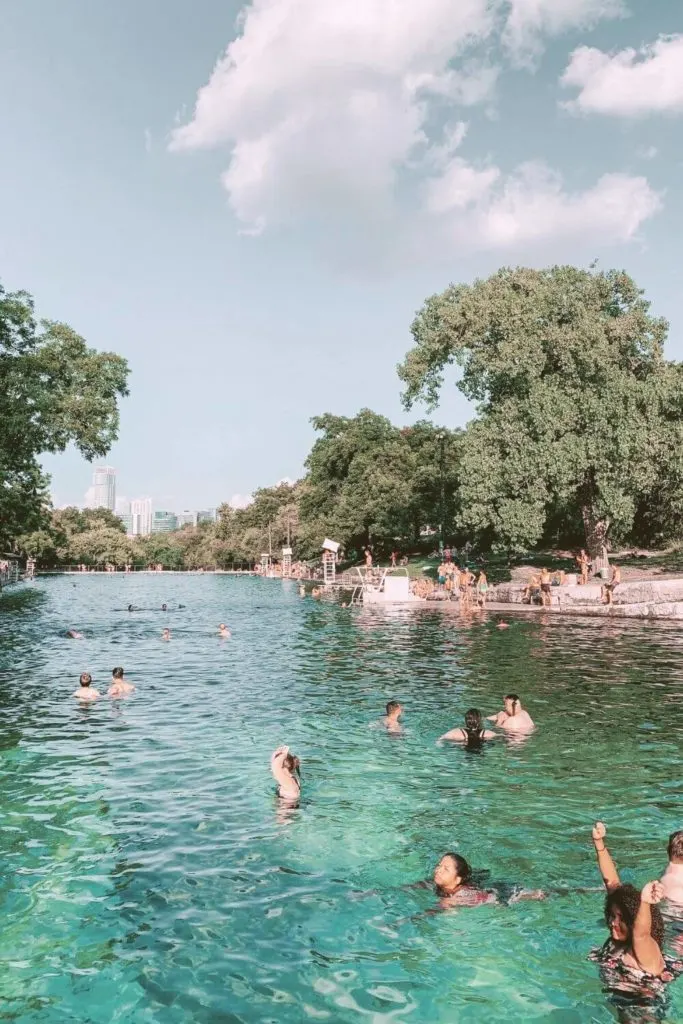 Last up on the best places to stay in Austin is Zilker, which is perfect if you're in town for a more outdoorsy adventure.
Conveniently located near the city center, Zilker is a fun and lively area that has plenty of options for accommodations.
Enjoy an evening at the Alamo Drafthouse Cinema or take in some culture at the Umlauf Sculpture Garden.
During the day, take a dip in Barton Springs Pool or explore all that Zilker Park has to offer like volleyball courts and running trails.
Best hotels in Zilker
Where will you stay in Austin, TX?
All in all, Austin, TX is packed full of things to do for travelers and residents alike.
Whether you love music, food, art or exploring nature, this city has something wonderful to offer its visitors.
From the hustle and bustle throughout Downtown Austin to the laid back vibes of East Austin and Rainey Street-the options are endless.
And if you're looking for a more outdoorsy experience, don't forget about the lush oasis that is South Congress Ave or Zilker Park!
Wherever your travels take you in Austin, make sure it's one you'll never forget!
So what are you waiting for? Get planning and let me know where you'll be staying in the comments below.
Next up, check out these blog posts to help you finish planning your trip to Austin:
---
About the author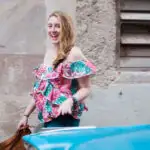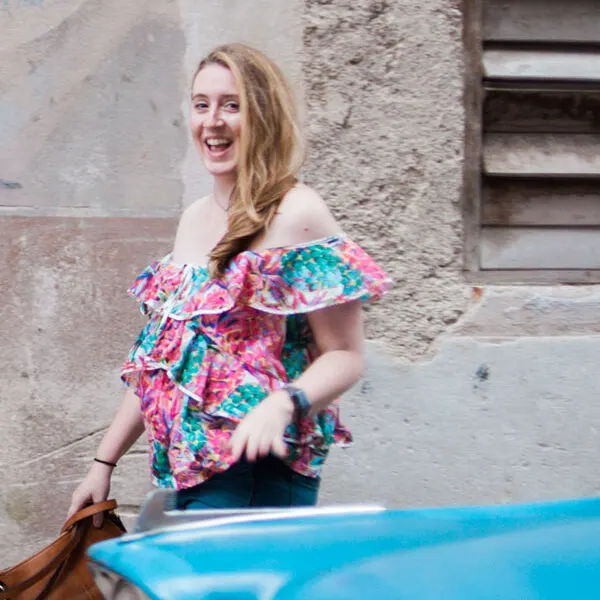 Meg Frost is a Boston-based travel blogger that helps people embrace technology to make vacation planning and traveling wicked easy, affordable, and fun.
She holds an M.A. in Journalism from Northeastern University and B.S. in Communication & American Studies from University of Miami.
---
This post was originally published March 13, 2016. It was last updated April 3, 2023.