Are you ready for the ultimate girls trip to Las Vegas?
Planning a weekend getaway with your best friends with lots of laughs, drinks, and adventure can be totally overwhelming – but it doesn't have to be!
In this blog post, I'll provide practical advice on how to plan the ultimate girl's trip filled with plenty of entertainment, relaxation time spent by the pool or spa, and delicious dining options suitable for any palate (and wallet!).
So let's jump in and start making plans!
Tips for planning the perfect girls trip to Vegas
Before you hit the famous Las Vegas strip, there are a few things you should keep in mind.
With these tips, you can plan the perfect girls weekend getaway without breaking the bank or losing your mind.
Pick your travel group carefully
The key to a successful trip is the people you're traveling with, so choose friends who have similar interests.
A friend who wants to see as many shows as possible might not be the best fit for a group of club hoppers.
Someone who wants to tick off all the tourist attractions is probably going to be bored if everyone just wants to sleep in or lounge by the pool all day.
As much as you may want all of your gal pals to go, not everyone will be on the same page, which could cause friction.
So pick your travel group carefully to help ensure everything goes smoothly.
Set a budget – and stick to it
In addition to interests, make sure everyone agrees on a budget up front – and stick to it.
There's nothing worse than getting excited about a trip, only to have everything be out of reach financially or vice versa – doesn't meet your standards.
This goes hand-in-hand with picking your travel group carefully, as everyone you have in mind may not be in the same financial situation as you.
If you're on a tight budget, be sure to check out my post on how to save money in Vegas, as well as my post about cheap eats in Vegas. Vegas can still be luxurious and fun on a budget!
Pick the right time to go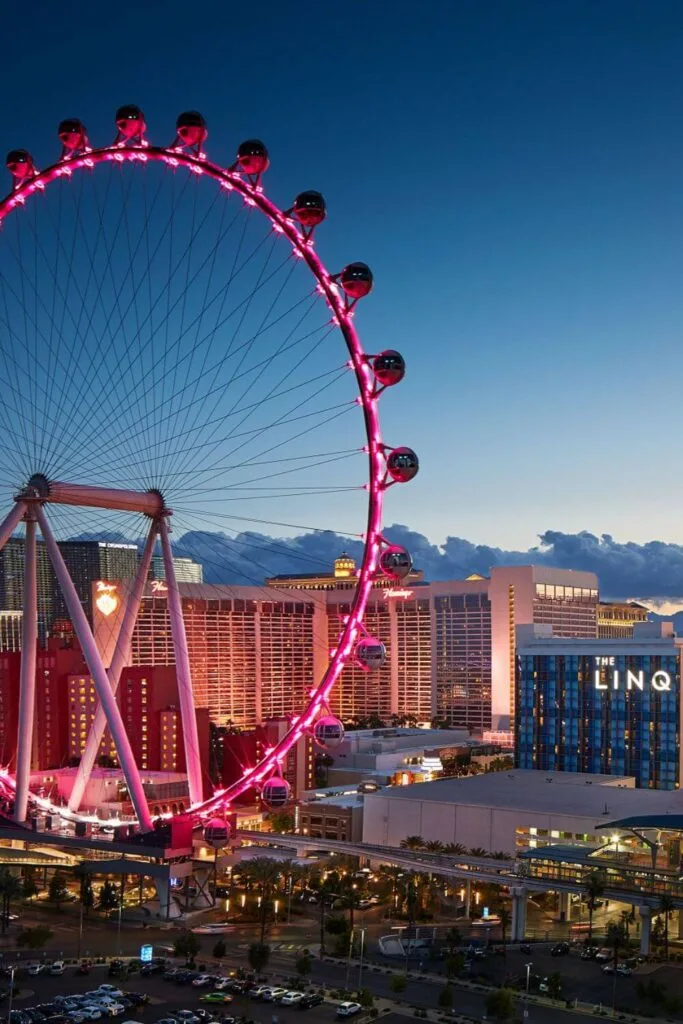 A lot of people assume that because Vegas is in the desert that it's warm year-round – and that couldn't be further from the truth!
If you have pool time on the agenda, avoid the winter and early spring months as most pools will be closed.
Conversely, if you're looking for a fun Fall or Christmas getaway, Vegas will still fit the bill!
Choose your hotel wisely
Your hotel is more than just a place to sleep. It's also a home base for your adventures in Vegas. So choose a hotel that fits your group's needs and preferences.
Do you want to be in the heart of the Strip or somewhere quieter? Do you want to hit up pool parties or lounge poolside with a more relaxed vibe? Do you even want to spend time at the pool?
Pick a hotel that is close to the things you want to do and meets your expectations, such as having a nice pool, is or isn't known as a party place, and so on.
And be sure to read reviews carefully before booking, as well as double checking the hotel website in case there is construction or closures that might disturb your trip.
Book your hotel transportation ahead of time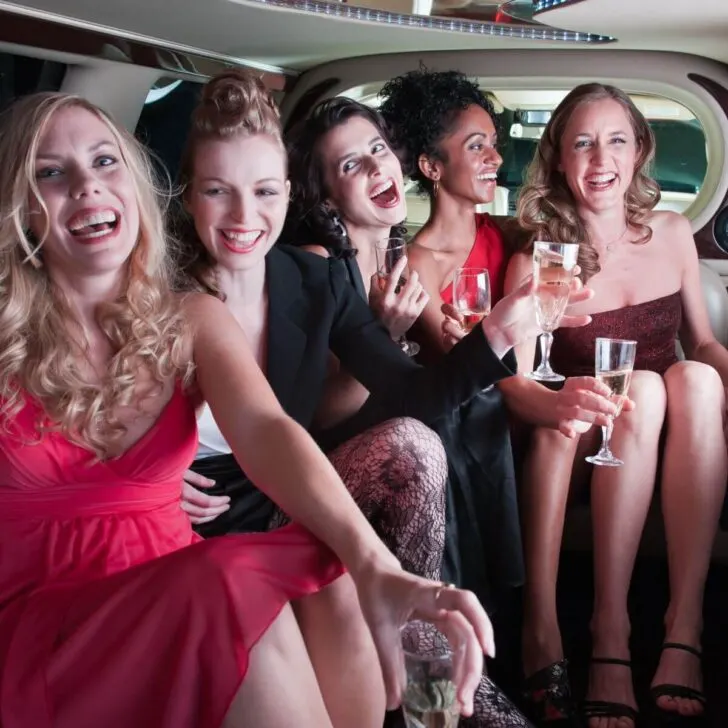 Decide ahead of time how you'll get to and from Vegas' Harry Reid International Airport.
Some hotels come with transportation, especially if it's a super posh suite, but most will not. Uber and Lyft are both available, but tend to have long wait times.
My preferred hotel transportation here is via shuttle, town car, or limo. If you're with a sizable group, look into private vans, town cars, or limos as it might be the same as individual shuttle tickets.
Have a plan, but be flexible
Some restaurants can be hard to reserve last minute and shows can easily sell out or only have poor seats left. So if there's something that is an absolute must-do, book it ahead of time to avoid disappointment.
You also don't want to waste your precious time in Vegas wandering aimlessly!
At the same time, don't be too rigid. Be open to changing your plans or taking advantage of unexpected opportunities.
Vegas is full of surprises, after all. You might score discounted, last-minute show tickets or meet a another fun group that you want to hang out with.
Protect your skin from the sun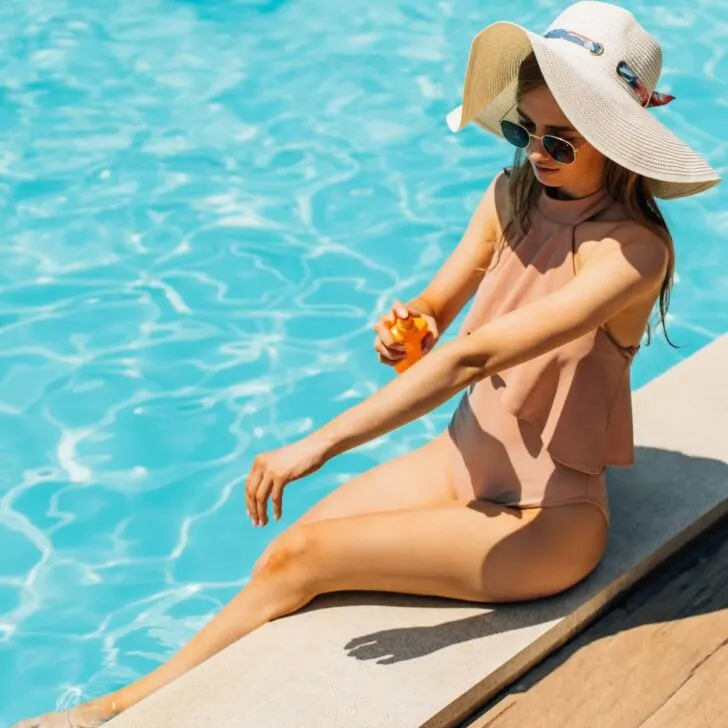 Speaking of the desert heat, it can be unforgiving on your skin. Be sure to bring sunscreen, sunglasses, and a hat to protect yourself from the sun's harmful rays.
And remember to reapply regularly, especially if you're spending time by the pool.
Be sure to stay hydrated
In Vegas, it's easy to get caught up in the excitement and forget to take care of yourself. But it's important to stay hydrated, especially in the desert heat.
Bring a reusable water bottle and fill it up regularly. And avoid drinking too much alcohol or caffeine, which can dehydrate you even more.
Imbibe responsibly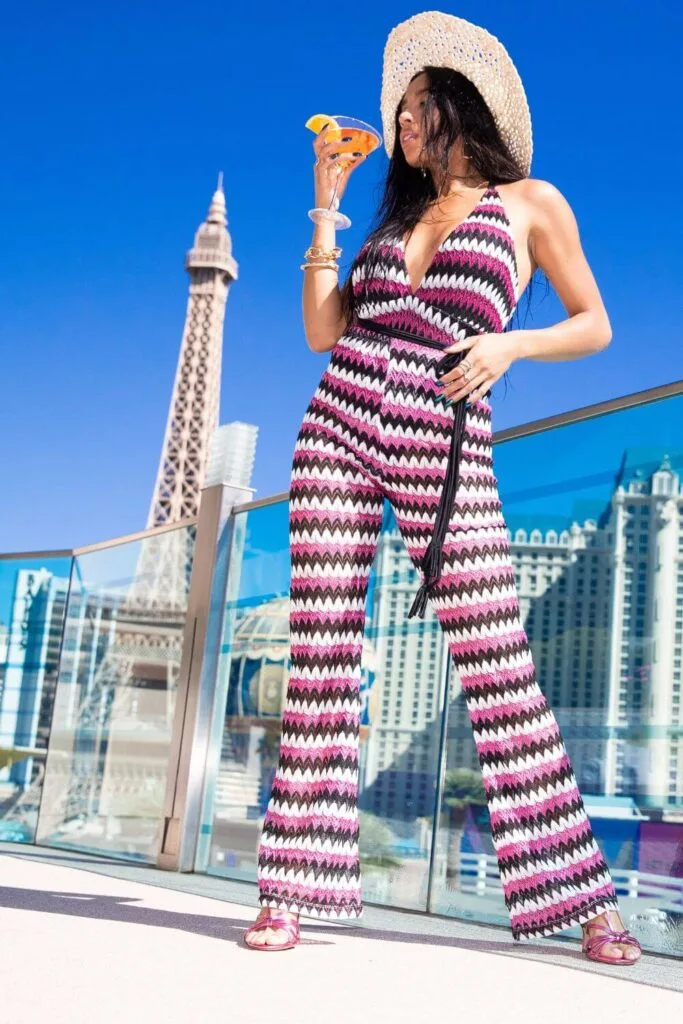 Who doesn't love a good cocktail or two in Vegas? But drinking too much can quickly ruin your trip.
Pace yourself and alternate between water and alcohol. And never leave your drink unattended or accept drinks from strangers.
And refer back to my trip about staying hydrated! If you do drink, you may want to add Gatorade or some other type of electrolyte replenishment the next day
Pack for day and night
Between the varying activities and hot temps, you're going to want to change at least once while in Vegas. So be sure to pack an outfit for daytime and nighttime.
For more tips on what to bring, check out my post on what to wear in Vegas.
Be prepared to go with the flow
Vegas is a wild and unpredictable place. Don't get too attached to your plans or expectations.
Embrace the craziness and be prepared for anything. Last, but most importantly, have fun and make memories that will last a lifetime!
Where to stay in Vegas on a girls trip
Now that I have those tips out of the way, let's talk about where to stay.
Whether you're looking for luxury, relaxation, adventure, or an all-around party vibe, there's a hotel that's perfect for your squad.
Luckily, I've got you covered with the top hotels to stay at for an unforgettable girls trip in Las Vegas.
Caesars Palace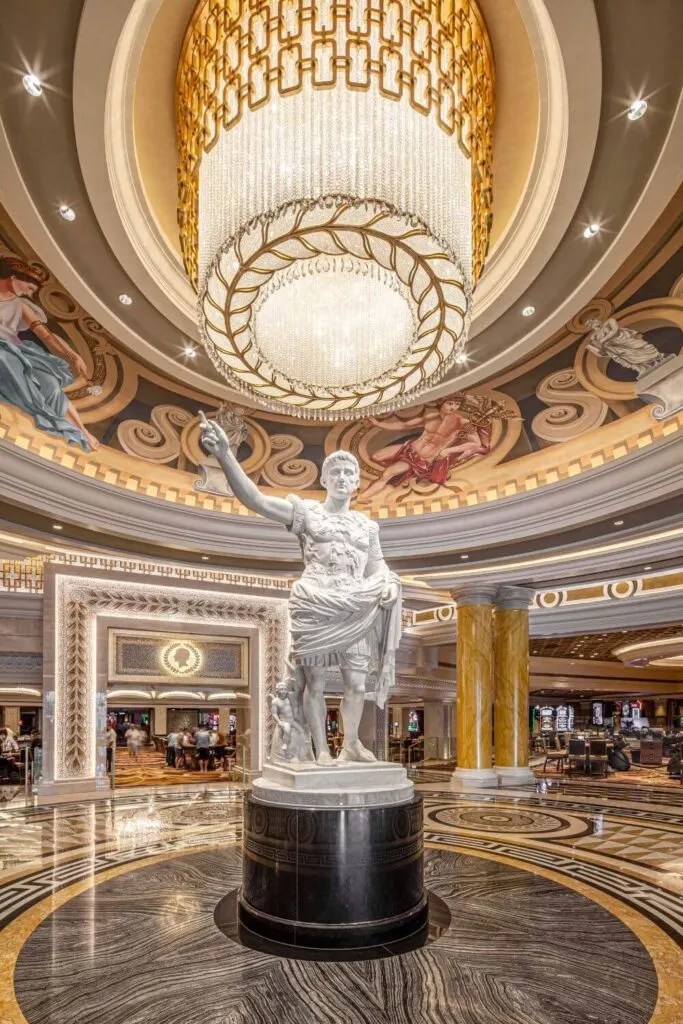 Caesars Palace is a legendary Las Vegas landmark with luxurious accommodations, a premium location on the Strip, and world-class amenities.
Make the most of your girls trip with a stay in one of Caesars Palace's iconic suites, from the modern Forum Tower to the lavish Julius Tower.
And be sure to soak up the sun at the Garden of the Gods Oasis, where you can lounge poolside with a cocktail in hand. In my opinion, it's the best pool complex on the strip!
Cosmopolitan Hotel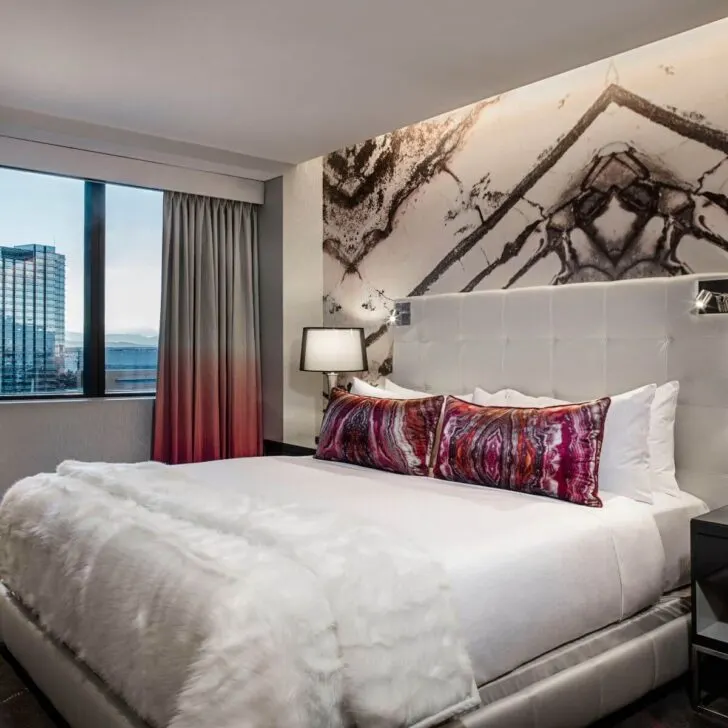 With its chic décor, modern amenities, and unbeatable location, the Cosmopolitan Hotel is a top pick for a girls trip to Vegas.
Enjoy breathtaking views of the city from floor-to-ceiling windows in your room or indulge in some retail therapy at the Shops at the Cosmopolitan. It's too bad that they don't have a Rent the Runway store anymore!
And if you're a foodie, the hotel's collection of restaurants and bars, including the famous Chandelier Bar, will not disappoint.
TIP: If you're planning a stay in the Winter, the pool here turns into an ice skating rink, complete with a cozy bar.
Park MGM Las Vegas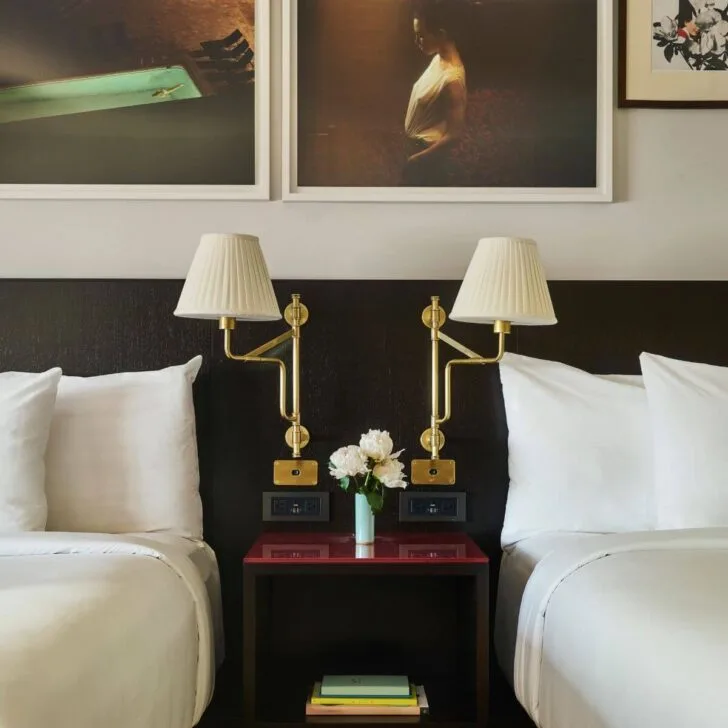 For a chic boutique hotel vibe, Park MGM is the perfect place to stay.
This stylish hotel boasts elegant rooms and suites, including the spacious "Stay Well" rooms, which come with specialized features for a healthy and rejuvenating stay.
And when you're ready to explore the city, the hotel's central Strip location puts you in the heart of it all.
TIP: If you're in town to attend a concert at Dolby Live or the T-Mobile Arena, this is the perfect spot to stay, as this hotel is right between the two.
The LINQ Hotel + Experience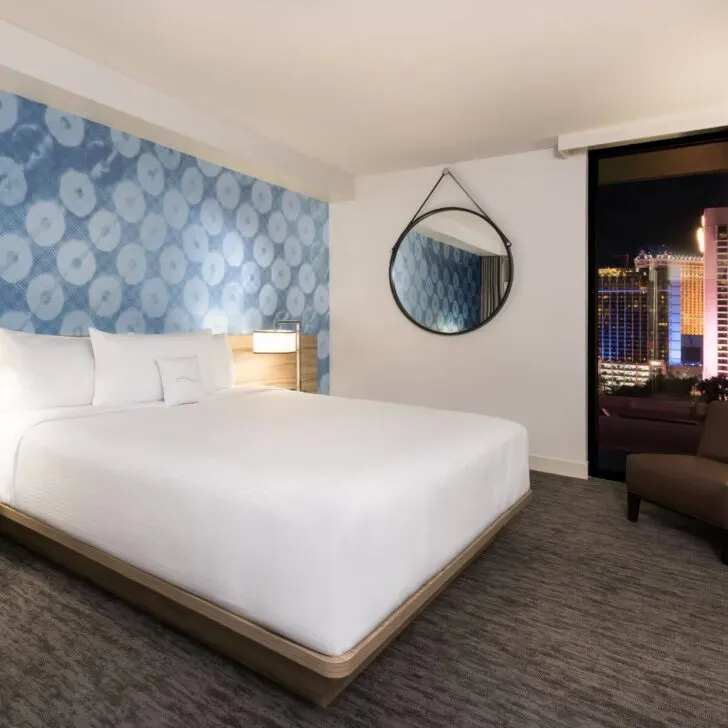 If you're looking for a fun place to stay on a budget, look no further than the LINQ.
This party spot is super affordable and has a fun pool with a party vibe. It's also located next to the LINQ Promenade, which means you'll have access to all kinds of shopping, dining, and entertainment options.
Lastly, it's located mid-strip, so hitting up the hottest clubs and bars in other hotels is a breeze.
Wynn Las Vegas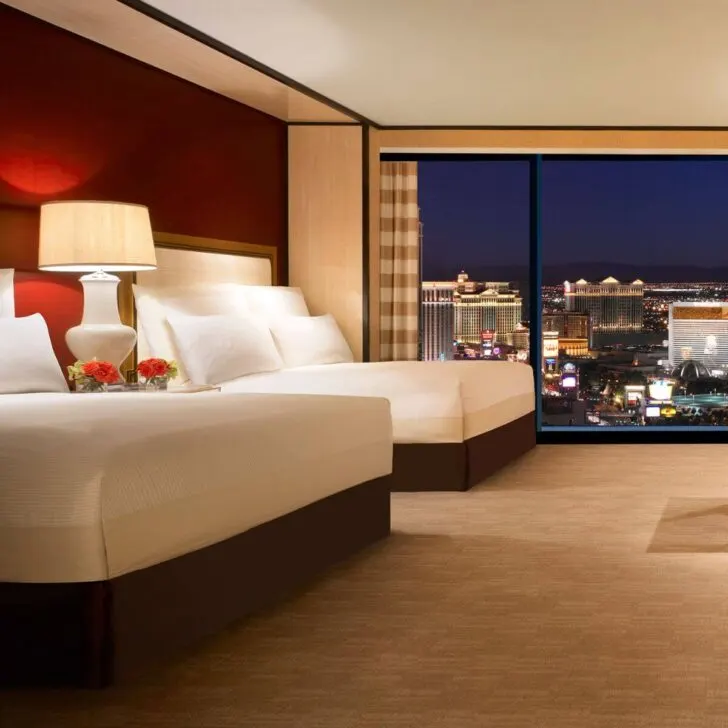 If you're looking for a more upscale girls trip, Wynn Las Vegas is the resort to choose.
This luxurious resort offers sophisticated accommodations, which include the breathtaking Tower Suites, with their own private entrance and check-in.
And when you're ready for some pampering, the Spa at Encore is an indulgent escape that will leave you feeling refreshed and rejuvenated.
It's located on the strip, but closer to downtown Las Vegas, but there's so much to do here that you may not even need to leave the resort!
Where to eat in Vegas on a girls trip
Get ready to indulge in some of the most fantastic food available in Sin City. Whether you want to spend your day brunching or your night dining, I've got the perfect spots for you.
Best Friend by Roy Choi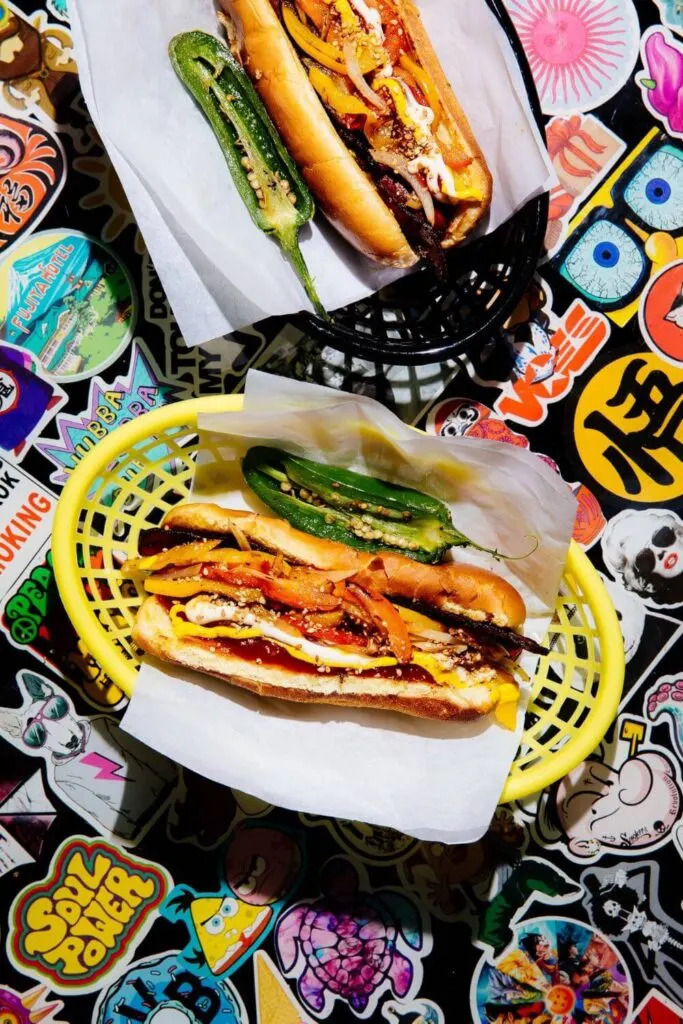 Located in the Park MGM Las Vegas, Best Friend is a restaurant from Chef Roy Choi.
Here you can enjoy Korean BBQ dishes, street food, and drinks. The menu offers an array of options for every palette, including hot pots, Korean fried chicken, and rice cakes.
Black Tap Craft Burgers & Shakes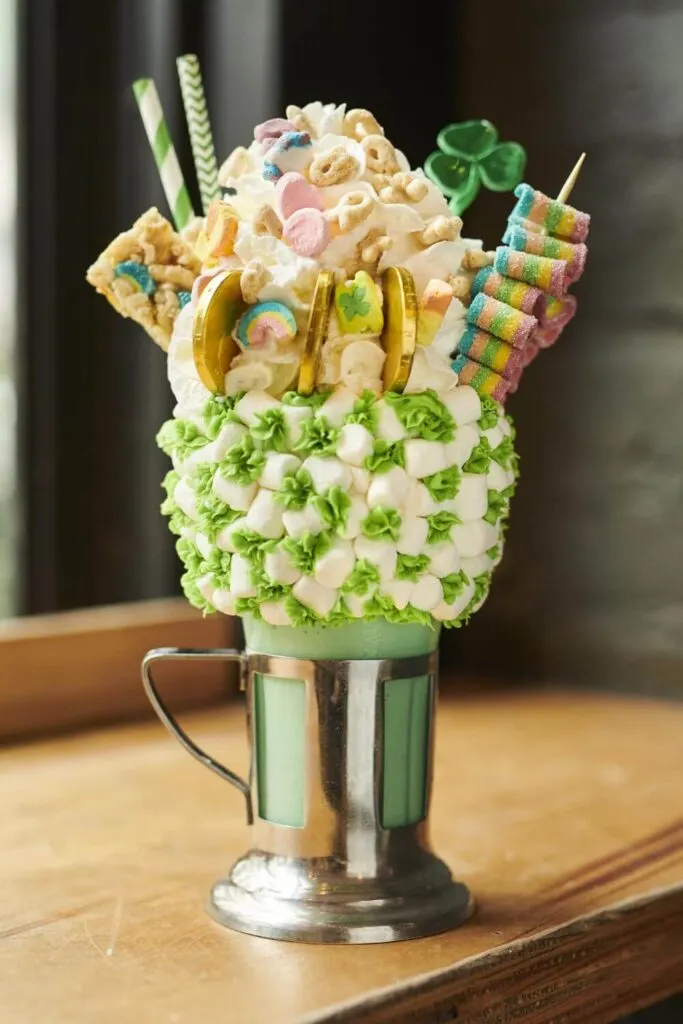 If you're a burger lover, Black Tap Craft Burgers is the place for you and your friends.
Located in the Venetian resort, this trendy food spot serves burgers of all kinds, including vegetarian options too.
Not just that, but their milkshakes are a must-try! These sweet drinks are piled high with whipped cream, candy, and even cookies, making them the perfect shareable treat for your squad.
HAVE Drag Brunch at Señor Frog's
Señor Frog's Drag Brunch is more than just your average brunch spot. It's the ultimate spot for entertainment and lots of laughs.
The drag queens are engaging and hilarious and the food is just as amazing. If you like dancing, singing, and showmanship with an endless flow of mimosas, look no further than this spot.
Hello Kitty Café
This café is a must-visit destination, especially if you were a Hello Kitty fan as a kid. There are 2 locations on the strip: a food truck outside Park MGM and a larger café at Fashion Show Las Vegas.
The pink-themed cafe offers sweet treats such as Hello Kitty-shaped macarons, doughnuts, and cakes.
Don't forget about the carefully crafted and aesthetically pleasing latte art served up by professional baristas.
Maxie's
Looking for a fun brunch spot with Instagrammable dishes? Look no further than Maxie's at The LINQ Promenade.
They serve up classic brunch fare with a twist, like Fruity Pebbles french toast and cotton candy pancakes. But don't worry, they have savory dishes like eggs benedict and omelets, too.
For more top brunch spots, check out my post about the best places for brunch on the strip.
Milk Bar
Milk Bar, located at the Cosmopolitan, is a dessert lover's paradise.
Besides its sweet aroma and trendy decor, it offers cookies, cakes, and other treats that will leave your taste buds longing for more.
One must-try item is their cereal milk ice cream topped with cornflake crunch that brings back childhood nostalgia.
Stanton Social Prime
Located at Caesars Palace, Stanton Social Prime is fancy, making it a perfect date night dinner spot with your girlfriends.
The vibe is perfect for the merging formal and playful dinner settings. They serve a unique fusion of Italian-American cuisine that's sure to impress, along with their highly recommended wine list to pair with your meal.
Superfrico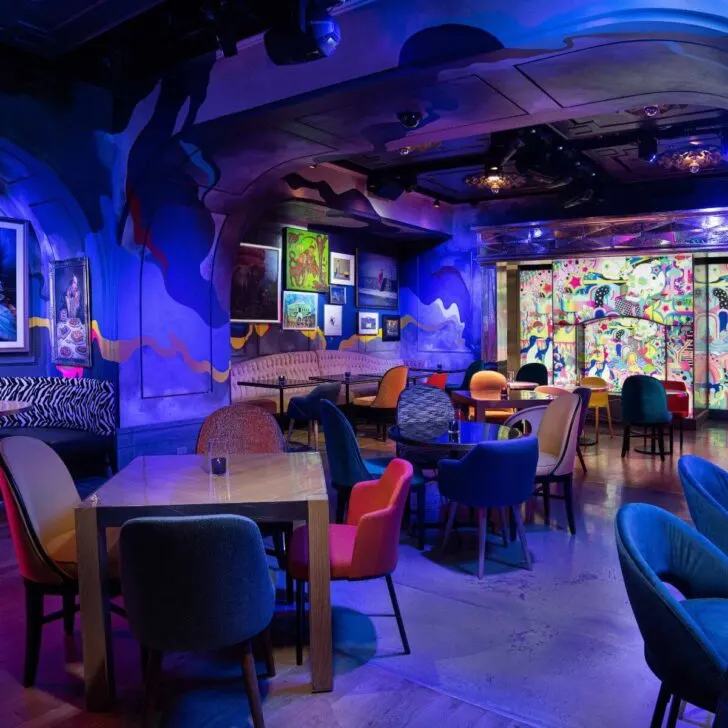 Located at The Cosmopolitan, Superfrico offers live performances and other entertaining activities alongside mouth-watering food options.
The menu boasts of classic American, Italian dishes, and Asian-inspired foods all under one roof. Their lamb chops are a go-to dish, and their cocktails always exceed expectations.
For more top dinner recs, check out my post about the dinner restaurants in Vegas.
Best things to do on a girls trip to Vegas
Now that you've decided where to stay and which restaurants to get reservations for, let's go over all the fun things to do so you can build your itinerary.
See Seven Magic Mountains in person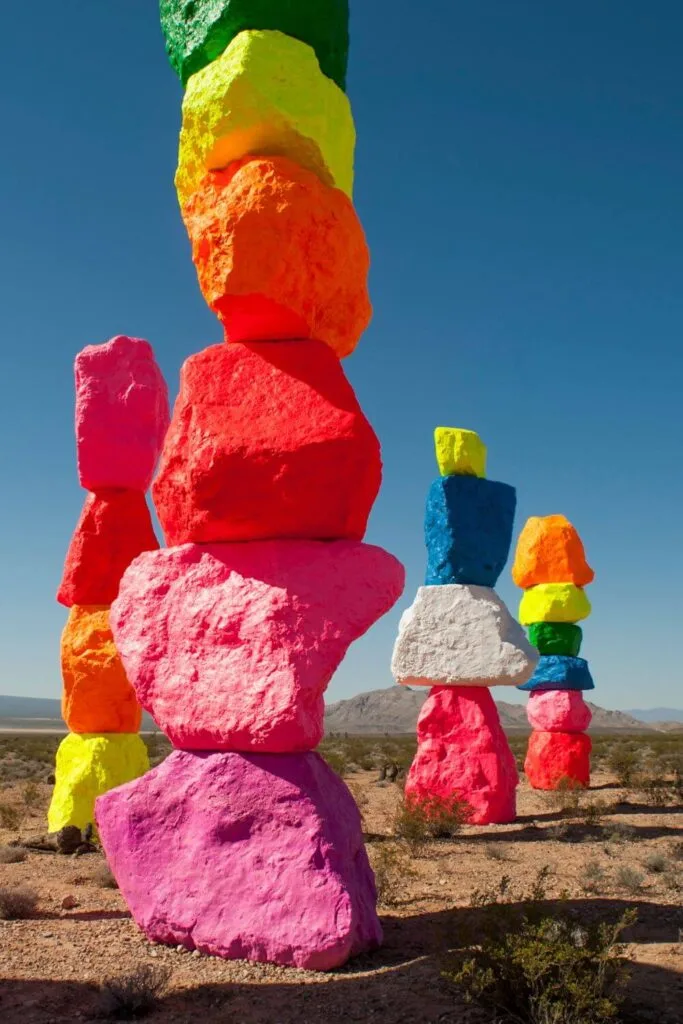 This impressive outdoor art installation features seven towering sculptures made from locally-sourced boulders.
Snap some Instagram-worthy pictures and let the vivid colors and scale of the structures take your breath away.
You'll need a car to see this one, as it is roughly 30 minutes outside the city. Many rental companies have locations at hotels throughout the strip, so you can rent one just for a day rather than the whole trip.
Take a picture with the famous Welcome to Las Vegas sign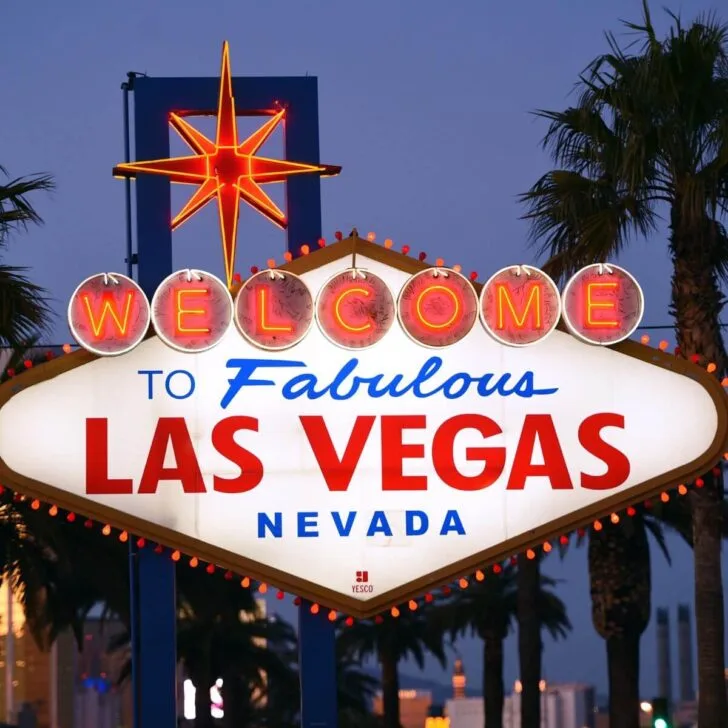 No trip to Las Vegas is complete without a picture in front of the iconic Welcome to Fabulous Las Vegas sign.
Located on the south end of the Strip, this iconic sign has become a symbol of the city and a must-stop for visitors.
This is another attraction that is hard to get to without a car. That said, it's close enough to the strip that you can get to it via Uber or Lyft, rather than a rental car.
Visit the iconic Neon Museum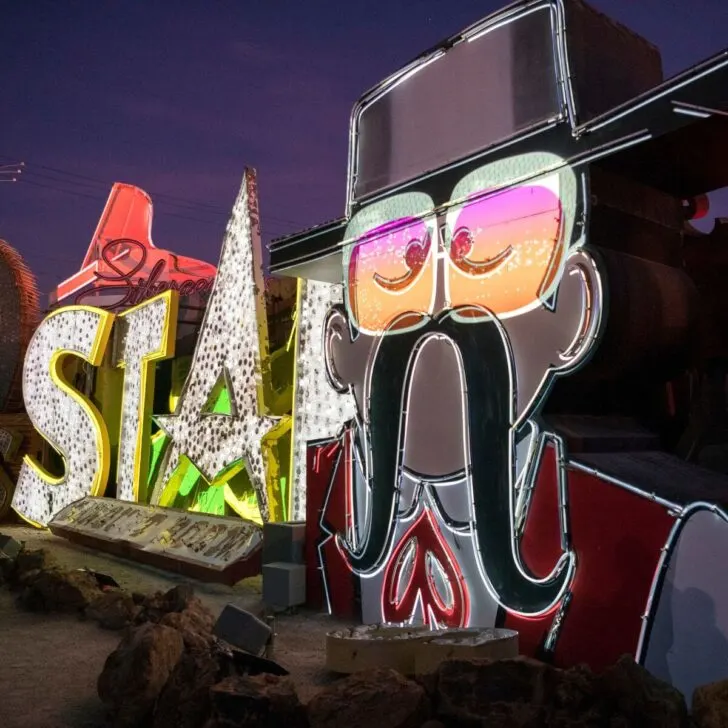 The Neon Museum is a true Vegas gem that showcases neon signs that once graced the city's skyline.
Visitors can browse the outdoor collection on their own or via a guided tour to learn more about the history of the signs.
There's also a separate nighttime show that lights up some of the signs via projection, as well as a partnership with Papillon Grand Canyon Helicopters for an aerial tour of current signs around the city.
Get outdoors at Valley of Fire State Park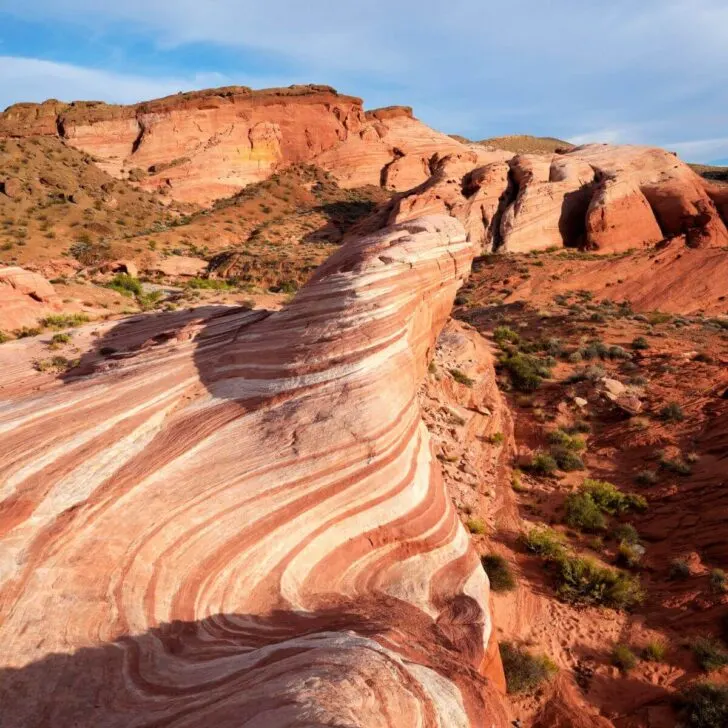 For something completely different, escape the neon and venture out to Valley of Fire State Park.
Roughly an hour northeast of the strip, this natural wonder boasts stunning red rock formations, ancient petroglyphs, and adventurous trails.
Take a day trip to the Grand Canyon
Speaking of natural wonders, a day trip to the Grand Canyon is a super popular tour option for Vegas visitors.
Whether you take a helicopter tour or a bus ride, seeing one of the seven wonders of the world is a once-in-a-lifetime experience.
I've been fortunate to have gone twice, once on a day trip from Las Vegas, and wholeheartedly recommend this if you're into outdoorsy adventures.
Just keep in mind that it's about 4 or so hours east of the city, so it's a full day affair.
Hang out at Lake Mead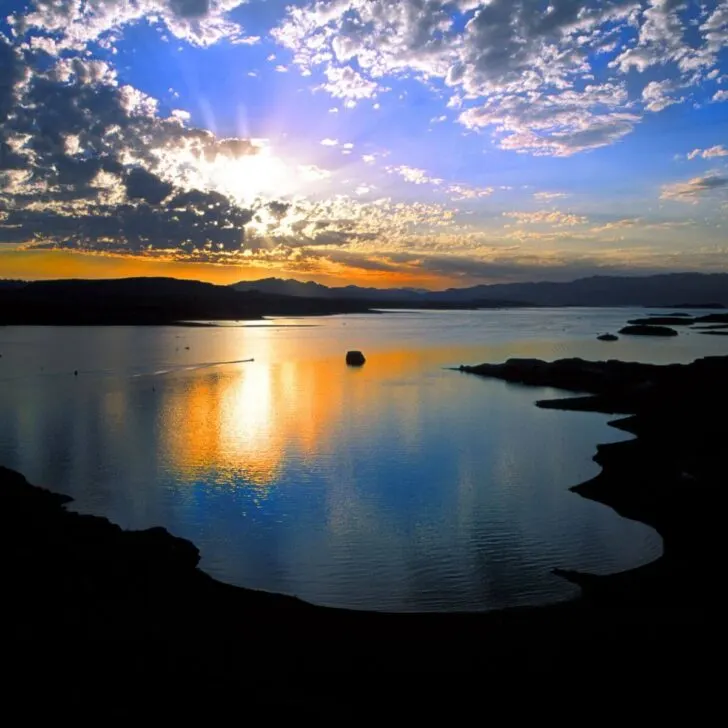 Lake Mead National Recreation Area is a quick drive from the city and offers tons of water activities such as jet-skiing, boating, and swimming.
Or, just hang out on the beach, sip on some cold drinks, and soak up the sun. The Hoover Dam is also nearby.
Recently the lake has been drying up, but it is still open to the public for recreation. Be sure to check the Lake Mead website to ensure its still open when you go.
Check out my post about day trips from Vegas for more ideas on where to go if you want to escape the city for a bit.
Enjoy happy hour on the High Roller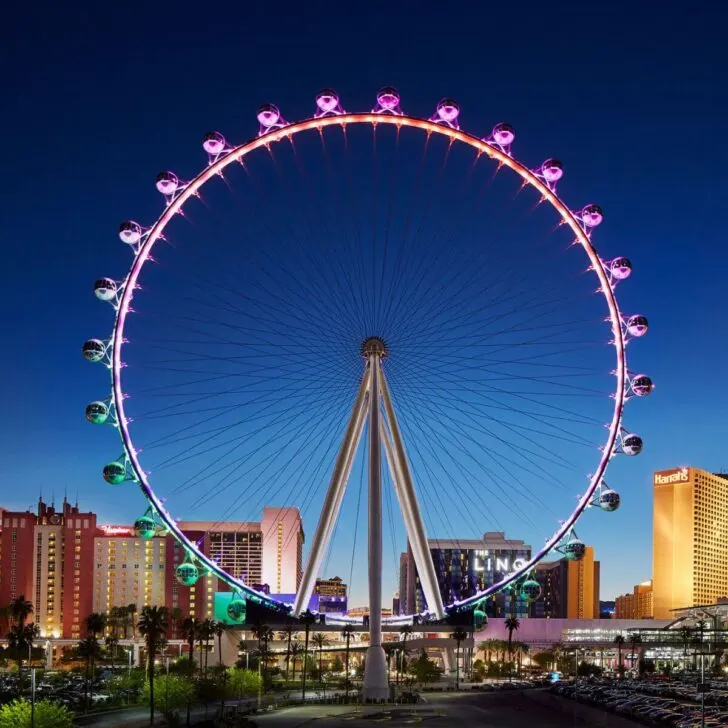 For a change of scenery, hop on the High Roller for happy hour.
Located at the end of the LINQ Promenade, this massive ferris wheel offers panoramic views of the city and comes complete with a bar inside the pod.
Alternatively, you could also skip the drinks and ride it at another time and it'll still be just as fun!
Relax on a gondola ride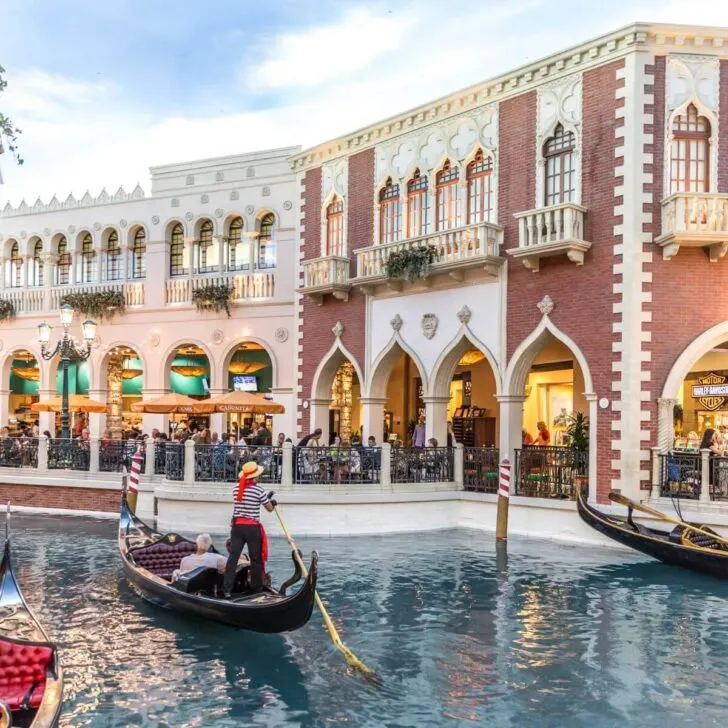 For a more serene vibe, take a gondola ride at the Venetian. Serenade your friends or admire the architecture and decor of this Venice-inspired hotel while floating along the canal.
Dance the day away at a pool party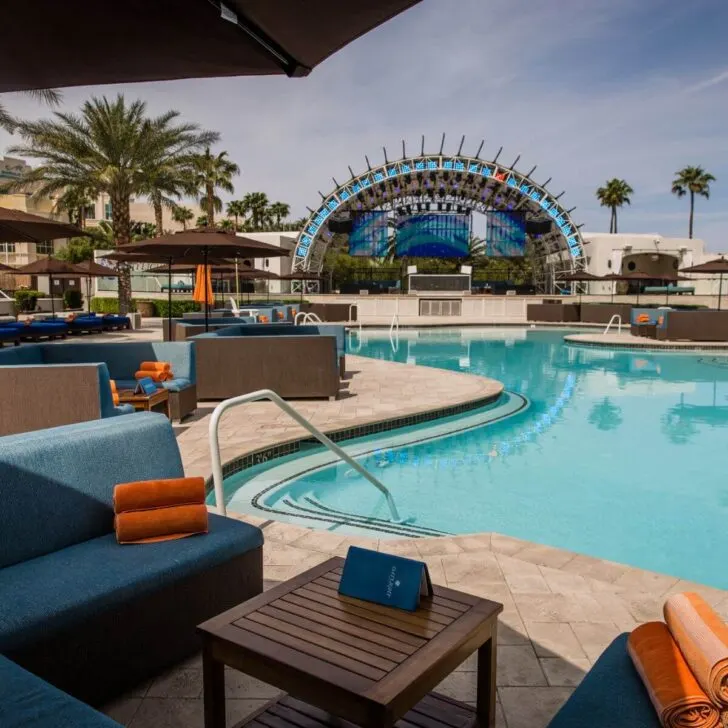 Vegas is one of the biggest party spots in the US, but here, you can party any time of the day! There's certainly no shortage of places to dance, swim, and flirt under the sun.
A few options to consider include Wet Republic at MGM Grand, Daylight Beach Club at Mandalay Bay, Marquee at the Cosmopolitan, and Encore Beach Club at Wynn Las Vegas Encore.
Dance the night away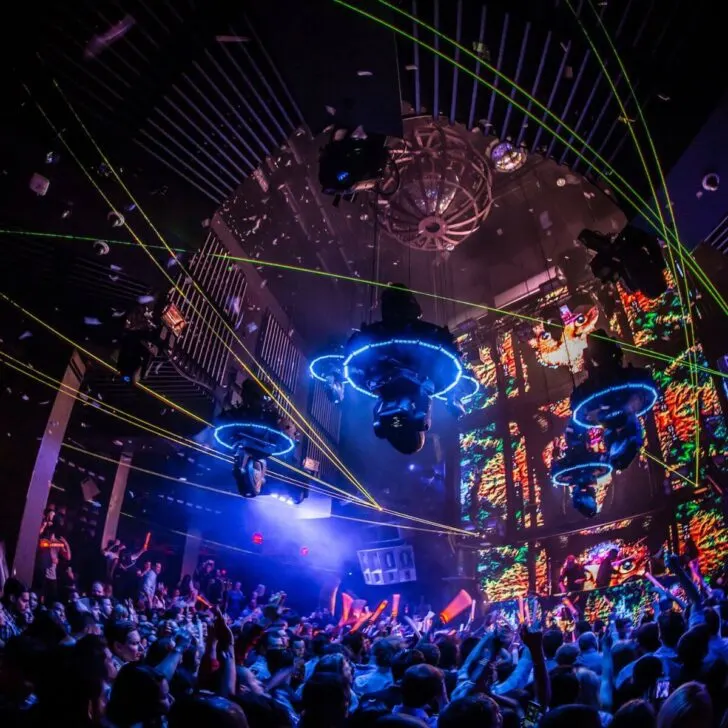 If you're more of a night owl, well, that's probably why you picked Vegas for your girls trip! If dancing is on the agenda, you're definitely in the right place.
Scope out the places you're interested in going to ahead of time.
Then, during the day, head over and get your name on the club promoter's list. Ladies often get in free or get some type of perk, such as skipping the line or free drinks, etc.
A few places to consider are:
Drai's at The Cromwell
Hakkasan at MGM Grand
On the Record at Park MGM
Omnia at Caesars Palace
XS Nightclub at Encore.
Catch up over a drink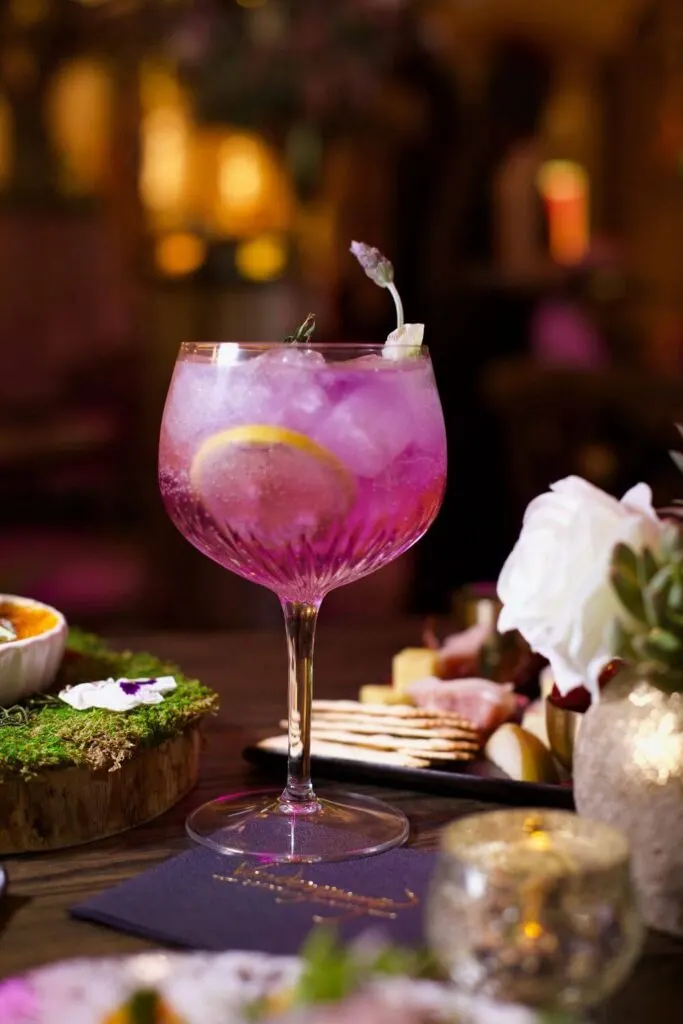 If dancing isn't your thing, catch up over a cocktail or glass of wine at a lounge instead. And while you're there, be sure to snap lots of fun photos.
A few places to consider are:
Allē Lounge on 66 at Resorts World
Chandelier Bar at the Cosmopolitan
Mama Rabbit at Park MGM
Skybar at Waldorf Astoria Las Vegas
Vanderpump Cocktail Garden at Caesars Palace
For more top picks, check out my post about the best bars on the Las Vegas strip.
See the city from above on a helicopter tour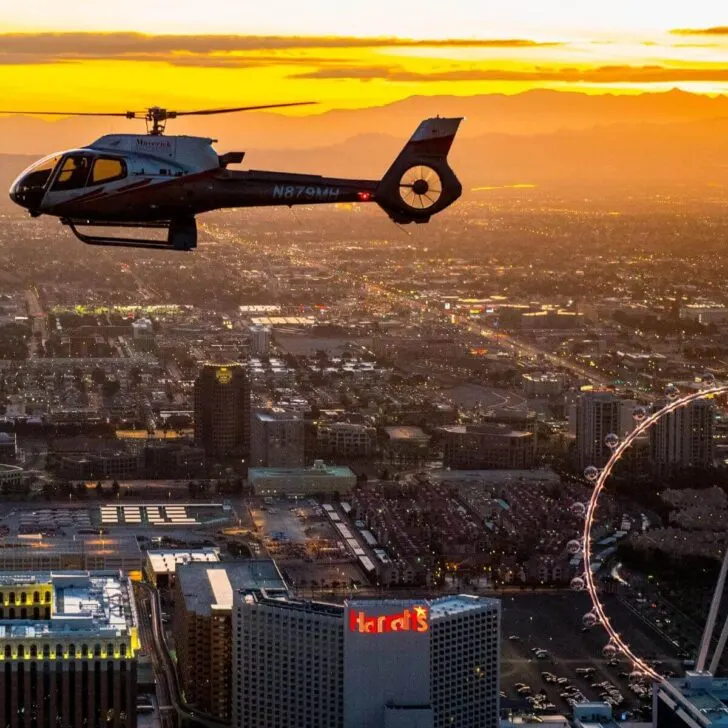 For a truly breathtaking view, take a helicopter tour of the Strip and beyond.
Marvel at the city's skyline, fly over the Hoover Dam, or even land on a remote peak for a Champagne toast.
Check out the Fremont Street Experience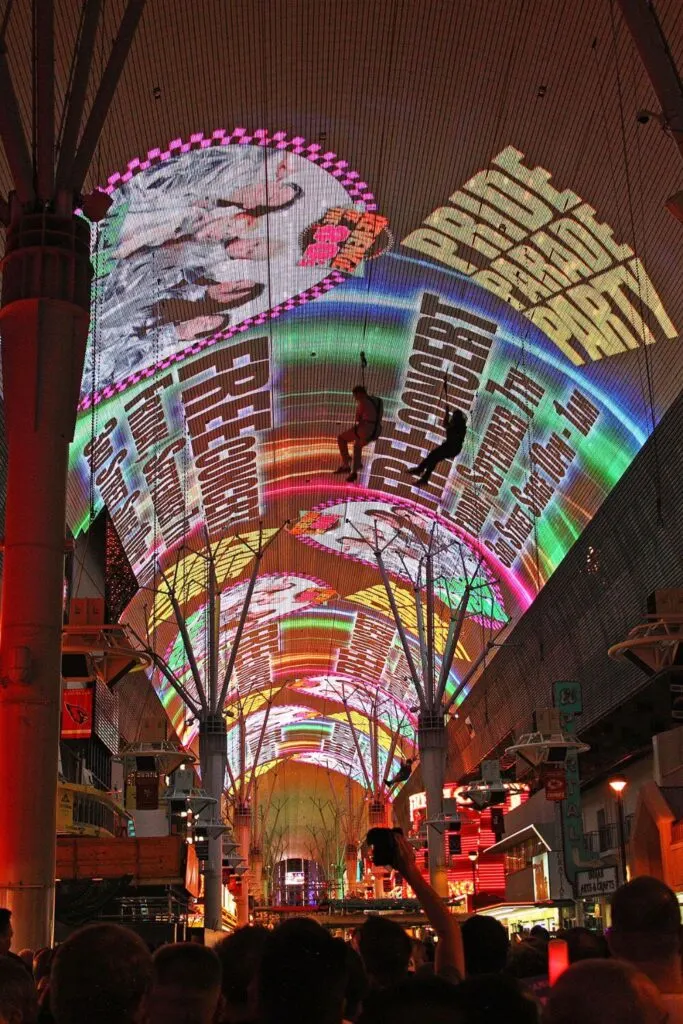 Downtown is where old-school Vegas still shines.
The Fremont Street Experience is a pedestrian mall covered by a massive LED canopy. Live music, street performers, and even zip-lining are part of the party.
You can even pop into a casino or two to play some slots or grab a drink to sip on while you wander around.
Immerse yourself in art at Area 15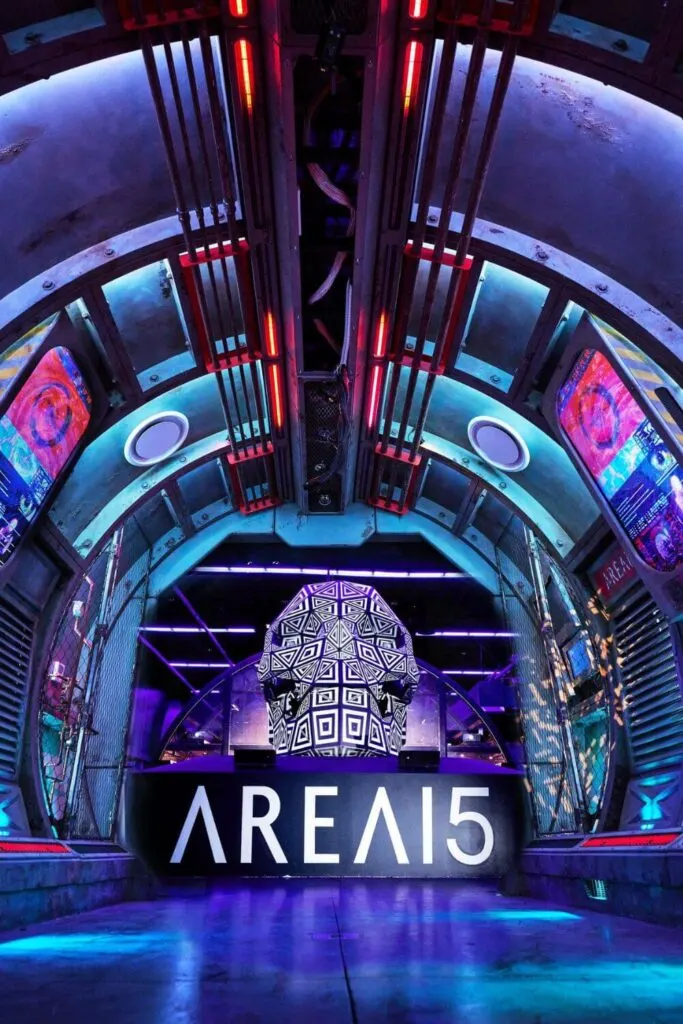 If you love immersive and interactive art and virtual reality experiences, definitely check out Area 15.
It's located slight off north strip, so you'll need to Uber or Lyft over – but it's totally worth it!
It has golf and axe throwing simulators, interactive art exhibits, and nighttime events, like alien themed raves.
They're also working on a year-round horror attraction, so you won't have to wait til Halloween to get your scary fix!
Go to a male revue or burlesque show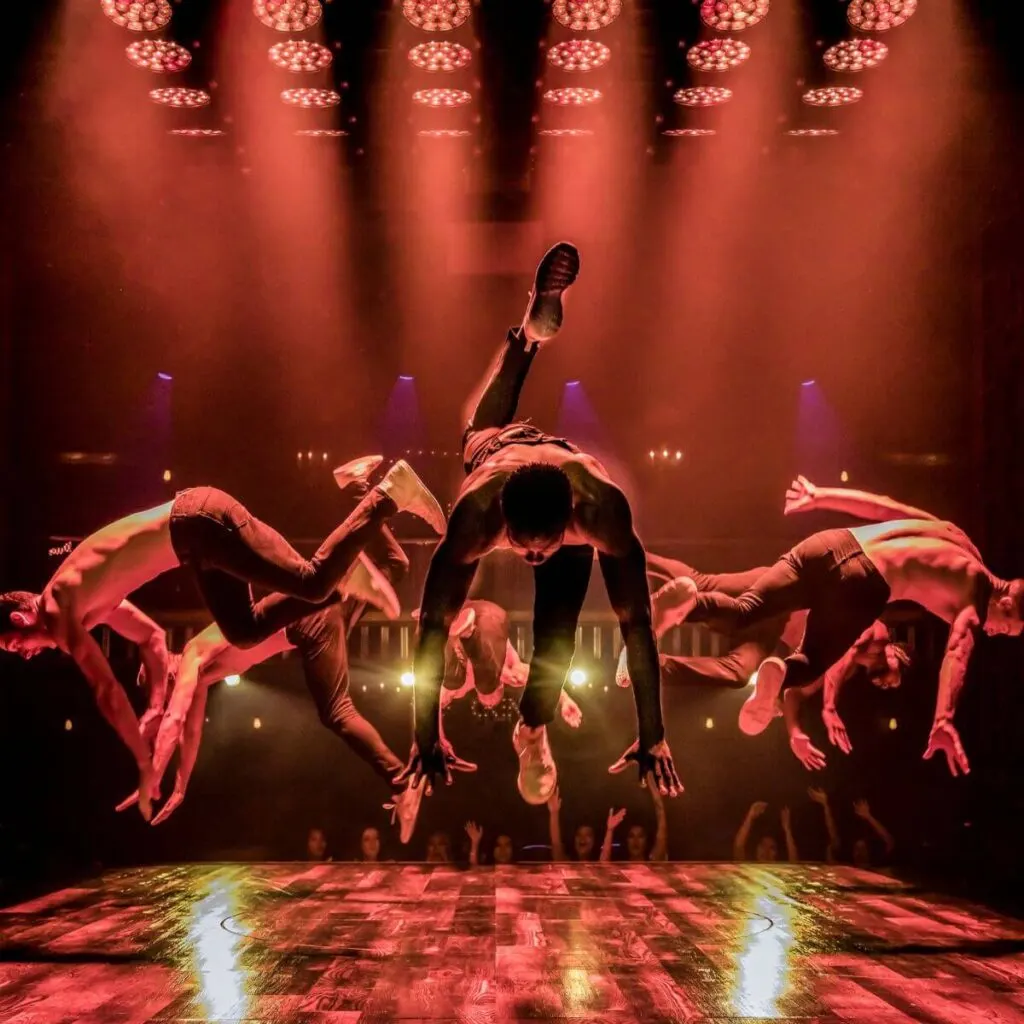 Back to modern Vegas, if you're in town for a bachelorette party, birthday, or some other fun celebration, grab some tickets to a burlesque or male dance show.
Magic Mike and Thunder Down Under are the hottest male revue shows in the city. While X Burlesque at the Flamingo Hotel and Zombie Burlesque at Planet Hollywood are the top burlesque shows.
In addition, the famous Dita Von Teese just announced a residency at Horseshoe Las Vegas (formerly Bally's) that is set to start in October 2023.
If male revue or burlesque shows aren't your style, check out my post about the best shows in Vegas for more ideas.
Get your hair done at Drybar
Spoil yourselves and get your hair done at Drybar, located in the Cosmopolitan Hotel.
This stylish salon franchise offers blowouts, braids, and even scalp massages that will leave you feeling like a true Vegas diva.
Pamper yourselves at a spa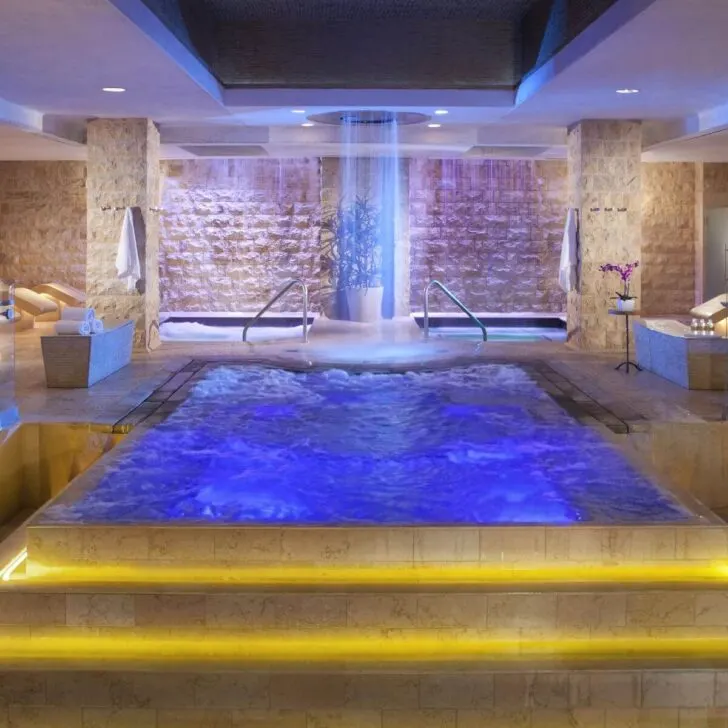 A spa day is a must so you can unwind and rejuvenate in style.
It's a perfect daytime activity after a night of dancing to help soothe your achy feet or massage away the knots from a long flight.
A few spots to consider are The Canyon Ranch Spa at the Venetian, The Spa at Encore, and Qua Baths & Spa Las Vegas at Caesars Palace.
Shop 'til you drop – no matter your budget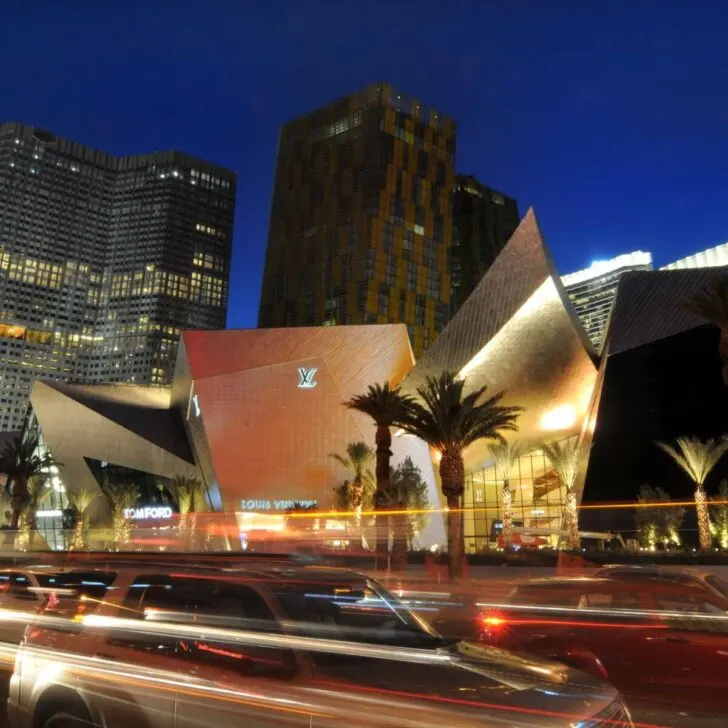 Of course, a Vegas trip is not complete without some shopping therapy.
From high-end luxury stores to outlet malls, every budget and taste is catered for. Indulge in some retail therapy and don't forget the souvenirs!
Catch up by the hotel pool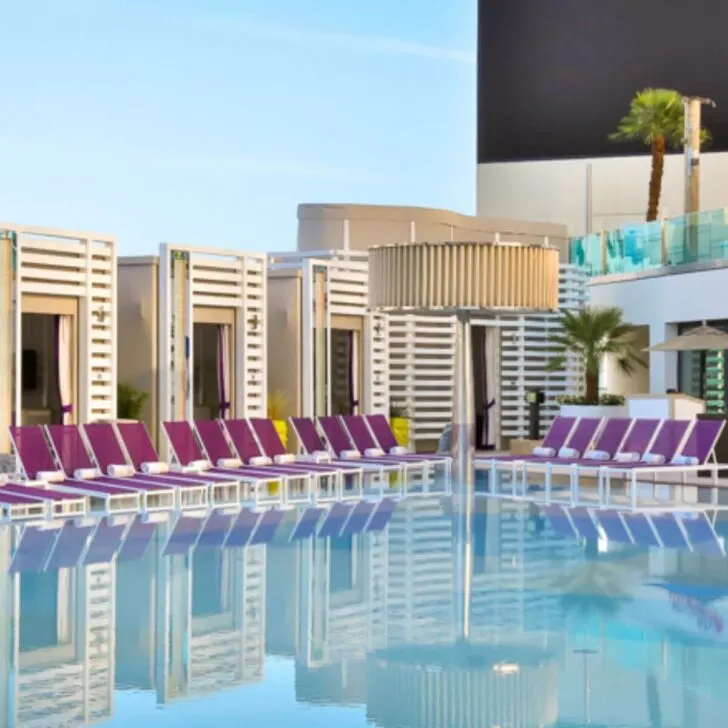 Last but not least, catch up with your girls by the hotel pool – just be sure it's not a day club or you won't be able to hear each other, ha!
Lounge around, sip on some craft cocktails, and have the time of your lives reminiscing and planning your next adventure.
If this is at the top of your list of things to do, definitely read my post about the best pools in Vegas before your book your hotel!
What are you planning for your girls trip to Vegas?
When it comes to a girls trip, Las Vegas is the ideal destination. With its luxurious hotels, endless activities, and delicious restaurants, you and your girls will have the time of your lives.
What happens in Vegas…well let's just say that's for you and your girls to decide!
Ready to book? Search across multiple booking sites for a good deal using the widget below.
---
About the author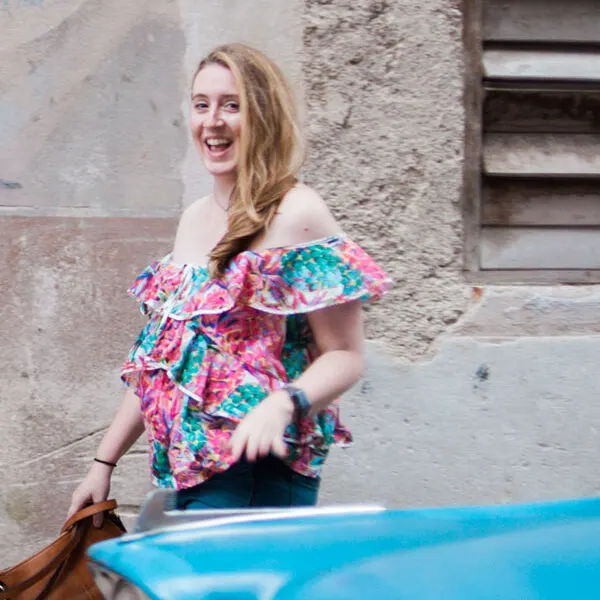 Meg Frost is a Boston-based travel blogger that helps people embrace technology to make vacation planning and traveling wicked easy, affordable, and fun.
She holds an M.A. in Journalism from Northeastern University and B.S. in Communication & American Studies from University of Miami.
---