Are you ready to experience the peach-perfect city of Atlanta?
From downtown with its legendary nightlife and numerous cultural attractions, to family friendly locales like Midtown overflowing with interesting activities, there are plenty of places in the ATL that should be on your travel list.
But before delving into what the capital of Georgia has to offer, deciding where to stay is one of the most important factors.
After all, if it's not a great place for a good rest and relaxation then you might as well just have stayed home!
So if you're planning a trip to ATL, read on for my guide on where to stay in Atlanta for any budget or preference, plus tips on what to do nearby and the best hotels in each area.
Midtown Atlanta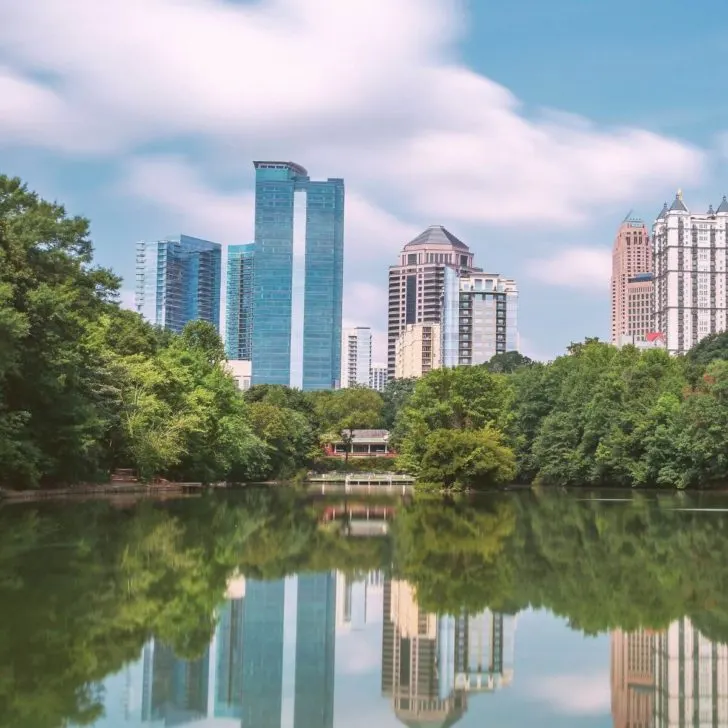 Midtown Atlanta is the perfect combination of relaxation and stimulation for vacationers of all types.
Offering a unique blend of historic landmarks and award-winning attractions, such at the High Museum of Art and Atlanta Botanical Garden, you'll never be at a loss for something interesting to do.
Plus, there are plenty of outstanding restaurants and comfortable accommodations to round out your stay.
Things to do in Midtown Atlanta
Check out the food hall at Ponce City Market.
Enjoy the great outdoors at Piedmont Park.
Browse the art exhibits at the High Museum of Art.
Admire all the beautiful plants and flowers at the Atlanta Botanical Garden.
Tour the Margaret Mitchell House, home of the writer of Gone With the Wind.
Catch a show from the Atlanta Symphony Orchestra at the Woodruff Arts Center.
Hotels in Midtown Atlanta
The Artmore Hotel is a mid-range boutique hotel in Atlanta's cultural arts district. The rooms are modern and boast a chic city vibe.
Some of the extras you'll get access to here include a bar and lounge, free wifi (even in the rooms!), a fitness center, a quaint courtyard (perfect for coffee or reading), and meeting spaces.
There are many reasons why The Georgian Terrace is an Atlanta icon.
It has two-floor penthouse suites, a rooftop pool, famous guests (Walt Disney, Elvis Presley, and F. Scott Fitzgerald, among others), and more than 100 years of service.
If you're looking for a destination wedding in the southern US, put this gorgeous hotel at the top of your list.
Stonehurst Place is a beautiful luxury bed & breakfast. It's set in a historic Southern mansion, yet is anything but stuffy and dated.
It tastefully includes modern amenities, such as recharging stations and heated bathroom floors (in some rooms), without compromising its historic features.
Downtown Atlanta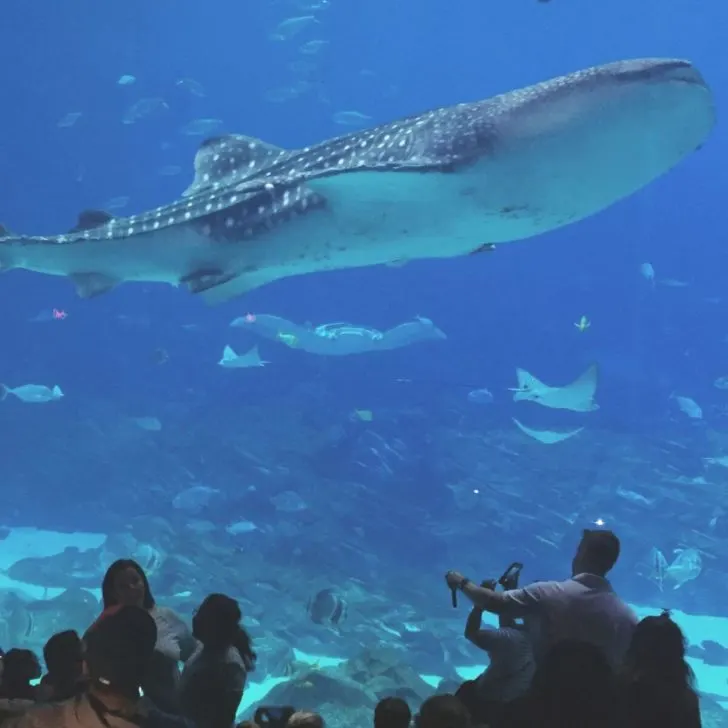 Downtown Atlanta is centrally located and brimming with adventure.
Nearly all top attractions in Atlanta sit within this area. Even if it isn't your first time in Atlanta, if you're going to be hitting lots of tourist spots, downtown is likely still the best spot for you.
Coca Cola Museum? Check!
Georgia Aquarium? Double check!
National Center for Civil and Human Rights? Triple check!
No matter what your interests are, you can find an activity to your liking in Downtown. It's the jack-of-all-trades of this historic city, you could say!
Things to do in downtown Atlanta
Immerse yourself in the World of Coca-Cola.
Check out the College Football Hall of Fame.
Get some fresh air at Centennial Olympic Park.
Visit the National Center for Civil and Human Rights.
See the largest aquarium in the US at Georgia Aquarium.
Get a birds' eye view of the city from SkyView Atlanta observation wheel.
Catch a game or concert at the Mercedes-Benz Stadium or State Farm Arena.
Hotels in downtown Atlanta
The Hilton Atlanta's downtown Atlanta location and ability to earn Hilton Honors points make this hotel an absolute steal of a deal.
A major chain that is usually in the mid-range when it comes to budget is available for less than $100 per night on average.
The Glenn Hotel is perfectly located in downtown Atlanta.
This bright and cheery boutique hotel is part of the Marriott Autograph Collection, which means you can earn Marriott Rewards while staying here.
Aside from its location and points-earning potential, it also has one of the best rooftop lounges in Atlanta.
The Ellis Hotel is a pet-friendly boutique hotel that joined the Marriott family in 2019.
While they are pet-friendly, they have an entire "allergy-friendly" floor called the Fresh Air Floor. Rooms on the Fresh Air Floor are outfitted with allergy-friendly bedding and air filters.
The big draw to the Hyatt Regency Atlantais its rotating rooftop restaurant, Polaris, which provides stunning views of the city. Its rooms have nice tall windows that let lots of sunlight in, as well.
The Hyatt Regency Atlanta is located nearby many of Atlanta's big attractions, like the Georgia Aquarium, Center for Civil and Human Rights and College Football Hall of Fame.
As with many major hotel chains, the ability to earn World of Hyatt points is a big perk, too.
Buckhead
Atlanta's Buckhead neighborhood is the perfect place for tourists to rest their heads when visiting Atlanta.
Not only is it close to Atlanta's top attractions, like the Atlanta History Center, it's also a great area for shopping and dining.
Away from the hustle and bustle of Atlanta's downtown core, Buckhead is primarily residential and offers visitors a more comfortable and relaxed atmosphere than what they'll find in midtown Atlanta.
History buffs will love that the area is home to both the Swan House and Reflection Pool at the Atlanta History Center, which allows them to get an up-close look into Atlanta's past.
Whether you're looking for a quiet vacation or a memorable trip full of sightseeing, Buckhead has something for everyone!
Hotels in Buckhead
If you're after Marriott Rewards, check out the JW Marriott Atlanta Buckhead.
This Atlanta hotel boasts city skyline views in many of its rooms, as well as terraces in others.
It is attached to the Lenox Square shopping center and is a great base for shopping in Atlanta in general due to its Buckhead location.
You can always count on Mandarin Oriental when it comes to luxury hotels. Its location in Buckhead, the Mandarin Oriental of Atlanta, is no exception.
With its proximity to Atlanta's best shopping and a luxurious spa, it's a great location for a wellness weekend, quiet bachelorette party, or romantic getaway.
When Marriott purchased Starwood, it gained the St. Regis chain of luxury hotels, such as the St. Regis Atlanta.
There's a delightful spa, butler service, a wine bar, afternoon tea, and much more. And yes, you can spend or earn mega points at this posh property.
If you're looking to treat yourself, St. Regis Atlanta is the place to do it!
Things to do in Buckhead
Go shopping at Lenox Mall and Phipps Plaza.
Learn more about the city at the Atlanta History Center.
Visit the Swan House, a historic mansion that was used in the Hunger Games film series.
Old Fourth Ward & Inman Park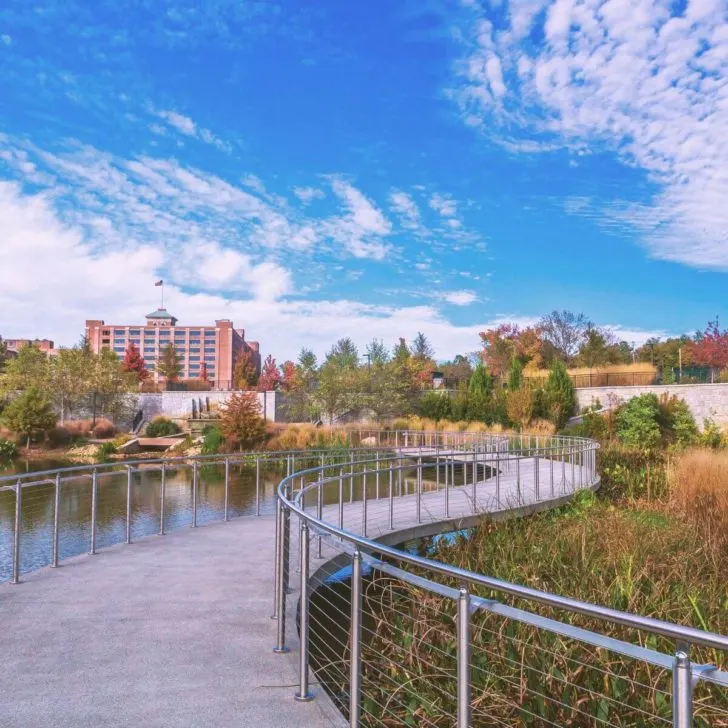 If you're looking to stay in a historic and vibrant neighborhood, consider Inman Park and Old Fourth Ward, two smaller neighborhoods adjacent to each other.
With something for everyone, like all sorts of eateries, attractions, parks and bars, it's impossible to get bored here!
While primarily residential neighborhoods, there are lovely bed and breakfasts peppered throughout both.
So if that's your preferred type of accommodation, either of these neighborhoods will be perfect for you.
Hotels in Old Fourth Ward
Located in Inman Park, not far from the Martin Luther King, Jr. National Historic Site, is Sugar Magnolia B&B.
It's a lovely home that would make a great stop for a staycation or relaxing weekend, as you'll feel right at home with plenty of space for reading, chit-chat, cat naps, and the like.
Urban Oasis is NOT your typical bed & breakfast. It is super modern and colorful; a complete 180 from the usual quaint or historic vibe at most bed & breakfasts.
If you're used to hostels and don't want to miss out on the social aspects of hostels, but aren't interested in the typical bed & breakfast, Urban Oasis will be a great fit for you.
Things to do in Inman Park and Old Fourth Ward
Run, bike, or walk the Atlanta Beltline Eastside Trail.
Enjoy the great outdoors at Historic Fourth Ward Park.
Visit the Jimmy Carter Presidential Library and Museum.
Visit the Martin Luther King, Jr. National Historical Park.
Try locally owned food vendors at Krog Street Market and Irwin Street Market.
Learn more about animal conservation at Zoo Atlanta in nearby Grant Park.
Where do you plan to stay in Atlanta, Georgia?
If you're looking for the ideal spot to stay in Atlanta, the answer is easy: just follow your heart!
Whether it's taking in a game at the Mercedes-Benz Stadium or strolling around beautiful Piedmont Park, there are plenty of neighborhoods and festivities to keep you entertained during your time in this city.
You could check into one of downtown's luxurious boutique hotels or find a quiet place with indie charm near Inman Park or Old Fourth Ward. Whatever your preference, you won't be disappointed.
So why wait? With Atlanta's wonderful attractions and diverse offerings, it won't take long to locate the perfect place to call home while visiting this lively city.Save
---
About the author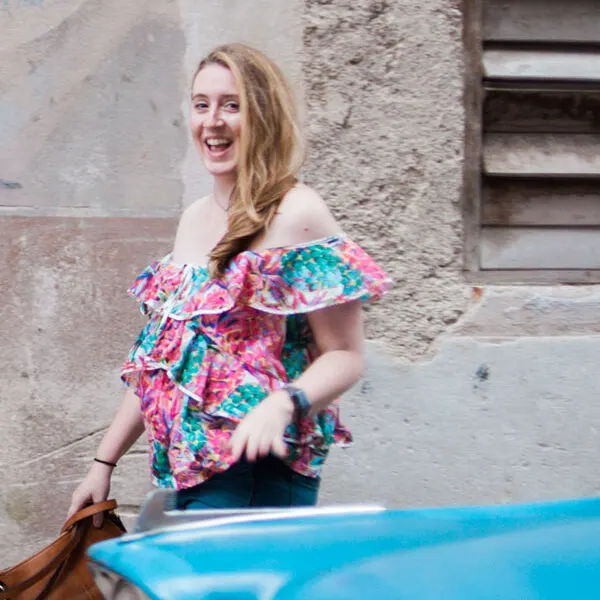 Meg Frost is a Boston-based travel blogger that helps people embrace technology to make vacation planning and traveling wicked easy, affordable, and fun.
She holds an M.A. in Journalism from Northeastern University and B.S. in Communication & American Studies from University of Miami.
---
This post was originally published June 10, 2017. It was last updated March 16, 2023.