Headed to Atlanta for some fun and southern hospitality? Check out these 20 hotels in Atlanta broken down by budget, mid-range, and luxury price ranges.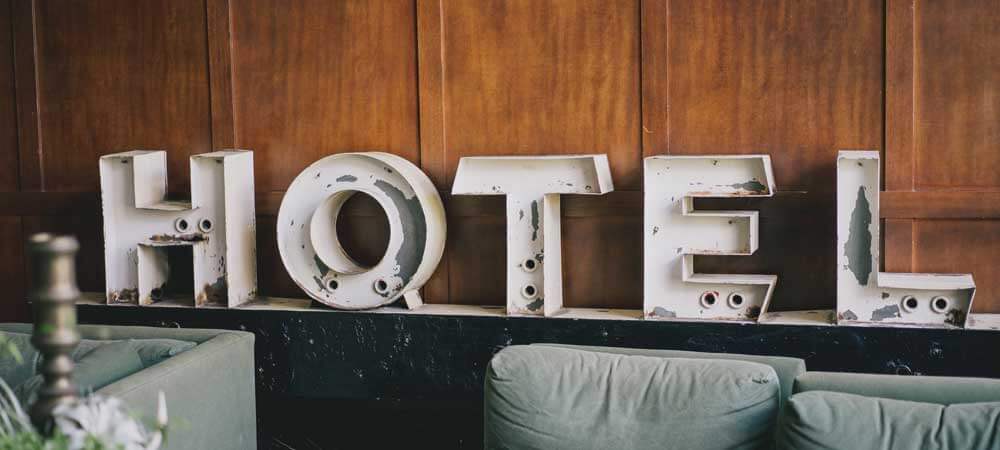 Budget Hotels in Atlanta
Atlanta might be a big city, but that doesn't mean there aren't hotels regularly priced at $100 per night or less.
If you're looking for a private room instead of a dorm-like hostel, check out these budget hotels in Atlanta, all for under $100 per night on average.
The Highland Inn
The Highland Inn, a 1920s home-turned-inn, is a great pick if you're just looking for a cheap hotel to sleep at night.
If you're looking for a place with tons of upgrades, modern amenities, or a plethora of activities, then you'll be disappointed.
That aside, the charm and location are wonderful and it's just a few minutes from Midtown Atlanta. They even have a pet cat!
Hilton Atlanta
Yup, you read that right.
The Hilton Atlanta's downtown Atlanta location and ability to earn Hilton Honors points make this hotel an absolute steal of a deal.
A major chain that is usually in the mid-range when it comes to budget is available for less than $100 per night on average.
Motel 6
The Motel 6 in downtown Atlanta is another cheap lodging option in Atlanta.
It's no-frills, as with many budget hotels and motels, but it fits the bill for those looking for a place to snooze at night.
Mid-range Hotels in Atlanta
If you have the budget to spend more than $100 per night, Atlanta is the place to do it.
By upping your budget to $100-250 per night, you can snag yourself some seriously posh digs. Check out these mid-range hotels in Atlanta.
Artmore Hotel
This midtown boutique hotel in Atlanta is a great example of the extra touch you'll get by increasing your lodging budget by a small amount.
The Artmore Hotel is available starting at $129 on average! The rooms are modern and boast a chic city vibe.
Some of the extras you'll get access to: a bar and lounge, free wifi (even in the rooms!), a gym, meeting spaces and more.
The Ellis Hotel
The Ellis Hotel has several themed floors that cater to specific types of travelers.
Traveling with your furry friend? Book a room on their Pet Friendly Floor open to travelers with dogs and cats for an extra fee.
Are you looking for the perfect place for a girls getaway or bachelorette? Check out The Ellis Hotel's Women's Only Floor which includes extra-luxurious toiletries and extra hair styling tools.
It also requires a special key card to get access to the floor, so it'd be great for solo female travelers looking for an extra layer of security.
Have allergies or a chronic illness? Book a room on their Fresh Air Floor, with rooms outfitted with allergy friendly bedding (including mattress and pillow covers) and air filters.
I think I know where I'll be staying next time I'm in Atlanta!
Glenn Hotel
The Glenn Hotel is perfectly located in downtown Atlanta.
This bright and cheery boutique hotel is part of the Marriott Autograph Collection, which means you can earn Marriott Rewards while staying here.
Aside from its location and points-earning potential, it also has one of the best rooftop lounges in Atlanta.
Hyatt Regency Atlanta
The big draw to the Hyatt Regency Atlanta is its rotating rooftop restaurant, Polaris.
Its rooms have nice tall windows that let lots of sunlight in, as well. The Hyatt Regency Atlanta is located nearby many of Atlanta's big attractions, like the Georgia Aquarium, Center for Civil and Human Rights and College Football Hall of Fame.
As with many major hotel chains, the ability to earn World of Hyatt points is a big perk too.
JW Marriott Atlanta
If you're after Marriott Rewards, but prefer to stay in Buckhead, check out the JW Marriott Atlanta Buckhead.
This Atlanta hotel boasts city skyline views in many of its rooms, as well as terraces in others.
It is attached to the Lenox Square shopping center and is a great base for shopping in Atlanta in general due to its Buckhead location.
The Social Goat B&B
If you're torn between vacationing in a rural setting at a bed & breakfast on a farm and visiting a city, you can stop looking! The Social Goat B&B in Atlanta is like a mini-farm in the middle of the city.
The Social Goat B&B is home to cats, chickens, geese, turkeys, and of course, goats.
The rooms are charming and you'll truly feel like you're staying at a friend's house and not in a cookie cutter hotel.
Its South Atlanta address means it's a bit outside the hustle and bustle of downtown Atlanta, but if you have a car, you'll still be able to get to Atlanta's attractions.
Sugar Magnolia B&B
Located in Inman Park, not far from the The King Center (not to be confused with the Martin Luther King, Jr. National Historic Site), is Sugar Magnolia B&B.
It's a lovely home that would make a great stop for a staycation or relaxing weekend, as you'll feel right at home with plenty of space for reading, chit-chat, cat naps, and the like.
Twelve Hotels
Twelve Hotels only has suites, making it great for families and long stays.
There are 2 locations: Centennial Park, next to a ton of Atlanta attractions, and Atlantic Station in midtown.
They are also part of the Marriott portfolio of hotels, so you'll earn Marriott Rewards during your stay.
Urban Oasis B&B
Urban Oasis is NOT your typical bed & breakfast. It is super modern and colorful – a complete 180 from the usual quaint and flowery vibe at most bed & breakfasts.
If you're used to hostels and don't want to miss out on the social aspects of hostels, but aren't interested in the typical bed & breakfast, Urban Oasis will be a great fit!
Luxury Hotels in Atlanta
If the mid-range hotels weren't swanky enough, you're going to flip over these luxury hotels in Atlanta.
Each of these luxury hotels in Atlanta are regularly priced at over $250 per night.
As always, check around for deals. You might lucky out and score a deal at less than the average price.
The Georgian Terrace
Two-floor penthouse suites, a rooftop pool, famous guests (Walt Disney, Elvis Presley, and F. Scott Fitzgerald, among others), and more than 100 years of service.
These are just a few reasons why The Georgian Terrace is an Atlanta icon.
If you're looking for a destination wedding in the southern US, put this gorgeous hotel at the top of your list.
Mandarin Oriental
You can always count on Mandarin Oriental when it comes to luxury hotels.
The Mandarin Oriental of Atlanta is located in Buckhead, close to Atlanta's best shopping, and has a large spa.
It's a great location for a wellness weekend, quiet bachelorette party, or romantic getaway with your boo.
The Ritz Carlton
Atlanta is home to 2 Ritz Carlton hotels: Buckhead and downtown Atlanta.
If you can't decide between the 2, I'll make it easy for you: Foodies should stay at the downtown location, which has several highly rated restaurants.
Wellness and Spa lovers should stay at the Buckhead location, which has a wonderful spa.
Stonehurst Place
Stonehurst Place is a beautiful luxury bed & breakfast. It's set in a historic Southern mansion, yet is anything but stuffy and dated.
It tastefully includes modern amenities, such as recharging stations and heated bathroom floors (in some rooms), without compromising its historic features.
St. Regis Atlanta
When Marriott purchased Starwood, it gained the St. Regis chain of luxury hotels, such as the St. Regis Atlanta.
There's a delightful spa, butler service, a wine bar, afternoon tea, and much more. And yes, you can spend or earn mega points at this posh property.
If you're looking to treat yo'self, this is the place to do it.
W Atlanta – Buckhead
The W is one of my favorite luxury chains, with its sleek, modern, and colorful decor. The W Atlanta in Buckhead is definitely no exception.
My favorite part is that the W brand of hotels was also included in the Marriott-Starwood merger, which means even more earning opportunities for travel hackers!
What are your favorite Atlanta hotels?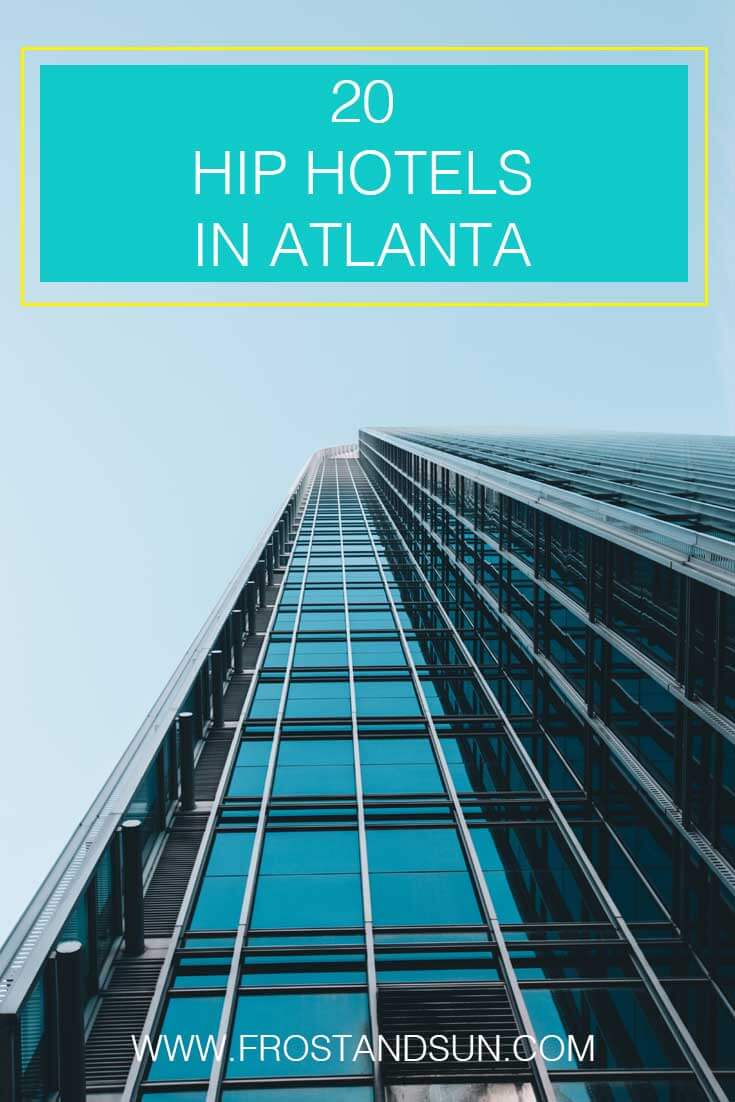 Save