I love exploring Boston in April thanks to warmer weather, gorgeous blooming trees and flowers, and lower crowd levels.
Whether you're a first-time visitor or a lifelong resident revisiting favorite activities, there are plenty of things to do in Boston during April.
In this post, I'm sharing all the best things to do in Boston in April, including popular attractions and annual events.
Tips for visiting Boston in April
While April is generally less crowded than other months, the week starting with Marathon Monday and Patriot's Day can get busy – especially the weekend leading up to the marathon.
With tons of people coming in to participate in the race or cheer someone on, the city becomes flooded with tourists that weekend.
In addition, it is Spring Break for many Massachusetts public schools, so lots of families come into the city to take advantage of all the fun things to do.
So if you're looking to take advantage of lower crowds, avoid the week that includes the third Monday in April!
Weather in Boston in April
The weather in Boston in April can be a bit cranky and finicky.
I'm writing this in April and the temperatures this week have been all over the place! Two days ago it was 92℉ and today it's 54℉.
In a nutshell, though, the weather is usually pretty mild with temperatures on the cooler side, which is pretty typical Spring weather in Boston.
In April, the average high temperature is around 58℉, while the average low is 42℉. It can also be a bit rainy, with an average of 3.6 inches of precipitation in April.
Be sure to check out my post about packable rain gear if the forecast calls for rain.
Overall, definitely check the weather the day before you leave for your trip to ensure you've packed appropriately for the weather.
Join the fans on Red Sox opening day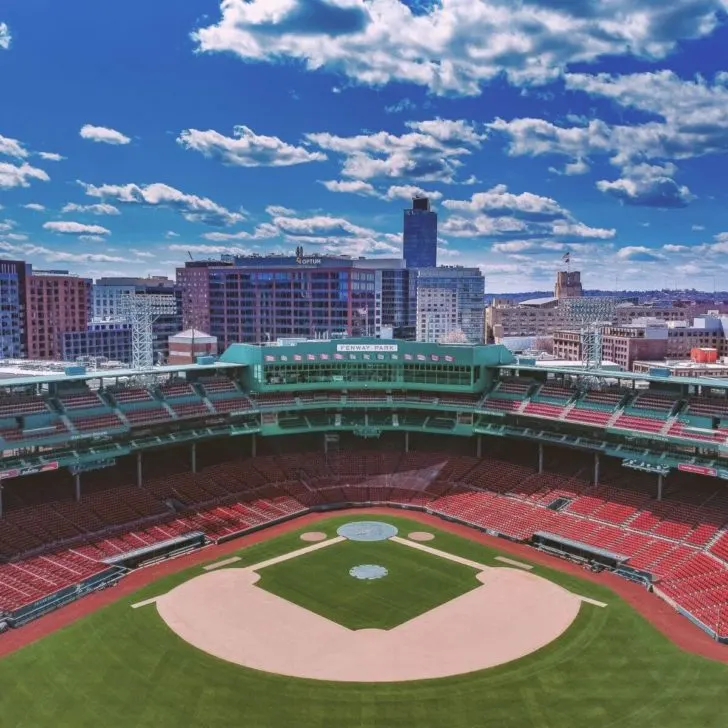 Red Sox opening day, aka the first home game of the season, typically takes place at the tail end of March or first few days of April.
If you haven't heard, we're a bit nutty about our sports teams – but especially the Red Sox!
The excitement in the air is thick as everyone dons their favorite baseball jerseys and caps and head to Fenway Park for one of the most anticipated days of the year.
Whether you're a die-hard fan or just enjoy the thrill of the game, there's nothing quite like being a part of the electric atmosphere on this day.
Of course, if your trip falls later in April, definitely check out the Red Sox schedule to see if there's another home game while you're in town.
Oh and make sure you memorize the words to Neil Diamond's Sweet Caroline – it's a fan favorite and you'll be expected to sing along somewhere around the eighth inning!
Take a tour of historic Fenway Park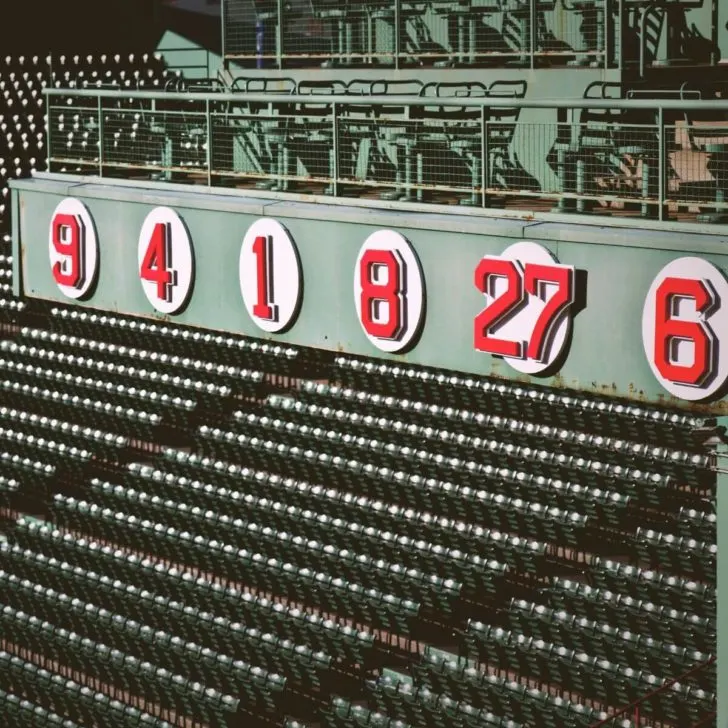 The Boston Red Sox offer regular tours of their historic ball park – and it's a ton of fun!
The tours are offered year round, but with the season starting around this month, it's as especially good time to go.
In April, tours run at the top of the hour, every hour from 9 AM to 5 PM – unless there's a game that day.
If it happens to be a home game day, the last tour leaves 3 hours before game start time. So if the game is at 1 PM, the last tour leaves at 10 AM.
There are several tour packages available, including a full-hour public tour, a 15 minute quickie tour, private tours, and more. And yes, you'll get to see the Green Monster and who knows, maybe even Wally!
The coolest tour, in my opinion, is the Ultimate Birthday Package tour, which includes trying on a uniform and practicing batting on the field.
The catch? It only runs on non-game days and requires at least 12 people to reserve.
Check out the Fenway Park tours page for additional information, such as pricing and tickets.
Visit the Boston Public Garden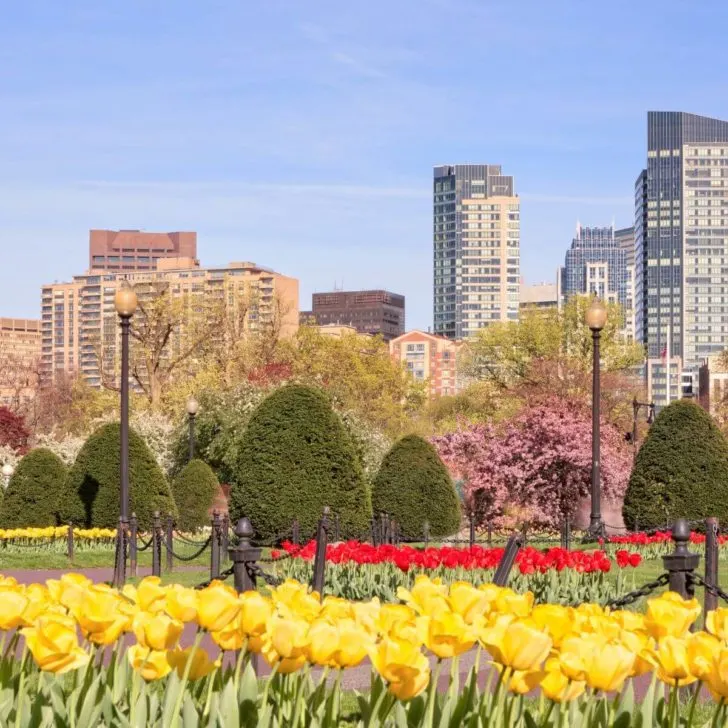 The Boston Public Garden and Boston Common are two of the best parks you'll ever lay eyes on. I might be a bit biased though since I've lived here for nearly two decades!
The Boston Public Garden is like a botanical sanctuary in the middle of bustling downtown. Its colorful flowerbeds, pristine walkways, and swan boats make it an urban oasis that hits all the high notes.
It's one of my favorite spots in the entire city. I love to grab lunch to go at a nearby cafe and head here to eat at one of the park benches while people watching and taking in all the lovely landscapes.
Hop across Charles St. to get to Boston Common, the oldest city park in the entire United States!
This lovely 50-acre park has baseball fields, tennis courts, a carousel, a pond, and plenty of green space for picnics and all-around outdoor fun. My friends and I used to play tag football here back in grad school!
Walk the Freedom Trail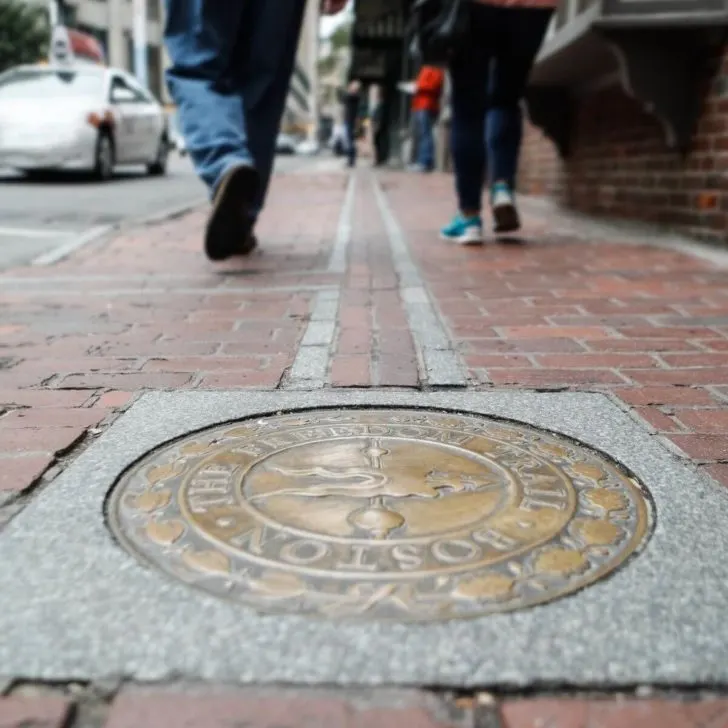 This isn't just any ordinary stroll! On the Freedom Trail, you'll be transported back in time to the days of revolution and rebellion.
The trail starts in the Boston Common at the visitor's center and snakes its way through the city, ending at the Bunker Hill Monument in Charlestown.
And while you can get maps at the visitor's center or online, it's actually quite simple to follow thanks to the red line that runs the entire trail.
As you follow the iconic red line through the city, you'll discover the sites where the colonists made their stand against the British empire.
From the Paul Revere House to the Old South Meeting House, there's no shortage of fascinating landmarks to explore.
If you want to learn more about the different landmarks along the way, I recommend joining a walking tour.
There are multiple walking tours available, including a pub crawl, and most are led by guides dressed in colonial garb. Kinda cheesy, but fun!
Another option is downloading the Freedom Trail App (iOS/Android), which costs $9.99, if you prefer to go at your own pace.
Celebrate Patriot's Day
Patriot's Day is a legal state holiday in Massachusetts that commemorates the American Revolutionary War. It takes place on the third Monday of April, the same day as the Boston Marathon.
That's why you'll often see Revolutionary War era reenactments and other events throughout the month of April in Boston and elsewhere in the state.
Once such popular event is the Boston Patriots Day Parade, which starts at City Hall and makes its way to the Kings Chapel Burying Ground and the Granary Burying Ground for wreath laying ceremonies, before ending in Boston's historic North End neighborhood.
The parade takes place on Patriots Day and starts around 9 AM.
Tour the Boston Tea Party Ship & Museum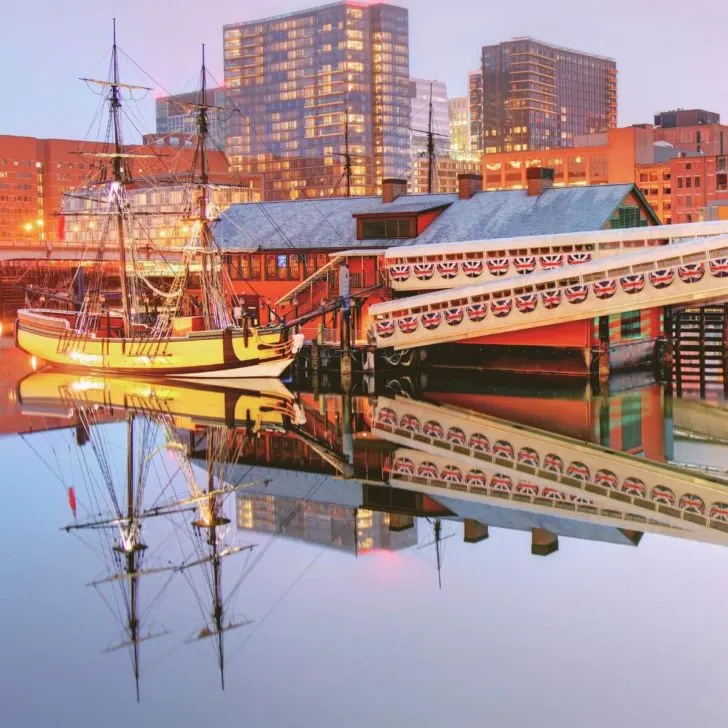 Speaking of reenactments, if you want to participate in one, check out the Boston Tea Party ship.
This fun Boston attraction includes a tour of a replica of the infamous ship, a reenactment, historical artifacts on display, a tea room and gift shop, and a film. You even get to throw some "tea" overboard!
Check out the Boston Tea Party Ship & Museum website for more information, including hours, tickets, and special events.
Cheer on or run the Boston Marathon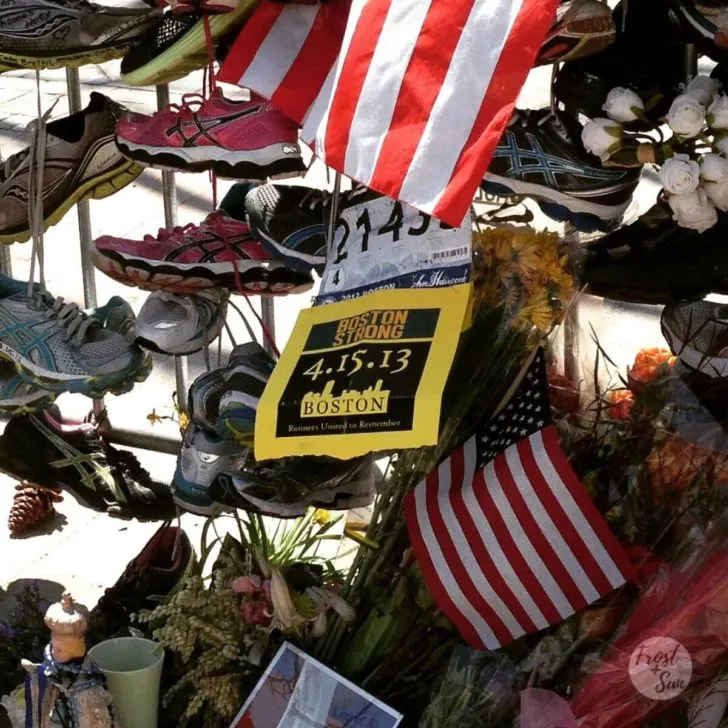 The Boston Marathon is one of the oldest and most prestigious marathons in the world.
Known as Marathon Monday, this race has been held annually since its inception in 1897, making it one of the most time-honored sporting events in the United States.
The race is 26.2 miles long, starting in the rural town of Hopkinton and finishing on Boylston Street in Copley Square, just past the Boston Public Library.
Each year, an average of 30,000 runners from all over the world compete in the race, with millions of spectators lining the streets to cheer them on.
The Boston Marathon is not just a race, it is a celebration of human perseverance and determination. It is a reminder that despite the challenges we face, we can always push ourselves to reach new heights.
OK, I'm getting a bit sappy here, but it truly is a massive event here in Boston, so if you're willing to brave the crowds, I highly recommend going to cheer on the runners or running it yourself!
Tour the USS Constitution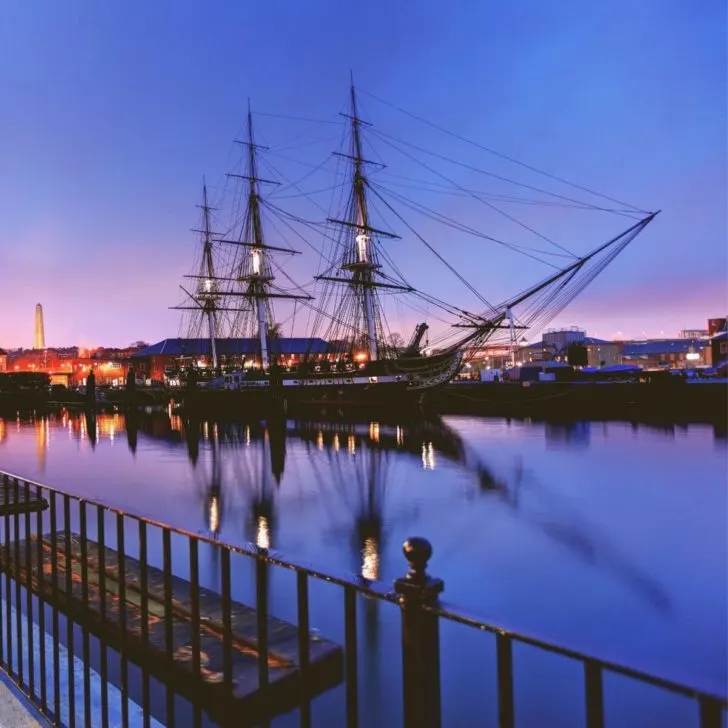 Launched in 1797, the USS Constitution has weathered many a storm – both literally and figuratively.
Did you know that during the War of 1812, she earned the nickname Old Ironsides because the British cannons were said to bounce right off the sides?
And while most ships are retired after a few decades of service and scrapped, the Constitution is still in working condition today. In fact, it is the world's oldest ship that is still afloat!
Clearly the USS Constitution is a ship to be seen and admired! She sits in the Boston Historical National Park within the Charlestown Navy Yard, not far from the end of the Freedom Trail.
For more information, check out the USS Constitution website.
Leonard Bernstein Festival of the Creative Arts
Get ready to snap your fingers and tap your toes at the Leonard Bernstein Festival of the Creative Arts!
This event is a celebration of all things artistic, paying tribute to the legendary composer and conductor Leonard Bernstein. It takes place at Brandeis University, just outside the city limits in Waltham, MA.
Leonard Bernstein himself started the festival to honor the first graduating class at Brandeis in 1952.
You can expect an array of performances throughout the festival, including concerts, dance shows, and theatrical productions put on by Brandeis students and visiting artists and performers. Plus, with workshops and interactive displays, you can get hands-on with your own creativity.
Whether you're a seasoned art enthusiast or just looking for a fun and creative day out, this festival is sure to strike a chord.
Hit up Faneuil Hall Market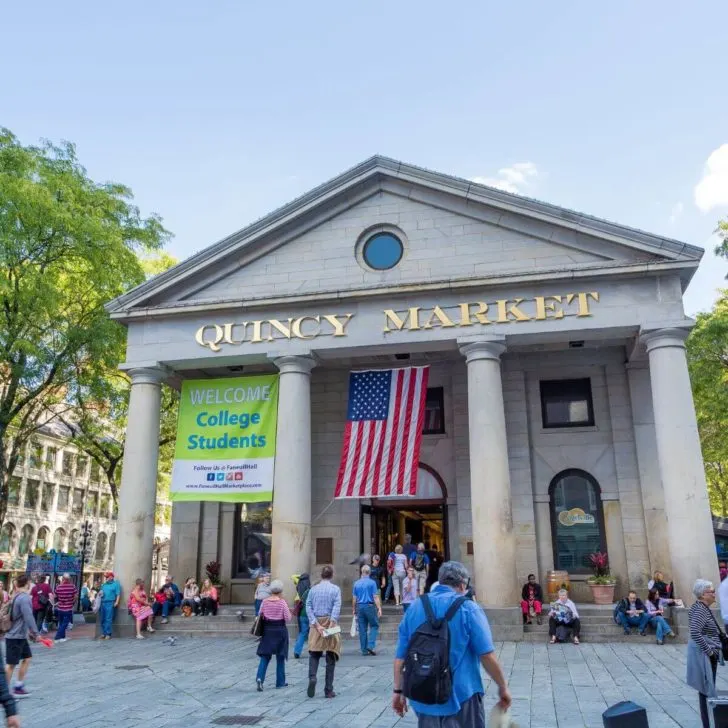 This historic marketplace, also referred to as Quincy Market, has been welcoming locals and travelers alike since the 18th century.
At Faneuil Hall Market, you can indulge in everything from fresh seafood to gourmet snacks, and of course, Boston's famous clam chowder.
But it's not just the delicious cuisine that draws visitors in; it's the lively atmosphere that makes Faneuil Hall Market a must-see destination. With street performers, vendors, and an eclectic crowd, it's the perfect place to grab a bite and people-watch.
So come for the food, stay for the entertainment, and maybe pick up a few new things at the surrounding shops.
Nerd out at Wicked Comic Con
Welcome to Wicked Comic Con, where the nerds are cool and the costumes reign supreme. This is the only place where you can see Superman hanging out with Darth Vader or Spiderman with Harley Quinn.
The event features panels, a costume contest, art galleries, meet-and-greets, an exhibition hall, and even a comic artist search! So put down that issue of Batman and head on over to Wicked Comic Con for some nerdy fun.
The event takes place at Hynes Convention Center on a weekend in April. Check out the Wicked Comic Con website for more details, including exact dates.
Boston International Film Festival
If you're looking for some polished films that haven't received their due publicity yet, the Boston International Film Festival is where you need to be.
The festival is notorious for curating the most engaging and unique movies in the industry, showing on average 90 films over the span of a week. They also host a handful of lively discussion panels.
Whether you're a seasoned cinephile or someone who's just dipping their toes in the world of independent film, there's something for everyone at this event.
For more information, including dates and a list of films for this year, check out the Boston International Film Festival website.
Visit the New England Aquarium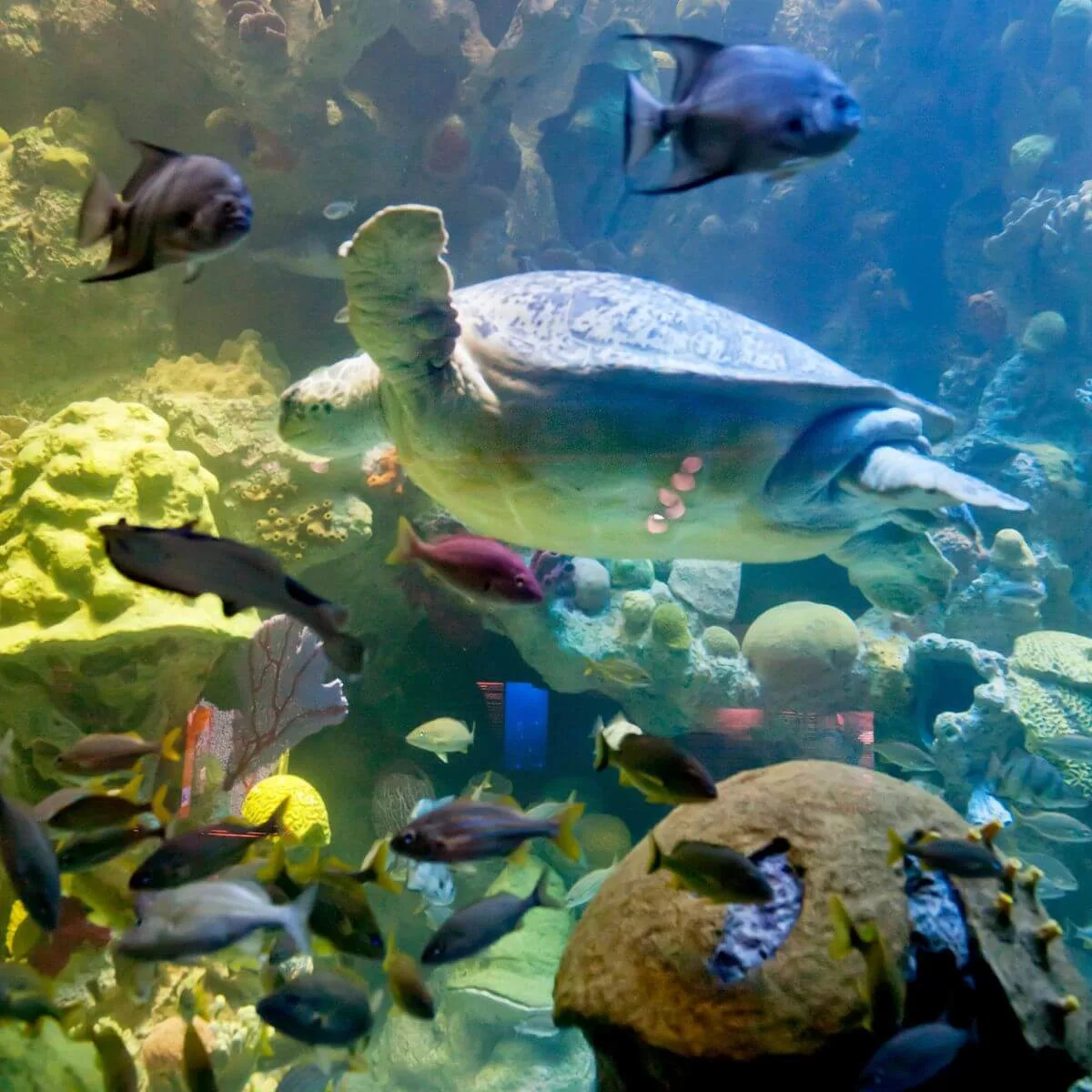 The New England Aquarium in Boston is a must-visit for marine life enthusiasts or anyone interested in seeing cute marine animals, like penguins, seals, stingrays, sea lions, turtles, sharks, and of course, plenty of fish.
With thousands of animals, over a dozen permanent exhibits, a touch tank, a massive 200,000 gallon aquarium, an IMAX theatre, you could easily spend half a day here!
Add on a whale watching tour from their partnership with Boston Harbor Cruises or a private animal encounter, and you have an entire day filled with fun.
The aquarium also serves as a vital facility for marine research and conservation efforts, so rest assured that your admission is going toward something good.
Visit the NEAQ website for more information, including upcoming special exhibits and tickets.
Celebrate Arbor Week
Arbor Week may not be as widely celebrated as some other holidays, but it's definitely rooted in importance. After all, without trees, we wouldn't have oxygen to breathe, paper to doodle on, or shade to nap in on a hot summer day.
In Boston, Arbor Week events are sponsored by Speak for the Trees Boston. This organization puts on a series of events all week such as guided city walks, upcycled crafts, demonstrations, talks, and plantings.
For more information, check out the Speak for the Trees website.
Take a stroll through Arnold Arboretum
Speaking of trees, I highly recommend taking a stroll through Arnold Arboretum, which spans the neighborhoods of Jamaica Plains and Roslindale.
With over 281 acres of land devoted to showcasing trees and plant life from all over the world, this place is an outdoor paradise.
April is one of my favorite times to visit to see the cherry blossoms and magnolia blossoms, two of my favorite flowering trees. Or really, my favorite flowers overall!
Managed by Harvard University, this beautiful outdoor museum offers stunning views, fresh air, and plenty of tranquility. It's the perfect escape from the hustle and bustle of the city.
Do a duck boat tour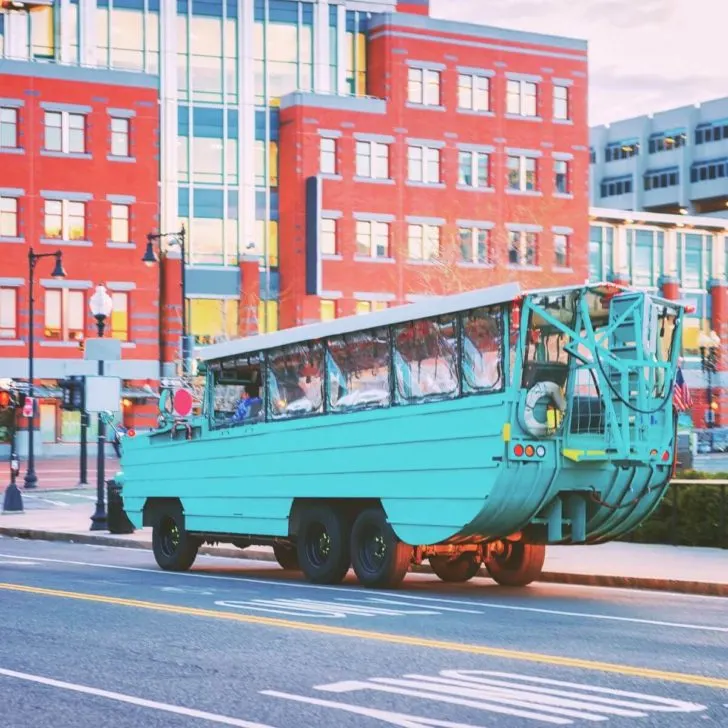 What better way to tour the historic city of Boston than on amphibious vehicles than take you through the streets and the Charles River?
The feeling of the wind in your feathers…err, hair, as you drive through the streets and then splash into the water is unparalleled.
This 80-minute tour is an absolute hit with kids, who get a free quacking whistle when they board. But honestly, it's fun for adults, too!
Tours don't run in the Winter, but start up around late March, so you're good to go if you'll be visiting in April!
An added bonus? Tours depart from 3 locations across the city nearby other attractions (Museum of Science, New England Aquarium, and Prudential Center), making it easy to plan your day.
Visit the Boston Duck Tours website for more information, including tickets.
What are your favorite things to do in Boston in April?
As you can see, April in Boston is so much more than Spring Break and a historic race. There are tons of fun things to do!
So what are you waiting for? It's time to come explore all that Beantown has to offer this April!
---
About the author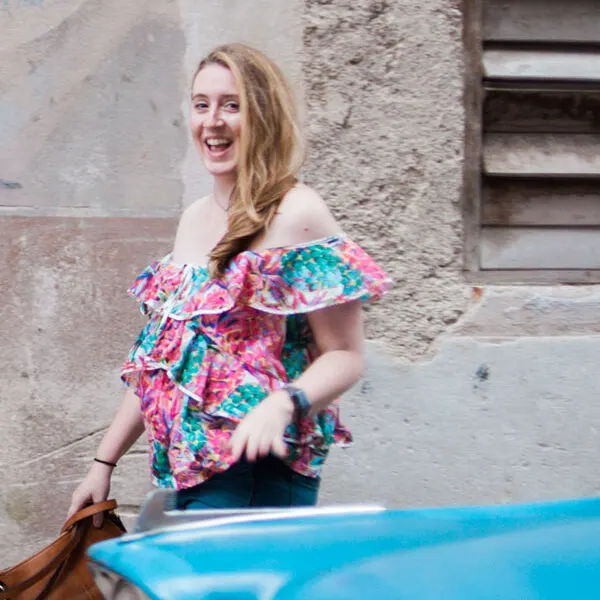 Meg Frost is a Boston-based travel blogger that helps people embrace technology to make vacation planning and traveling wicked easy, affordable, and fun.
She holds an M.A. in Journalism from Northeastern University and B.S. in Communication & American Studies from University of Miami.
---