Disney World is full of little kids and boring rides, right?
WRONG!
Comprised of 4 theme parks and 2 water parks, Disney World has plenty of roller coasters, scary rides, and thrilling water slides.
There are so many, in fact, that you could easily spend 2-3 days hitting up all the thrill rides at Disney World.
If this sounds like the Disney World vacation of a lifetime, you gotta check out my 2 day itinerary for all the best thrill rides at Disney World.
Be sure to check local travel regulations before you book a trip. Some destinations are blocked from visitors or have drastically altered schedules or availability due to COVID-19. Always wear a mask and wash your hands frequently.
Day 1: Thrill rides at Disney World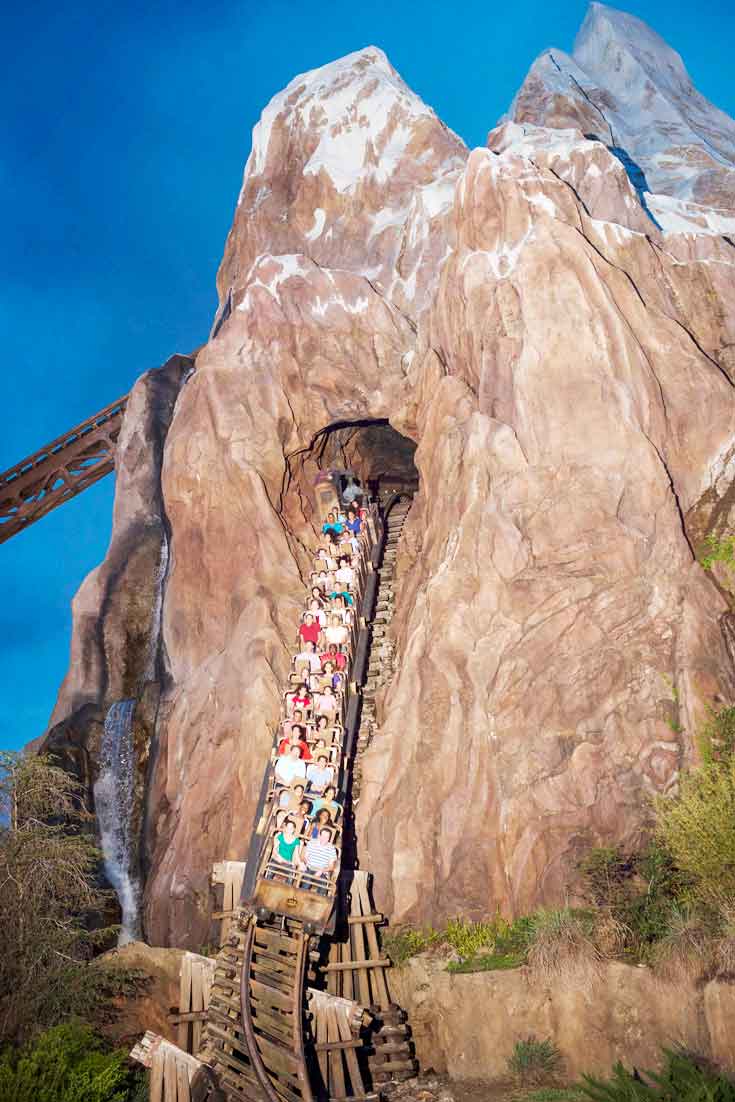 To hit up all the thrill rides and roller coasters at the Disney World parks, be sure to get a park hopper pass.
The park hopper pass will allow you to hop from park to park, so you can accomplish your goal of hitting up all the thrill rides and roller coasters in a single day.
Hit up all the thrill rides at Epcot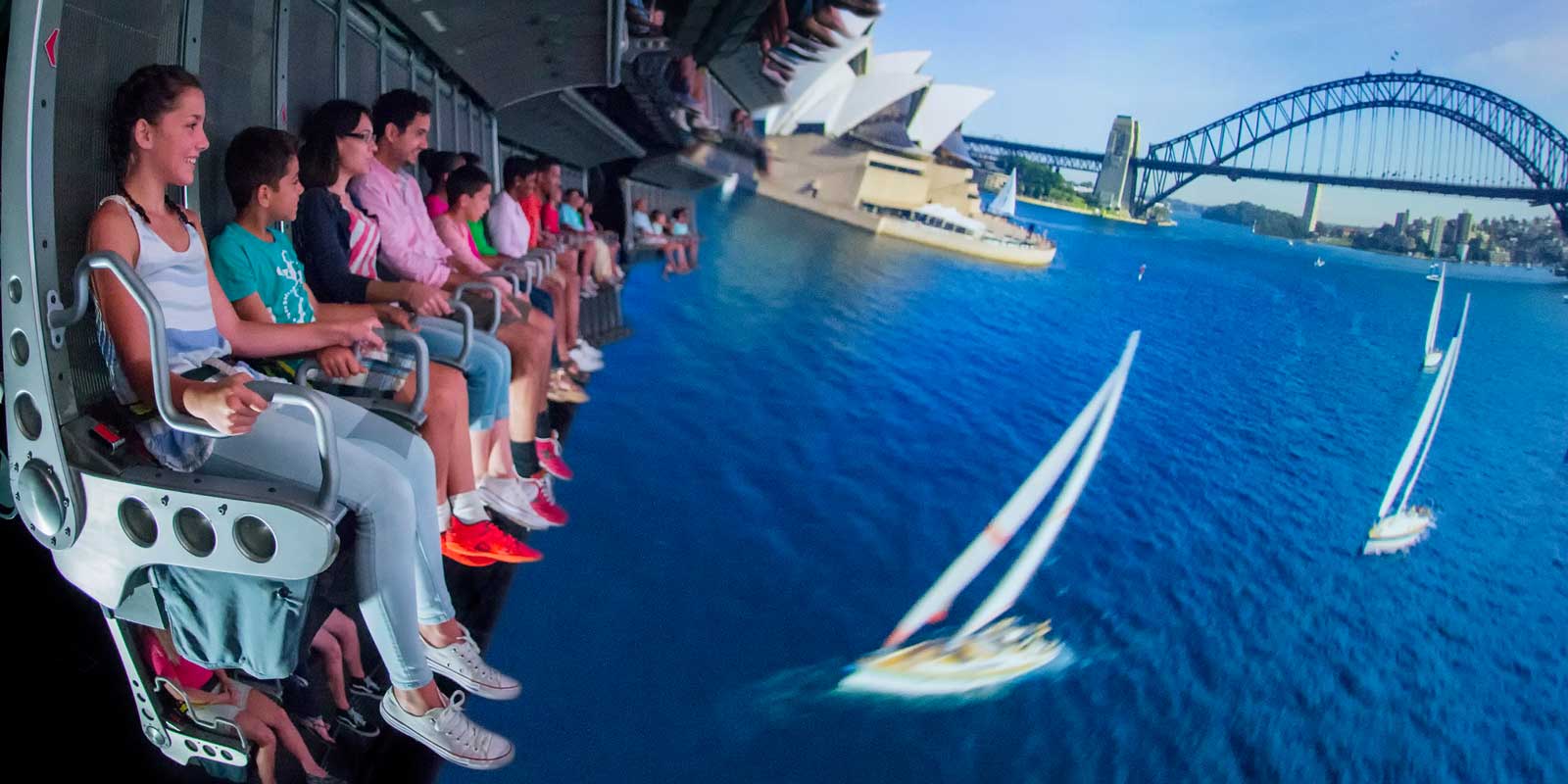 Start your day off at Epcot, which has 3 thrill rides.
There aren't any roller coasters at Epcot yet, but one is in the works. In 2021, Epcot will début a Guardians of the Galaxy themed indoor roller coaster at Epcot.
For now, you'll have to do with Test Track, Soarin' Around the World, and Mission: SPACE.
Start off with Test Track, where you can design your own car and then take it for a spin around a test track.
The test cars can reach 65 mph, which is pretty tame compared to the rest of the rides you'll hit up, making it perfect as your first thrill ride of the day.
Next up is Soarin' Around the World, one of my favorite rides in all of Disney World.
Soarin' simulates a ride on a hang glider, taking you through some of the best sites around the world, like the Great Wall of China, Sydney Harbor, and the Eiffel Tower in Paris.
The last thrill ride is Mission: SPACE, which simulates a space shuttle mission. Mission: SPACE offers riders 2 options, one more intense than the other.
By the time you are done with Mission: SPACE, you'll be PUMPED for the rest of your thrill seeking day at Disney World.
After Epcot, check out the Animal Kingdom thrill rides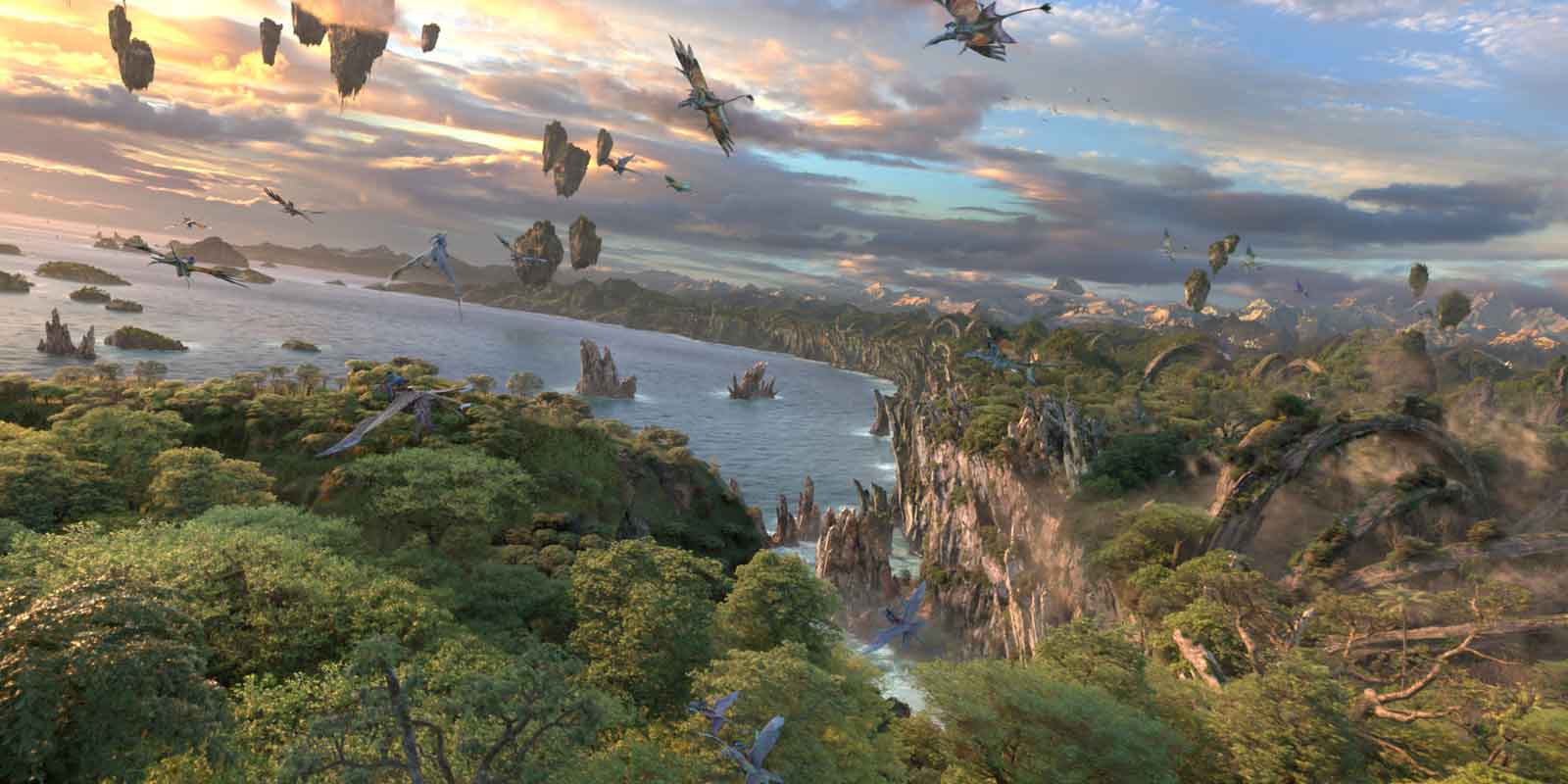 After getting revved up at Epcot, head over to Animal Kingdom and make a beeline for Pandora – The World of Avatar to check out Avatar Flight of Passage.
Flight of Passage is my absolute favorite thrill ride in all of Disney World. It's an exhilarating 3-D ride that simulates flying through the land of Pandora on the back of a banshee.
Once you've ooh'd and ahh'd at Animal Kingdom's newest attraction, skip over to DinoLand U.S.A. to hit up DINOSAUR and Primeval Whirl.
DINOSAUR is a slow, but scary ride. Primeval Whirl, however, will probably have you dizzy by the end of it with all the twists, turns, and spinning!
Once you've gotten your prehistoric fix, head over to Expedition Everest, a roller coaster invaded by a Yeti.
Yes, a yeti. You're gonna have to ride it to see what I mean!
Anyway, Expedition Everest often has long lines. But if you don't mind possibly riding with a stranger, there is a separate line for single riders that has a much shorter wait than the main line.
Afterwards, head over to Kali River Rapids, where you're bound to get splashed on this roaring rapids water ride.
I strongly suggest timing your schedule so that you finish Kali River Rapids around lunch time so you can dry off while eating lunch.
Speaking of lunch, I highly recommend Tiffins, the newest restaurant at Animal Kingdom. Tiffins features cuisine from all around the world, such as Southeast Asia and Africa.
After a leisurely lunch, give yourself some time to shop, people watch, or head back to the hotel for a nap.
Hollywood Studios is next and you're going to need some time between lunch and the thrill rides there!
After Animal Kingdom, check out the Hollywood Studios thrill rides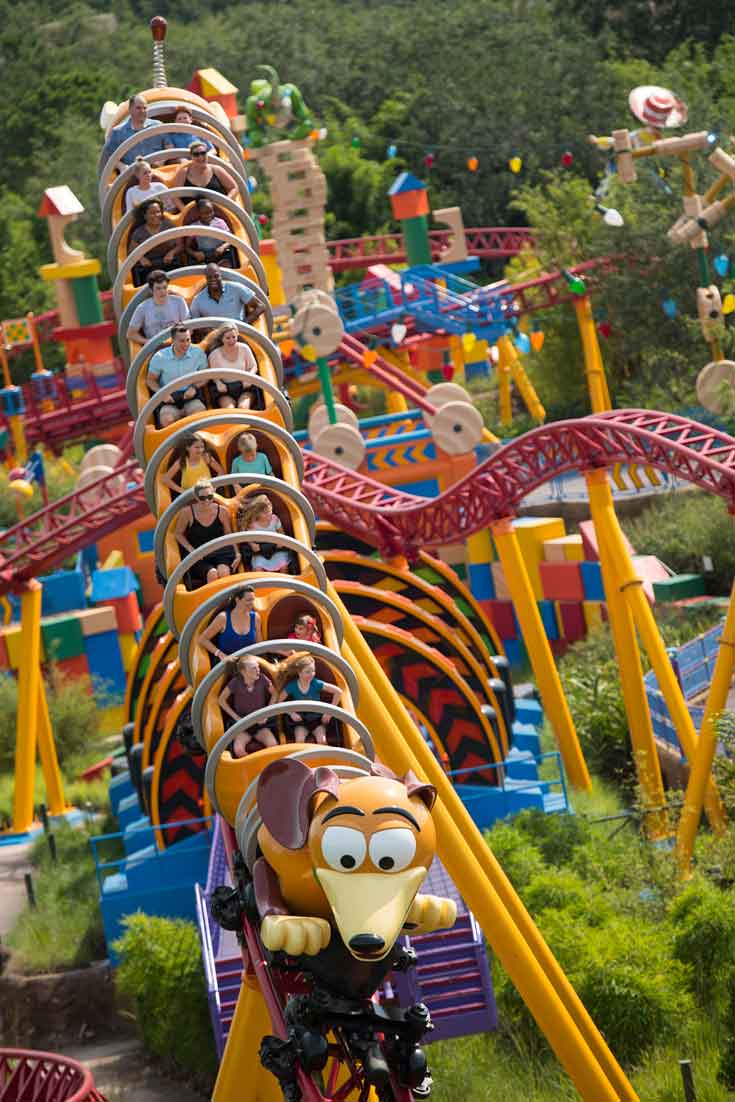 Hollywood Studios opened a new section to the park, Toy Story Land, in June 2018.
Toy Story Land has several fun rides, including Slinky Dog Dash, a roller coaster based on everyone's favorite slinky dog from Toy Story.
While I haven't made it on Slinky Dog Dash myself yet, I've heard it's not a crazy intense roller coaster, so it seems like a great pick to ease back into a day of thrill rides and roller coasters.
After checking out Slinky Dog Dash, make your way over to Rock 'n' Roller Coaster.
Rock 'n' Roller Coaster is a super intense Aerosmith themed indoor roller coaster featuring 2 loops and 1 corkscrew, all at 60 miles per hour.
It's definitely the opposite of Slinky Dog Dash!
Last up for Hollywood Studios thrill rides is the Twilight Zone Tower of Terror.
The Twilight Zone Tower of Terror is 13 floors of drops AND direction changes in pitch black with flashes of lightning. In my opinion, it's the scariest ride in Disney World!
After Hollywood Studios, Check out the Magic Kingdom thrill rides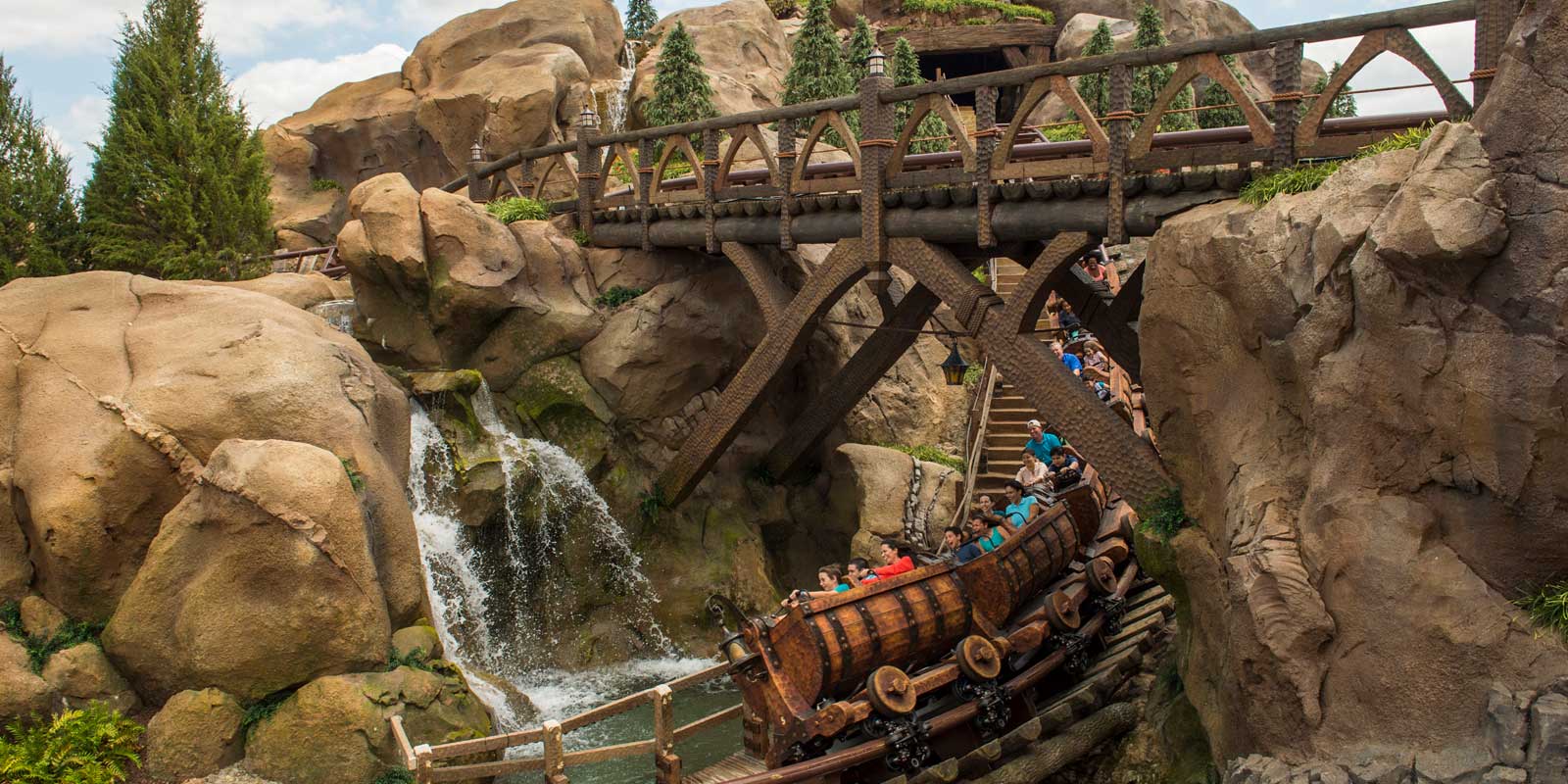 Hopefully you didn't toss your cookies at Hollywood Studios, because I saved the best for last: Magic Kingdom has the most roller coasters of all the Disney World parks!
Start off at Space Mountain in Tomorrowland for a hilariously fun and slightly trippy indoor roller coaster.
Space Mountain takes place in pitch black, so you never know when there will be twists, turns or drops.
I always walk off this ride slightly dizzy and laughing so hard I am crying. I LOVE IT!!
After Space Mountain, head over to the Seven Dwarfs Mine Train in Fantasyland. This ride is more tame than other roller coasters at Magic Kingdom, but still lots of fun with whips and turns.
Cap off your thrill ride day in Frontierland. First up is Big Thunder Mountain Railroad, a Western themed roller coaster.
Afterward, head over to Splash Mountain for a ride down a big waterfall drop that will no doubt leave you soaked.
Unwind after a long day of crazy thrill rides with a sit down dinner at Cinderella's Royal Table or Be Our Guest.
If you're looking for a more casual setting, consider Pecos Bill Tall Tale Inn and Cafe or the Skipper Canteen.
End your crazy day watching the exciting Happily Ever After fireworks show before heading back to your hotel for some zzzs.
Tomorrow's a new day – and guess what? There are even MORE thrill rides at Disney World to hit up!
TIP: In 2021, Magic Kingdom is set to début a new ride next to Space Mountain based on the sci-fi movie, Tron. The ride is rumored to be modeled after a similar ride at Shanghai Disneyland, which is much like a roller coaster.
Day 2: Thrill rides at Disney World water parks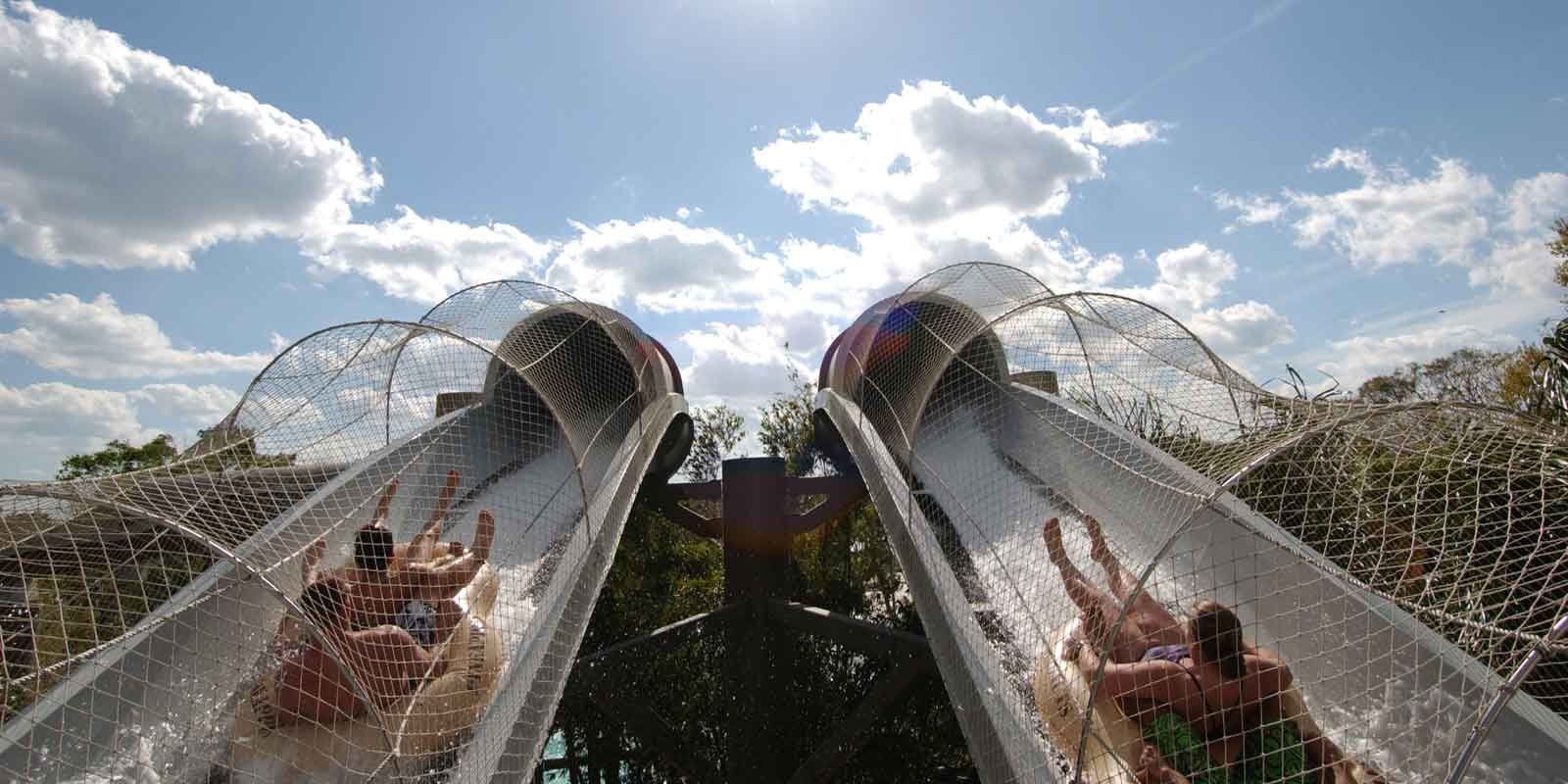 Disney World has 2 water parks, Typhoon Lagoon and Blizzard Beach. I recommend picking 1 and spending your entire day there.
The water parks close earlier than the theme parks, so you'll have your evenings free.
After you've closed out the water parks, I recommend checking out one of the many new restaurants at Disney Springs, such as Wine Bar George or Morimoto Asia.
Or…you could circle back to the theme parks and hit up your favorite thrill rides and roller coasters AGAIN!
Start off with the best Blizzard Beach slides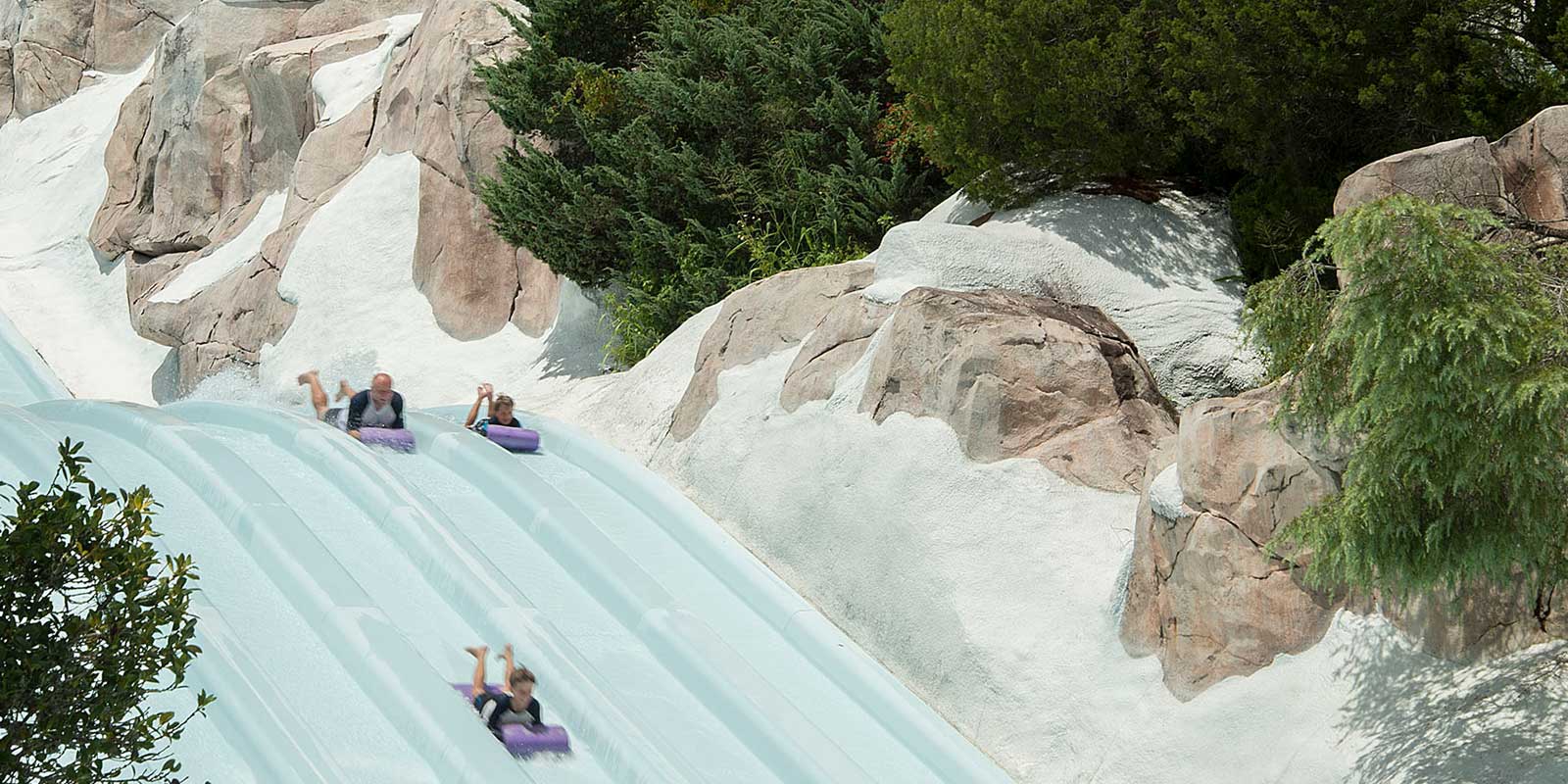 Blizzard Beach boasts 7 thrilling attractions – all water slides or rides, of course! Here's a rundown of the fun to be had at Blizzard Beach.
Start off at Runoff Rapids, which features 3 600-ft water slides, none of which are the same. Try all 3 water slides or race your friends to the splash pool at the bottom.
After Runoff Rapids, walk over to Downhill Double Dipper to race 2 friends down this set of 3 identical tube water slides. And just so there's no debate – your time is displayed at the end of the slide!
Next up is Snow Stormers, a 350-ft water slide that mimics the zigzags of a slalom ski course.
Gear up for another race with Toboggan Racers. This water slide features 8 lanes, making it perfect for big groups.
After enjoying some fun on the ski resort inspired water slides, take the Chairlift up to Teamboat Springs, where you'll no doubt laugh your way through this faux water rapids ride.
Then there's Slush Gusher, a 90 foot high-speed water slide. It might not be tall or super long, but it's super fast with a few hills.
Last, but not at all least, is one of the scariest water slides at Blizzard Beach: Summit Plummet.
Summit Plummet is one of the fastest and tallest free fall water slides in the world. It stands 12 stories high and is NOT for weak stomachs!
End the day with the best Typhoon Lagoon slides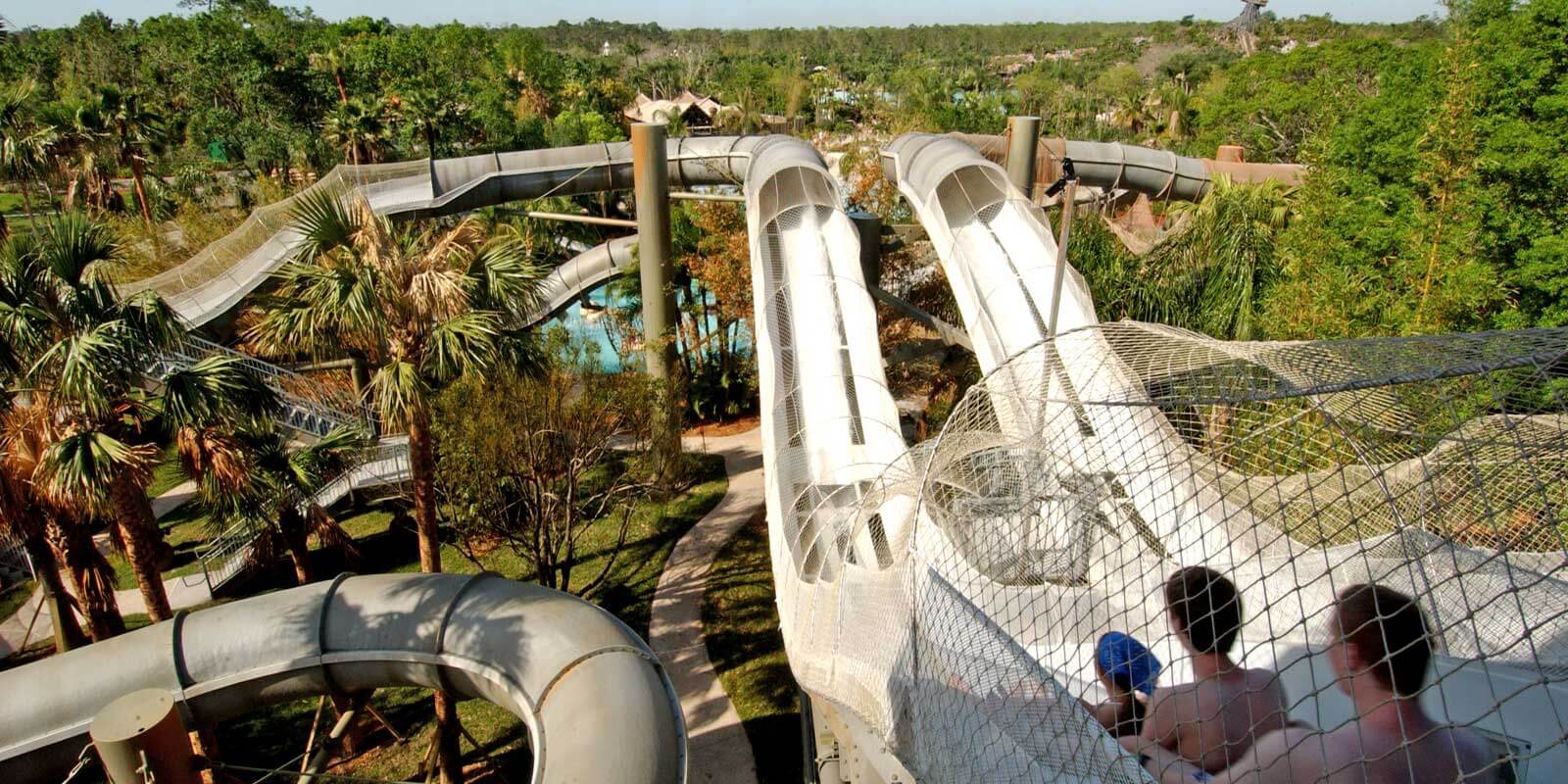 Typhoon Lagoon has 5 thrill rides, so it might be a better pick if you don't want to spend the entire day at a water park.
First up are 3 white water rapids-like slides, each increasing in intensity: Keelhaul Falls, Gangplank Falls, and Mayday Falls.
Starting off with these water slides is a great way to ease into the day, especially if you spent the prior day park hopping.
After you've revved up on the rapids, check out Humunga Kowabunga. This tube water slide is 5 stories tall and complete dark!
To cap off the day, head to Crush 'n' Gusher, a great pick for roller coaster fans. This water slide features 3 roller coaster like tube slides, complete with uphill climbs.
What are your favorite thrill rides at Disney World?
Now that you know all the best thrill rides to hit up, check out my guide on fastpass tips to learn how to best use Disney World's fastpass service to make the most of your day.
Fastpasses can't be used at the water parks, but it will help make the best use of your time when visiting the theme parks.
Lastly, don't forget to check out my tips on Disney World's photography rules so you know what camera equipment you can and can't bring to the parks to document your crazy adventure riding roller coasters and water slides.
This post was originally published on April 14, 2016 and most recently updated on October 28, 2018.