Let's be honest, cute is a must when it comes to finding a good beach bag. However, over the years, and through many instances of finding sand in random places in my home, I've learned cute is not enough.
For a beach bag to be great, it needs to be as functional as it is cute. Otherwise it's just going to end up at the bottom of your closet when you realize it's more hassle than it's worth.
Before you head out on your next beach trip or tropical vacation, check out my top 3 tips on what to look for when shopping for the beach bag.
Plus, 16 functional AND cute beach bags to tote your swimsuit and sunscreen in style that you can shop for right from this post!
Size matters, so make it a big one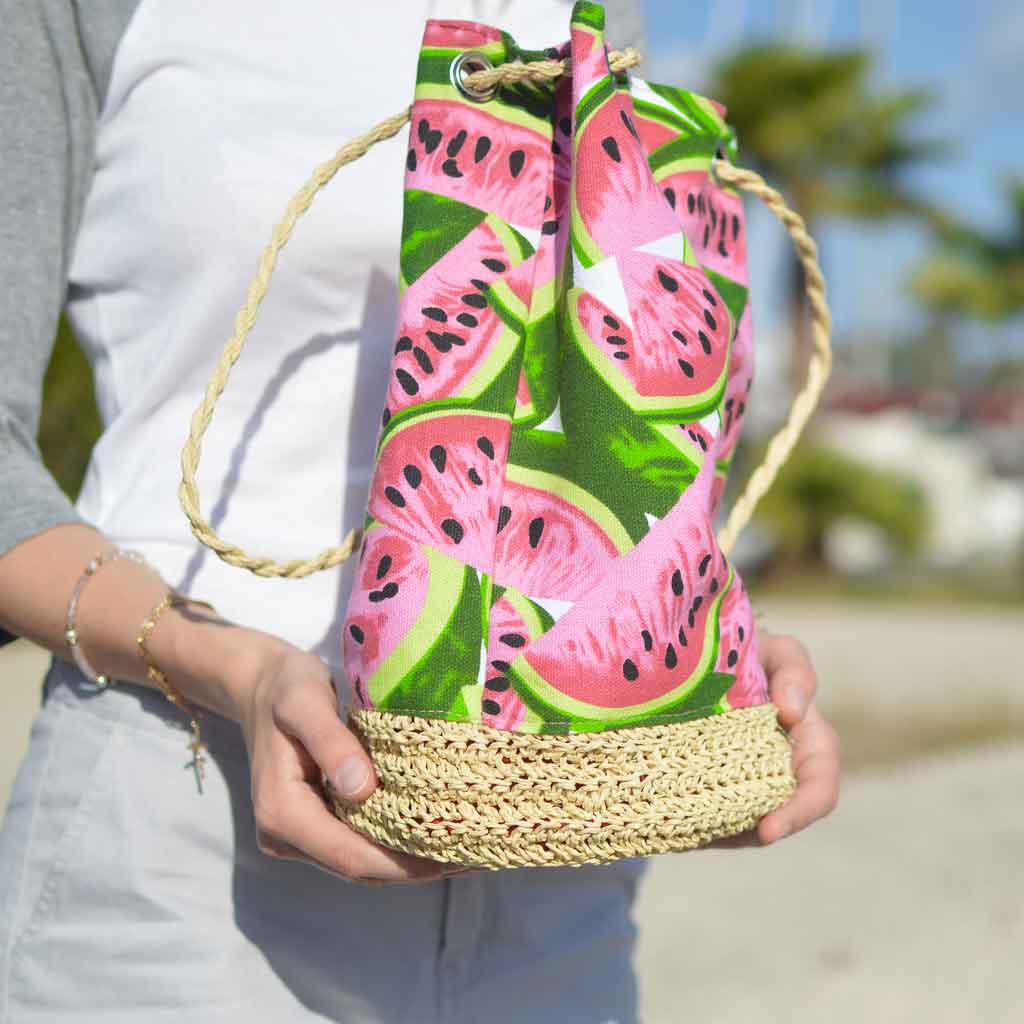 C'mon, y'all – get your mind out of the gutter! I'm talking about beach bags. Moving on…
When you go to the beach, you'll be lugging a ton of stuff with you. So you're going to want a large beach bag to hold all the things.
Here's a quick list of 15 beach bag essentials to pack for a day at the shore:
Sunscreen: Don't forget to bring reef safe sunscreen to help protect the marine ecosystems that regular sunscreen has been proven to damage.
Lip balm with SPF: Protect your pout with my favorite lip balm with SPF.
Sunglasses: Your eyes need protection from the sun, too!
Hat: For extra protection on your scalp and face, a hat is definitely a must have.
Swimsuit: Duh!
Change of clothes: In case you get wet or too sweaty!
Beach towel: To dry off with after swimming in the ocean to cool off. This one is my favorite – I always pack it with me when I travel to a beach destination.
Beach blanket or sheet: Or 2 beach towels – one to lay on and one to dry off.
Reusable water bottle: Don't forget to drink lots of water to stay hydrated. I use this one for beach trips.
Snacks
Wallet
Phone: Don't forget to load up some fun camera apps for capturing cool beach photos for your Instagram.
Power bank: Keep your phone charged, in case of emergencies!
Portable fan: I like this fan because it's rechargeable and comes with 2 power banks!
Book: Check out these travel memoirs by women for a few good books to bring with you.
Keep in mind the above list of beach bag essentials is just for you. If you're headed to the beach with kids, you'll have even MORE.
So yeah… let's make sure that shiny, new beach bag is going to fit all of these beach bag essentials, plus whatever else you'll inevitably add (like a GoPro, GoPro accessories, bluetooth speaker, etc).
Keep your tote organized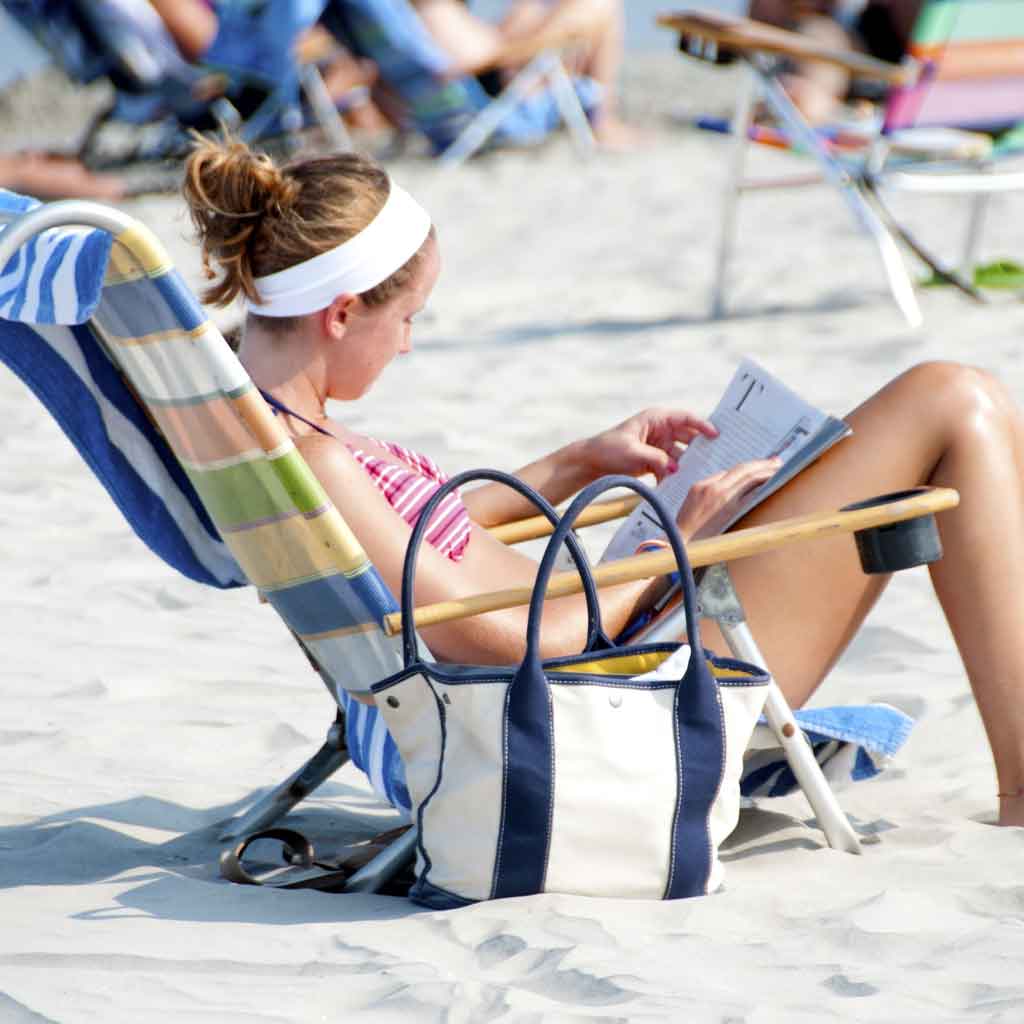 With all the items above that you'll be toting, make sure there are lots of pockets and other organizational features to keep your beach bag organized.
Just imagine, trying to root around in your large beach bag to find your wallet or sunscreen, only to have to dump everything out on the sand because it's like Mary Poppins' black hole-esque carpet bag.
You know exactly what's going to happen, right? Yeah…sand on everything, for the rest of its life. No bueno.
A few pockets or a divider will help keep your beach bag nice and organized. Then, when you need something, you can get to it quickly without having to remove everything to find it!
And, you'll increase your chances of everything staying as sand-free as humanly possible.
Aside from pockets and other organizational features, consider getting a beach bag with a zipper for the main compartment.
A zipper will keep your bag, and the items in it, safe. Plus, a zippered beach tote can double as an extra carry on for souvenirs if you're traveling to your beach destination by plane.
You might also like these posts…
Look for a beach bag with durable material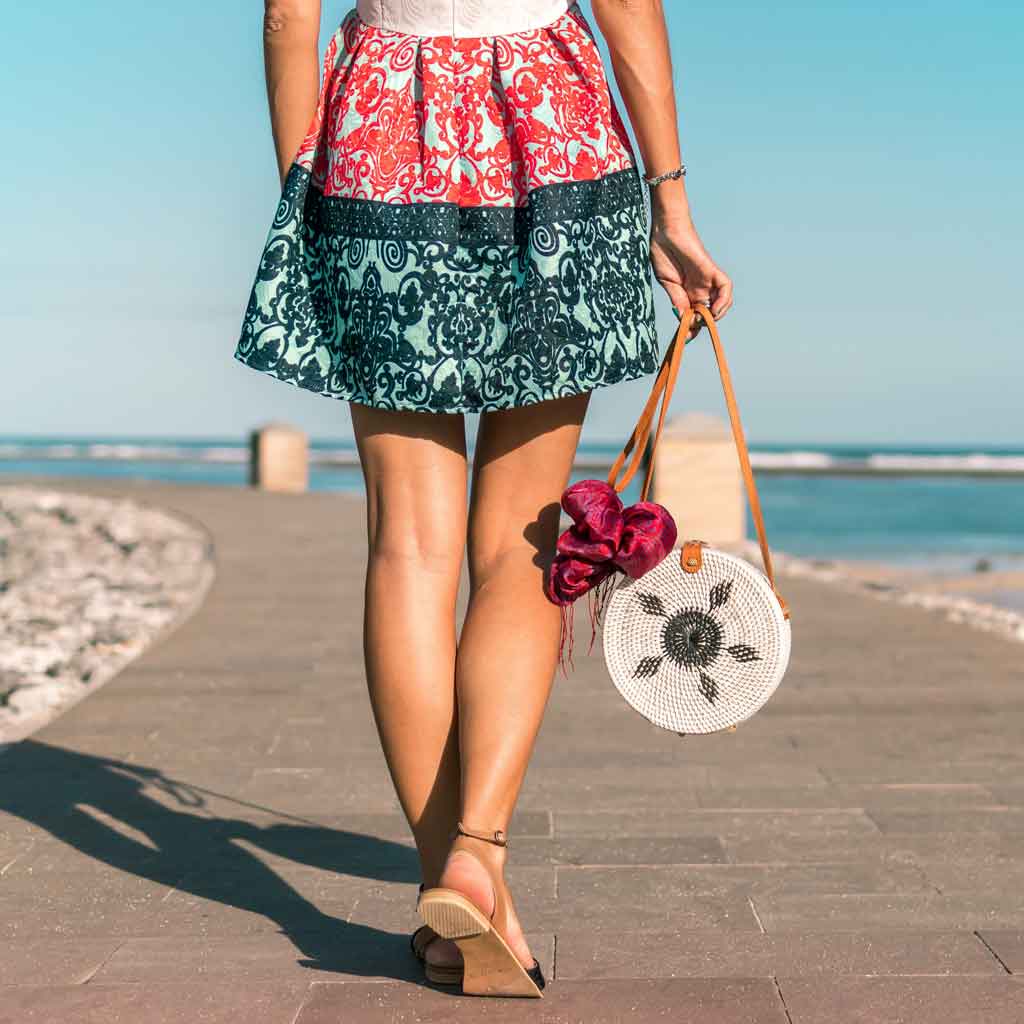 The third thing to consider when shopping for a beach bag is the material the bag is made with.
Straw tote bags are cute and all, just not for trips to the beach. I'm not interested in collecting sand in the crevices of woven straw, making it all dirty and leaving trails of sand wherever I go, are you??
Keep those cute straw bags for dinner dates and nights out on the town, instead.
A few fabrics to look out for include waxed canvas, mesh, neoprene, and recycled sailcloth.
Waxed canvas is canvas fabric infused or coated with some type of wax (often beeswax!). It's what sails are made of, as well as many outdoor accessories.
So yes, recycled sailcloth is technically waxed canvas. But, in this case, the material used was once used as a sail on a sailboat!
I point it out separately because brands will usually make a point of mentioning if the product is made with recycled materials.
Therefore, it will be easier to find a beach bag made with recycled sailcloth by searching for that, instead of waxed canvas.
Sea Bags is one such brand that focuses on bags made from recycled sailcloth.
Personally, I don't like mesh fabric for my beach bag. However, it'll allow any sand that gets near it to stay where it should: the beach.
Also, it's a super trendy for handbags at the moment, so that makes it a win-win for many of you!
Neoprene is the same material used to make wetsuits, hence why it's a great pick for a beach bag! It's thick, waterproof, and insulated.
All of these fabrics are durable and beach-friendly. When used for beach bags, they'll keep everything inside dry and sand-free.
Plus, when constructed well, beach bags made with these fabrics can withstand the weight of all the beach essentials you'll be toting.
Keep your tote dry with a wet swimsuit bag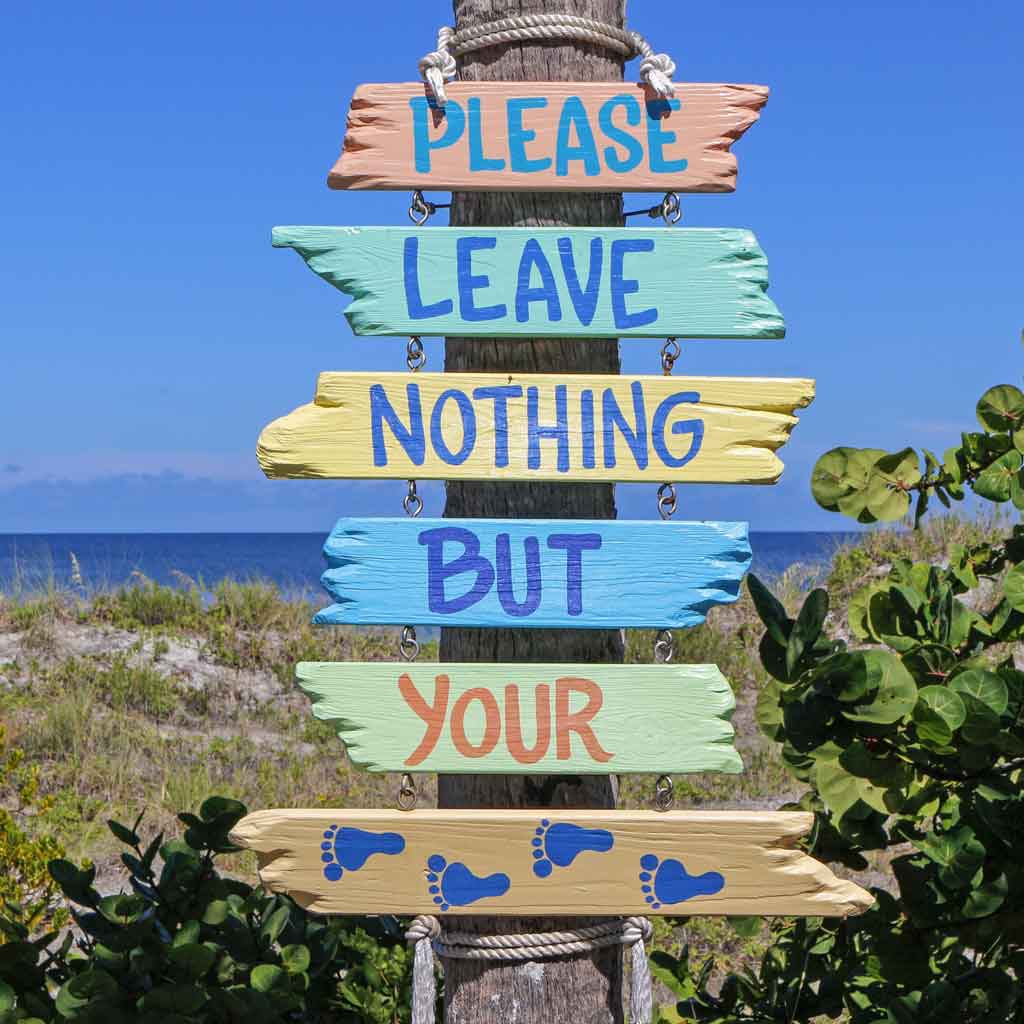 Aside from your main beach bag or tote, I highly recommend purchasing a wet swimsuit bag to stash your swimsuit after a day splashing around in the water.
Yes, I know. You probably just reuse a plastic grocery bag. However, by purchasing a wet swimsuit bag, that's just one more reason you can stop using plastic grocery bags.
Cute new accessory + eco-friendly and sustainable = What could be better!
The wet swimsuit bag I use is no longer for sale, but I've found a great replacement that I've given as well-received gifts. A wet diaper bag!
Yes, the same baby shower gift you give your mom friends can also be used to stash YOUR wet swimsuit!
I love these wet diaper bags because they have prints that aren't too cutesy for adults to use for their wet swimsuits.
Which beach bags will you tote around this summer?
Now that you know what to look for when shopping for the ultimate beach bag, let me know what you bought in the comments below.